Trucking news and briefs for Monday, May 8, 2023:
EPA seeking input on zero-emission tech availability
The Environmental Protection Agency, in an effort to support development of potential funding programs under the Inflation Reduction Act, is asking for public input about the availability of zero-emission technologies in the heavy-duty vehicle and port sectors.
The EPA last week held public hearings regarding its proposed Phase 3 greenhouse-gas regulations for heavy-duty trucks and hear from a number of commenters in the trucking and truck manufacturing industries that, while they support EPA's overall goal of reducing emissions, the infrastructure for zero-emission trucks is not currently adequate enough to meet the Phase 3 proposal.
EPA said it "already has considerable information about the availability of certain types of [zero-emission] technologies,", but the agency is inviting public comment so it will have "the most comprehensive and current information available."
Specifically, EPA said it is interested in comments about the availability, market price and performance of zero-emission trucks and port equipment, electric charging and other fueling infrastructure needs for zero-emission technologies in the near term (1-3 years, and 1-5 years for port equipment), and whether the components of the systems are manufactured in the United States.
The agency said the Build America Buy America Act (BABA) requires iron, steel, manufactured products and construction materials used in infrastructure projects funded by federal financial assistance to be produced in the United States.
"While BABA provides the opportunity for EPA to issue certain waivers to these requirements, approval depends on many factors, including the price and availability of domestically sourced materials and products."
With responses to this EPA's request for comment, the agency looks to improve its understanding of availability and differences in zero-emission class 6 and 7 trucks, zero-emission trucks that serve ports and port equipment, as well as their related charging and fueling infrastructure requirements.
"This information will enable EPA to effectively design programs to expeditiously fund currently available zero-emission technologies, as well as consider allowances, such as longer project timeframes, for specific technologies," the agency added.
Comments can be filed through June 5 at www.regulations.gov by searching docket No. EPA-HQ-OAR-2023-0216.
PGT Trucking recognized for safety by Pennsylvania Motor Truck Association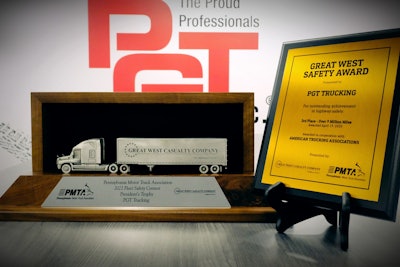 PGT Trucking (CCJ Top 250, No. 93) was recently awarded third place by the Pennsylvania Motor Truck Association for its 2023 Fleet Safety Awards. Additionally, PGT received the President's Trophy, a prestigious recognition to highlight the motor carrier with the top overall safety program and culture.
The annual PMTA Fleet Safety Awards, presented in association with Great West Casualty Company, recognizes motor carriers for their safe vehicle operations, based on verifiable data from the previous year. Participants must submit an application to report all mileage and Department of Transportation (DOT) reported accidents from domiciled fleet vehicles in Pennsylvania, and winners are announced at the yearly PMTA Membership Conference in April.
PGT Trucking participated in the over nine million miles division, with the President's Trophy awarded among fleets with more than four million miles.
"These recognitions are a testament to PGT's comprehensive safety program, solidifying our position as a 2023 Top 20 Best Fleets to Drive For company," said Joseph Newton, PGT Trucking Director, Safety. "We are proud of the dedication, hard work and continued safe driving focus by our fleet of professional drivers as we strive to be the safest flatbed carrier."
Southern Pines Trucking, an affiliate of PGT Trucking specializing in cryogenic tanker and heavy-haul operations, was also awarded third place in the four to nine million miles division.
"We are honored to receive the Fleet Safety Award and to be recognized by the Pennsylvania Motor Truck Association and Great West Casualty Company for our fleet's safe operation and commitment to safety," said Darren Coast, Southern Pines Trucking President, Cryogenics Division. "I truly appreciate the ongoing efforts of our entire team and professional drivers who make this happen."