Trucking news and briefs for Monday, May 22, 2023:
Coalition voices opposition to heavier trucks
A coalition of groups, including the Owner-Operator Independent Drivers Association and the International Brotherhood of Teamsters, penned a letter last week to House Transportation and Infrastructure Committee leaders noting their opposition to any legislation that would increase truck weight or length limits.
The Coalition Against Bigger Trucks said its opposition extends into legislation that would raise truck weight limits as part of a "pilot program," including the 91,000 pound pilot program proposed in the SHIP-IT Act.
The coalition notes that, "by any measure, our roads and bridges need continued repair, rebuilding and investment." The American Society of Civil Engineers' 2021 Infrastructure Report Card gave the nation's roads a "D" grade and its bridges a "C" grade.
"As we look to rebuild our roads and bridges, allowing heavier and longer trucks would only make matters worse," the coalition said. "The U.S. Department of Transportation studied the impact of various longer and heavier truck configurations on interstate and U.S. highways and found that the additional cost of damage to both roads and bridges would require billions of dollars in new federal spending, adding to our budget deficit."
The group asked Transportation and Infrastructure Committee leaders Reps. Sam Graves (R-Missouri) and Rick Larsen (D-Washington) to "reject any legislative language that would increase current maximum truck weight or length limits, including proposals in the form of a pilot program, state or commodity exemptions or other waivers from current federal limits."
Maverick safety director named 2022 Safety Professional of the Year in Arkansas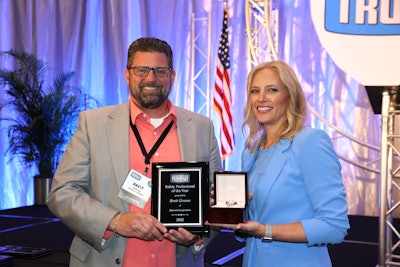 Maverick Transportation's (CCJ Top 250, No. 75) Director of Safety & Compliance, Brett Graves, recently received the Arkansas Trucking Association's Safety Professional of the Year award. The award was announced Wednesday, May 17 at an ATA luncheon in Little Rock.
In his career, Graves has created a highly respected and regarded environment with his focus on safety.
He has been an active advocate of safety for years and has held leadership positions with the Commercial Vehicle Safety Alliance, taught North American Transportation Management Institute courses, served as a professional safety source for the Arkansas Department of Labor, chaired ATA's Safety Management Council and Truck Driving Championship Committee, and volunteers as a liaison for the Arkansas Highway Police Challenge.
"My overall goal is to not only be a resource from the management side of Maverick, but also for our drivers," Graves said. "I have always made it a point to be open, honest and straightforward, and I pride myself on that. I treat everyone equally, and if I can make a difference with one person, I have achieved it."
Arkansas Trucking Association President Shannon Newton said Maverick and "so many state and national organizations have benefited from his professional commitment to safety. Brett is a source of safety information and wisdom. He cares for and holds a high standard for Maverick drivers, but he's also been an eager supporter of drivers from any company who aim for excellence and professionalism at annual safety competitions."
Kenworth's Chillicothe plant produces 750,000th truck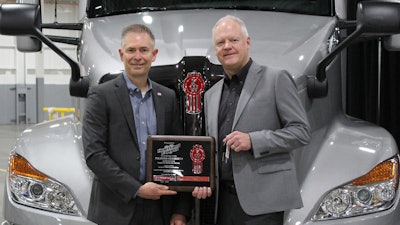 A Kenworth T680 Signature Edition with a 76-inch high roof sleeper was delivered last week to Heartland Express (CCJ Top 250, No. 45) during a special ceremony at Kenworth's Chillicothe, Ohio, plant, commemorating the truck as the plant's 750,000th produced.
On hand for the ceremony was Heartland Express' CEO Mike Gerdin, who received the keys to the historic truck from Kevin Baney, Kenworth general manager and Paccar vice president. Also participating were Jim Walenczak, Kenworth assistant general manager for sales and marketing; Doug VanZuiden, Kenworth Chillicothe plant manager; and Preston Hinkle, MHC Kenworth regional vice president and general manager.
"This is a special year for Kenworth. We're celebrating our 100th anniversary, and our Chillicothe plant met yet another milestone with the production of its 750,000th truck," said Baney. "It's a tribute to all that have worked at this plant over the years since it opened nearly 50 years ago. We couldn't be happier this historic truck is going to a long-time customer like Heartland Express. It's a fleet that began operation just after the Chillicothe plant opened, and it's in its second generation as a family-run business – growing to more than 6,000 trucks."
The T680 Signature Edition is one of more than 500 T680s Heartland has on order with Kenworth in 2023, through its dealer MHC Kenworth – Cedar Rapids. It's equipped with a Paccar MX-13 engine rated at 455 horsepower, and a Paccar TX-12 automated transmission.
"We're so excited to receive this Signature Edition Kenworth T680 anniversary truck. The Century Platinum paint job will really stand out from our traditional white Heartland fleet trucks," said Gerdin. "This truck is going to be presented to a special driver shortly and will mean as much to that driver as it does to us. We are so very proud and honored to drive the 750,000th truck out of the Chillicothe plant. The employees here do a great job – they have pride in the quality of the trucks they're building, and you can see their passion."
Isuzu appoints leader of EV business, makes other appointments
Isuzu Commercial Truck of America, has named Matthew A. Mesick the company's first Director of EV Strategies. The creation of the position comes just two months after the company announced that its first all-electric truck for the U.S. and Canadian markets will begin production late in the first quarter of 2024.
"As electric vehicles will play an ever-increasing role in our future, having resources focused 100 percent in this area is necessary for our organization to support everyone's efforts properly," said Shaun Skinner, president of Isuzu Commercial Truck of America and Isuzu Commercial Truck of Canada. "This all-new position will focus on EV growth and supporting our dealers with necessary information concerning EV regulations, trends, subsidies and more."
Mesick has been with Isuzu Commercial Truck of America for eleven years and has held both service and sales positions. Most recently he has served as Director of Western Regional Operations for the company.
In addition to Mesick's appointment, the company announced that two other key directors have been promoted to assistant vice president roles.
• Ed Crawford has been promoted to the role of Assistant Vice President, Sales Operations, where he will continue to focus his energies on the areas of production, distribution, and sales-related activities. Crawford has been with Isuzu for over 24 years.
• Brian Tabel has been promoted to the role of Assistant Vice President, Marketing. In his 28 years with Isuzu, he has worked in field service and sales positions and has led the marketing team for almost 14 years. Most recently, Tabel became the first representative of an import chassis brand to be appointed to the board of NTEA, the association for the work truck industry.
"I strongly believe Isuzu has never been in a better position in the medium-duty marketplace and we will continue to look for ways to better serve our dealers and customers," Skinner said. "These changes will put us all in a prime position for success now and in the future."