Trucking news and briefs for Friday, Sept. 8, 2023:
Werner 'disappointed' in $36M disability discrimination verdict
A lawsuit filed in 2018 against Werner Enterprises (CCJ Top 250, No. 13) by the Equal Employment Opportunity Commission (EEOC) was resolved on Sept. 1 with a $36 million verdict against Werner for denying employment to a deaf truck driver, despite the driver receiving an exemption from the Federal Motor Carrier Safety Administration from its hearing regulation.
EEOC claimed that Werner's refusal to hire the driver was a violation of the Americans with Disabilities Act.
While the Nebraska jury returned a verdict of $75,000 in compensatory damages and $36 million in punitive damages in favor of driver Victor Robinson, EEOC verdicts are capped at $300,000 for employers with more than 500 employees.
Werner said it was "disappointed with the jury's decision," and added that it is "evaluating its options relative to an appeal of this jury's decision."
"The company operates with the mantra that nothing we do is worth getting hurt or hurting others, whether that be its professional drivers, customers or the motoring public at large," Werner said in a statement. "Werner prides itself on fostering an inclusive workplace where our associates are encouraged to bring their full selves to work, including our valued associates who may have a disability."
According to court documents, Robinson completed truck driver training at Roadmaster Drivers School in Indianapolis and received his CDL in February 2016. He was pre-approved for employment by Werner, but during the pre-hiring process, was told by Werner's Vice President of Safety that "because he could not hear, he would not be hired."
In response to the initial allegations, Werner said it "did not discriminate against Robinson, and any and all decisions made by Werner regarding Robinson's employment were based on reasonable, lawful, and nondiscriminatory factors."
Robinson has since been hired by multiple trucking companies, EEOC said in its initial complaint, and successfully worked as a truck driver.
"Victor Robinson had the courage to step forward and say what happened to him was wrong," said EEOC Chair Charlotte A. Burrows. "The jury agreed, and their substantial verdict sends a clear message to employers everywhere that our nation will not tolerate disability discrimination."
U.S. Multimodal acquires Overland Express to expand drayage, warehousing services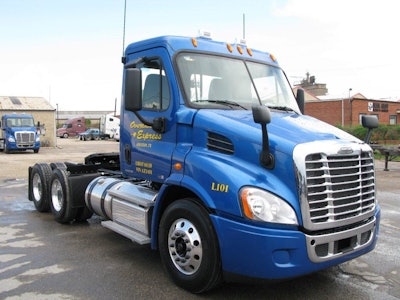 U.S. Multimodal Group (USMMG) announced this week it has acquired Overland Express and Overland Distribution (Overland), based in La Porte, Texas, with drayage and warehousing services in the Southeast of the United States.
Overland's team is led by a leadership team that has 100 years of combined industry experience.
USMMG, based out of Franklin, Tennessee, is a privately held, asset-based provider of transportation and logistics services. They maintain their own fleet of equipment, in addition to having interchange agreements with intermodal chassis pools, rail lines and steamships. They have seen rapid growth in their business segments both through organic business development and through acquisition.
Located in the Houston area for over 46 years, Overland has been one of the premier transportation companies for drayage and warehousing services in the Southeast. Overland offers local, intermediate, and OTR routes to and from ports, drop yards, and ultimately to customer sites. The warehousing business offers trans-loading services as well as long-term inventory storage solutions to companies across industries, including pet food, wood/metal products, lumber, paper, rice and solar equipment.
Chevron, Papé Group invest in hydrogen distribution business
Hydrogen distribution and fueling business OneH2 has closed its latest funding round with investments led by Chevron U.S.A. Inc. and current investors Trafigura and The Papé Group, a network of dealers in the Western U.S. Terms of the transactions were not disclosed.
Funds from the round will be used to help accelerate the development and deployment of mid-scale hydrogen generators and fuel distribution solutions, which will enable OneH2 and its channel partners provide lower carbon solutions to its customers.
"We welcome Chevron's investment and eagerly anticipate collaborating with one of the world's largest vertically integrated energy companies," said Paul Dawson, OneH2's president and CEO. "The OneH2 team deeply appreciates the steadfast support from our existing investors as we continue to invest in hydrogen infrastructure across the United States. Each of our investors will play a pivotal role in shaping the trajectory of OneH2 and contributing to the advancement of the broader hydrogen industry."
Chevron's decision to lead the round demonstrates its ongoing commitment to exploring diverse energy sources and technologies. By investing in OneH2, Chevron aims to play a key role in driving hydrogen as a viable, pragmatic and economical energy source.
"At Chevron, we believe affordable, reliable and ever-cleaner energy is essential to enabling human progress, and we believe the use of lower carbon intensity hydrogen as a fuel source can help reduce emissions," said Nuray Elci, Chevron's general manager of Renewables. "We are excited to work with the team at OneH2 and other partners to help build the fueling infrastructure for hydrogen vehicles, moving this technology forward."
Additional investment by The Papé Group and Trafigura represent their continued confidence in OneH2's strategic direction and their commitment to bringing practical, hydrogen fueling technology to the market.
"Papé provides solutions that maximize our customers' uptime while staying abreast of regulatory trends in the lower carbon energy sector," said Jordan Papé, president and CEO of The Papé Group. "Our investment in OneH2 will allow us to continue to provide solutions for our customers both today and into the future."
XPO expands Texas service center
XPO (CCJ Top 250, No. 8) has completed an expansion of its Garland, Texas, service center, substantially expanding capacity in metro Dallas.
This marks another important milestone in the company's previously announced plan to grow capacity by adding 900 net new doors nationally by the first quarter of 2024, XPO said.
This expansion adds 58 doors in the north Texas region, enabling XPO to service more customers in this growing market.
"With the expansion of our Garland service center, we'll be able to do even more for our customers in the thriving metro Dallas region and serve their needs with additional flexibility and speed," said Dave Bates, chief operating officer of XPO. "We're excited to build on our strong local presence in Texas with more well-paying career opportunities and expanded service for businesses across the area."
The Garland service center currently employs over 100 people. With the completion of the expansion, the company expects to hire additional dockworkers and driver sales representatives. In total, XPO employs nearly 2,300 people across Texas.