Trucking news and briefs for Thursday, Nov. 16, 2023:
California officially seeks waiver from meal and rest break preemption
After the Federal Motor Carrier Safety Administration announced in August it would consider petitions for waivers from its decisions to preempt California and Washington state's Meal and Rest Break (MRB) rules, California has officially filed its petition.
California Attorney General Rob Bonta, in partnership with the California Labor Commissioner Lilia García-Brower, announced Monday, Nov. 13, the filing of its petition seeking a waiver of federal preemption determinations that prevent the state from enforcing its meal and rest break requirements for commercial vehicle drivers in California.
While federal regulations allow truck drivers to drive eight hours without a break, California law generally requires 30-minute meal breaks during each five hours of work, and 10-minute rest breaks for every four-hour work period.
In 2018 and 2020 under the Trump Administration, FMCSA ruled that California's rules were preempted by the federal rules and were therefore unenforceable. If FMCSA grants the waiver, Bonta said California can resume enforcing its meal and rest break rules on truck drivers.
"Meal and rest breaks are essential for the welfare of our workers, but are especially important for commercial drivers," Bonta said. "Fatigued driving is especially deadly in the trucking and bussing industries and contributes to accidents on California's roadways. California's meal and rest break rules protect drivers and promote public safety by providing drivers with adequate time to rest before they become overly fatigued."
Bonta went on to add that FMCSA's preemptions "endanger the health and welfare of California's workers. All workers deserve a work environment that affords them safety and security."
In the petition sent to FMCSA, Bonta and García-Brower argued that enforcing the state's meal and rest break rules would "have a significant positive impact on health and safety of drivers." They also argued that the breaks would not contribute to the truck parking shortage, which was part of FMCSA's reasoning behind the preemptions. "FMCSA failed to consider the flexibility inherent in the MRB Rules that would obviate the need for CMV drivers to park in ways that impair safety or require additional CMV parking," the petition said.
FMCSA said in its August notice that petitions be submitted by Nov. 13. The agency is expected to publish any petitions for waiver that it receives and allow for public comment.
[Related: FMCSA opens door for California, Washington to challenge its Trump-era meal-and-rest-break preemptions]
Indiana propane haulers get HOS relief
With demand for propane gas in Indiana currently exceeding the locally available supply, Gov. Eric Holcomb is suspending hours of service regulations for propane haulers in the state through Dec. 4.
In an executive order issued on Nov. 8, Holcomb noted that propane distributors are already experiencing supply shortages, long lines at terminals and transportation challenges.
Holcomb said that suspending certain HOS regulations for truck drivers transporting propane "will help ensure that adequate supplies are distributed throughout Indiana, reducing the damaging effects of any shortages."
With the executive order, motor carriers and drivers transporting propane in Indiana are exempt from the regulations in 49 Code of Federal Regulations 395 for the duration of the order.
[Related: Iowa extends harvest proclamation increasing weight limits another month]
Autonomous trucking pilot launching in Germany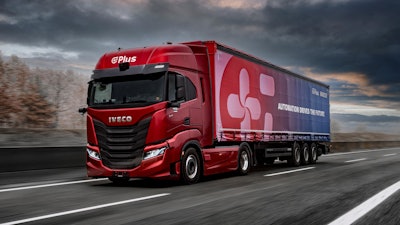 Iveco and autonomous truck tech developer Plus announced the launch of an automated trucking pilot in Germany which will start in the first half of 2024. The pilot will be conducted with dm-drogerie markt, Europe's largest retail chain of drugstores, and DSV, one of the world's leading transport and logistics providers.
An Iveco heavy-duty truck integrated with Plus's AI-based, driver-supervised highly automated driving software will operate on a DSV route to transport dm-drogerie markt products in Germany's Baden-Württemberg-Hessen region. Piloting with a logistics carrier on a bustling commercial freight route is a key enabler for the large-scale deployment of automated trucks in the coming years, the companies said.
The program serves to demonstrate that state-of-the-art automated driving technology can already be used today to enhance freight transportation and make trucking safer, less stressful, more efficient and more sustainable.
"Trucking is an essential but challenging job," said Shawn Kerrigan, COO and Co-Founder at Plus. "Plus's suite of software solutions, from the driver-in to the self-driving system, is designed to support different needs and use cases. Our collaboration with dm, DSV and Iveco will accelerate the commercial deployment of our autonomous driving technology at scale and help realize our shared vision for a safer and greener future."
[Related: UMass researchers exploring impact of automation on truck drivers]
NMFTA names first female board chair
The National Motor Freight Traffic Association (NMFTA) has welcomed Lesley Veldstra Killingsworth as the first female chairwoman of its board of directors.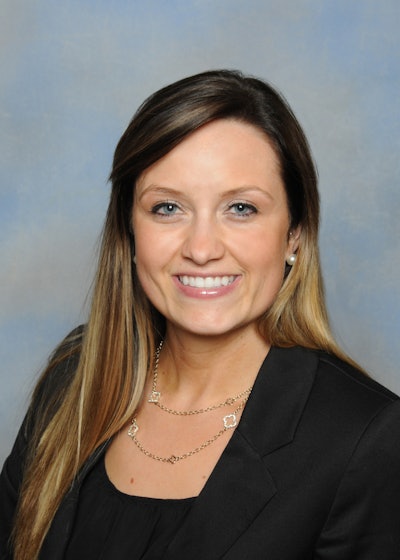 Killingsworth, who has been a member of the NMFTA since 2012, serves as director of traffic and pricing for Mississauga, Ontario-based Polaris Transportation Group. She previously served in the same position with Mountain Valley Express after starting in the industry as an account executive with Worldwide Express.
In leading NMFTA's board, Killingsworth said she wants to advance the gains from recent changes the organization has made and keep progress moving in a positive direction.
"Last year we had a lot of change," she said. "This year I really want to spotlight how those changes have built a strong foundation that is not only helping the industry now, but also the future."
Debbie Ruane Sparks, executive director of NMFTA, said Killingsworth is just the leader NMFTA's board needs in the current environment.
"Lesley knows the industry inside and out, having started with a 3PL and then moving into the LTL space," Sparks said. "But she's also proven her mettle as a person who gets involved and works hard to make a difference. From her service with her local community, to the years she's already served on our board, we know Lesley is a person of action and commitment. Our members will truly benefit from her leadership."
Killingsworth cited her personal experience building relationships with other carriers as a key benefit of her long-time involvement with NMFTA, saying the resulting partnerships have broadened her company's outreach and expanded service points for customers. The continued partnership between the board and NMFTA staff will help keep those benefits flowing to members, she said.