Trucking news and briefs for Friday, Oct. 27, 2023:
UMass research team exploring effect of automation on truck drivers
A team of University of Massachusetts Amherst researchers has received a grant to explore how automation will affect the role of American long-haul truckers.
An interdisciplinary group of researchers led by Shannon Roberts, associate professor of mechanical and industrial engineering, has been awarded nearly $2 million over four years by the National Science Foundation's (NSF) Future of Work Program.
"We know that when automation is introduced into trucks it changes the role of a trucker," Roberts said. "The question we are asking is: how do we examine and improve upon the future of work in long-haul trucking not by focusing on technology development, but rather by focusing on the trucker?"
Automation could lead to a number of benefits, including fewer crashes and better efficiency, but that doesn't mean the human should be removed from the equation entirely, the researchers added.
"Technology is good at handling consistent situations with predictable, rational people," Roberts noted. "But humans are not predictable, rational beings. Because of this, technology will not be able to react to everything that might happen on the road. It's impossible. We will need a person in the truck."
At the same time, automation can't make workers feel expendable.
"People take pride in what they do," she added. "We don't want to take everything out of that job such that people are unsatisfied and unhappy. Many people get into trucking as a means to move into the middle-class lifestyle with a high school diploma or a GED. It's a means of betterment for a large chunk of the population."
Ultimately, Roberts said her questions lead to a topic she calls the human-truck symbiosis.
"How do we take advantage of all the things that people are good at doing, and all the things that technology is good at doing to make sure we have a system that works really well?" Roberts asked.
Others on the research team include Henry Renski, regional planning; Shlomo Zilberstein, computer science; Michael Knodler, civil engineering; and Robin Riessman, UMass Transportation Center, as senior personnel.
Some of the methods the team plans to use to collect the information include ride-alongs with truckers, participatory design with truckers and workforce development analysis.
[Related: Will autonomous trucks displace drivers? Congress holds hearing on impacts]
XPO breaks ground on new Florida service center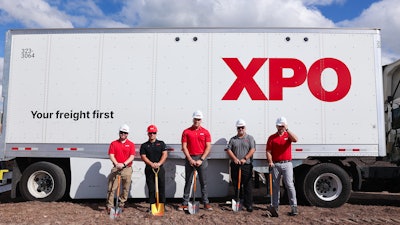 XPO (CCJ Top 250, No. 8) announced Thursday that it has broken ground on a new service center in Lakeland, Florida.
The project marks another important milestone in the implementation of the company's previously announced plan to grow capacity in its North American network with the addition of 900 net new doors nationally by the first quarter of 2024.
This 31,713 square-foot facility is being constructed on approximately eight acres of property near Interstate 4 and Commonwealth Avenue. The new service center is expected to open for business in the second quarter of 2024, bringing 60 doors to the thriving I-4 corridor including Tampa, Orlando and Lakeland.
"We're excited to expand our footprint in the dynamic Central Florida region, as we continue to grow capacity in strategic markets where we expect strong long-term demand," said Dave Bates, chief operating officer of XPO. "This new service center in Lakeland will greatly benefit our customers and provide best-in-class freight transportation service to businesses across the state. It also allows us to support the local community with well-paying jobs."
When completed, the company expects to employ approximately 75 people in the Lakeland service center. Currently, XPO employs nearly 640 people across ten service centers in Florida.
Kenworth founders inducted into hall of fame
The founders of Kenworth Truck Company, Harry W. Kent and Edgar K. Worthington, were inducted into the 2023 American Trucking and Industry Leader Hall of Fame class during a ceremony at the American Truck Historical Society (ATHS) headquarters in Kansas City on Wednesday, Oct. 25.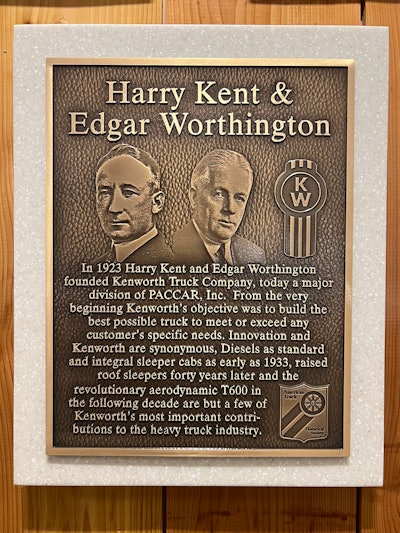 The recognition, honoring the contributions of trucking industry pioneers to society and the economy, coincided with Kenworth's 100th anniversary. The event commemorated the company's milestone by displaying Kenworth trucks through the years, including two special edition models introduced in 2023: the T680 Signature Edition and W900 Limited Edition. Kenworth's 100th Anniversary tour trailer and historical exhibit – featuring an extensive timeline of Kenworth's history, video presentations and vintage Kenworth badges – was also displayed.
"A century ago, Harry Kent and Edgar Worthington successfully built a rugged and dependable truck for Pacific Northwest loggers to haul heavy loads down tight, muddy roads – an achievement that addressed a seemingly unsolvable problem at the time," said Kyle Kimball, Kenworth director of marketing. "We were proud to participate in this recognition from the American Truck Historical Society in honor of that first logging truck and all the Kenworth transportation innovations since and to come that will help our customers drive the next 100 years."
The ATHS announced the full list of 2023 Hall of Fame of honorees last summer. Additional inductees were: Robert A. Young Jr., founder of ABF Freight; Ted Rodgers, first president of American Trucking Associations; Frank Seiberling, founder of Goodyear Tire & Rubber Co.; and Al and Don Schneider, founders of Schneider National Inc.
[Related: Photos: Kenworth T680 Signature Edition]