Trucking news and briefs for Monday, July 3, 2023:
HHS: Still no approved oral fluid drug testing labs
In a notice set to publish in the Federal Register Monday, the Department of Health and Human Services is notifying federal agencies of the laboratories and Instrumented Initial Testing Facilities (IITFs) currently certified to meet the standards of the Mandatory Guidelines for Federal Workplace Drug Testing Programs using urine or oral fluid.
As previously reported, the Department of Transportation on June 1 officially authorized oral fluid drug testing as an alternative to urine testing for truck drivers. However, in order for an employer to implement oral fluid testing under DOT's regulation, HHS first has to certify at least two laboratories for oral fluid testing, which has not yet been done.
In its update publishing July 3, there are still no labs certified for oral fluid testing, HHS said. "At this time, there are no laboratories certified to conduct drug and specimen validity tests on oral fluid specimens," the notice said.
So, as it was on June 1 when oral swab testing was authorized by DOT, it still can't be implemented until HHS issues its approvals: at least one lab to test primary samples and at least one more to re-test contested samples.
[Related: Oral fluid drug test likely to put more 'cheaters' in FMCSA's Clearinghouse]
NMFTA hosting cybersecurity conference for trucking
The National Motor Freight Traffic Association (NMFTA) is putting the final touches on its plans for its 2023 Digital Solutions Conference, which will focus exclusively on cybersecurity issues for the trucking industry.
The conference will be held in Houston Oct. 22-25. Registration is available online here.
Major topics to be covered at this year's conference include:
A review of the cyberthreat landscape facing the trucking industry
Current tools and strategies for preventing truck hacking
Explaining the IoT (Internet of Things) and how it can leave you vulnerable
How to build a culture of cybersecurity at your company
Best practices in API security
Exercises to test your company's preparedness
Understanding IT security and OT security
Threats from the most basic of sources: E-mail
Securing the right level of cybersecurity insurance to match your need and risk
According to internet security analysts, the number of ransomware attacks ballooned by 105% in 2022 compared to 2021 — and 2021 saw a 61% increase over 2020. Experts expect those numbers to be even higher for 2023. The 2022 IBM Security study showed that 4% of all cyberattacks were aimed at the transportation industry, making it the seventh-most targeted industry in the past year.
The keynote speaker will be Nada Sanders, Ph.D., presenting on "The Future of Work Technology." Sanders will help get attendees ready to take advantage of key trends that will shape the workplace, what to expect and how to maintain the human advantage in a technological era. The presentation will critically tie to the security needs of the trucking industry, including a look at the future partnership between man and machine in recruiting the workforce of the future.
The United States Secret Service will also make a presentation on cyber assets and cybercrime trends. Numerous other speakers are planned for the conference.
The event, which takes place at the Westin Oaks Houston at the Galleria, will open on Sunday night, Oct. 22, with a live truck-hacking demonstration, followed by a welcome reception and dinner. The next three days offer a non-stop series of presentations and discussions.
[Related: Are your employees using one of the 10 worst passwords in transportation?]
Intermodal fleet opens new Baltimore location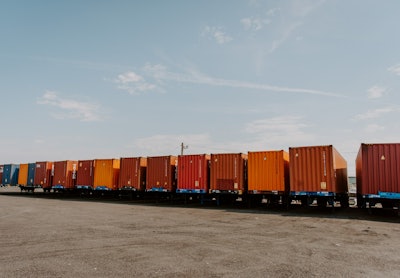 H&M Intermodal Services, a subsidiary of IMC Companies (CCJ Top 250, No. 59), has expanded its North Atlantic operations with a new location in Baltimore at 1201 Ponca St.
This new, centrally located facility is two miles from the Port of Baltimore and features a fenced yard with 24-hour security-controlled access, truck parking and room for storage of 150 containers on chassis, allowing H&M to provide secured storage services for its clients.
"Baltimore has seen increased volume and a strong carrier was needed to support growth in this market," said Barry Bernard, president of H&M. "The opening of the facility strategically aligns our capacity to support the growing needs of our clients on the Atlantic Coast from Baltimore to New York."
Most recently, H&M also opened a location in Carlisle, Pennsylvania, which serves not only the drayage needs of local clients, but also as a transient storage location for containers while enroute to and from Pennsylvania and the Ohio Valley.
H&M has locations strategically positioned at the Port of Newark, Philadelphia, Carlisle and, now, Baltimore. H&M also has plans for expansion in Pittsburgh later this year.