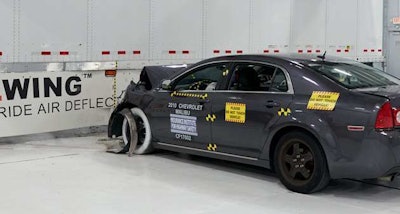 The National Highway Traffic Safety Administration recently issued an advance notice of proposed rulemaking that would require trailers be equipped with side underride guards, and opponents of the proposed mandate are questioning the cost to benefit ratio.
NHTSA estimates that 17 lives would be saved, and 69 serious injuries would be prevented annually, if all trailers in a fleet are equipped with side underride guards. Fatalities are reduced by 97%, and serious injuries are reduced by 85% when guards are in place on a tractor trailer traveling at 40 miles per hour or slower, but only about 20% of crashes occur at or under that speed.
At the same time, NHTSA estimated in its 2022 report that the cost of installing an underride guard on a trailer comes to just under $3,000, and equipping new truck trailers with side underride guards could cost up to $1.2 billion annually – not to mention the additional fuel cost and payload sacrifice associated with the extra weight.
It's harsh to say the benefit of a life isn't worth $3,000 (if you consider the cost based on a single truck), but at face value, if I owned a fleet, I would not want to pay to install underride guards across my entire fleet when the statistics show the cost far outweighs the benefit. Then there's the simple matter that the efficacy of underride guards diminishes the higher the speed, and crashes at high speed are when the majority of fatalities occur. Out of thousands of fleets across the U.S., what is the likelihood that one of my assets will be involved in an underride crash that kills one or more of those 17 people?
But Insurance Institute for Highway Safety (IIHS) Senior Research Engineer Matthew Brumbelow said in a recent statement that NHTSA's estimate excludes many types of crashes that are likely relevant as it used speed limits and police-estimated pre-crash speeds rather than actual velocity changes gathered from event data recorders for its calculation. Using an alternative method, Brumbelow projected that a side underride guard mandate could prevent 159 to 217 passenger vehicle occupant fatalities per year, depending on whether it required protection forward of the rear axle or along the full length of the trailer.
[Related: AI-enabled dashcams can help fleets reduce insurance costs]
Rear underride guard specifications are already mandated.
Brumbelow also posed that side underride guards could likely save many of the pedestrians, bicyclists and motorcyclists who are killed each year in crashes involving the sides of tractor-trailers.
While you can't put a price on a life saved, there are other benefits to consider.
Considering IIHS calculates a higher number of fatalities, maybe it could be an opportunity for insurers to offer discounts on insurance premiums. Another consideration is nuclear verdicts. With nuclear verdicts on the rise – up 967% between 2010 and 2018, according to a 2020 report from the American Transportation Research Institute – a $3,000 underride guard could save a fleet millions as average verdicts in the U.S. trucking industry have soared to nearly $22.3 million in that same time frame.
The potential to prevent a nuclear verdict holds more weight over an insurance discount to be sure, but many fleets might just be better off financially to invest in camera and driver alert technologies. Many providers are finding ways to offer additional cameras beyond driver-facing and road-facing to include side views of trailers; some are simply there to record while others offer real-time views from the side of the trailer like a security camera. Many providers of such telematics solutions, which have proven to increase safety scores, market their technology as a way to exonerate drivers and their respective companies in the event of an accident that results in legal action.
[Related: Experts say understanding data, operationalizing safety are best practices in preventing nuclear verdicts]
Logically speaking, this would put a burden on an already heavily regulated industry. This issue should be addressed by individual carrier rather than industry wide.