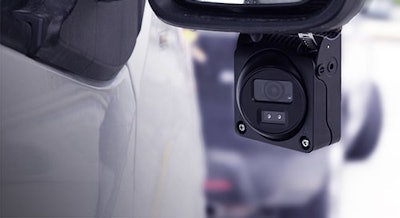 Lytx
Trucking companies that haven't invested in video telematics are quickly being left behind as the next iteration of the technology hits the market. The commercial trucking market has been inundated with dash camera technology in recent years, and developers are now expanding that visibility with auxiliary cameras to increase security, enhance driver coaching opportunities and potentially reduce insurance costs and mitigate nuclear verdicts, among other benefits.
Auxiliary cameras can help fleets do something as simple as deter a thief or something as immense as exonerate a driver in the event of an accident – the average cost of which hovers around $70,000 in the U.S., and even more if a fatality occurs.
With rear-end and side-impact collisions accounting for roughly 54% of all vehicle crashes, dash cameras, which capture only a forward-facing view, don't always show the whole picture, so fleet solutions providers Konexial and Lytx both recently released auxiliary cameras to bridge the gap.
"You're having a real impact on the safety of the driver, the truck and the fleet, avoiding potential huge liability for having an accident caused by distracted driving," said Ken Evans, founder, CEO and chief technology officer of Konexial. "According to the National Safety Council, the last data they published, the cost of a fatality involving a commercial vehicle is over $13 million per death. So it's a huge potential benefit if I can reduce the number of those accidents and if I can send people home safer."
Evans said Konexial's My20 LogiCam Ai dash camera that provides real-time driver coaching has proven to reduce distracted driving events by 80% within six weeks of installation. That benefit should increase with the addition of My20 LogiCam Aux – side auxiliary cameras (1080p) that create a mesh network of near 360-degree camera coverage for commercial motor vehicles and Class 8 trucks. Konexial's system shows footage from all cameras on one screen with time, date and speed stamps in addition to telemetry data so fleet managers, who have access to footage in real time, have a holistic view of any scenario from a hard-braking event to a crash.
[Related: Advertising cameras on board could offset nuclear verdict impacts]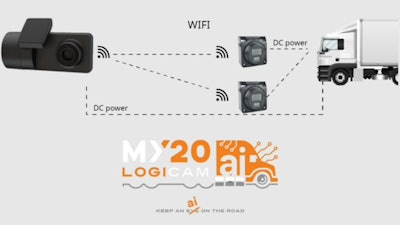 Ofelia Chernock, senior manager, product marketing at Lytx, said the biggest thing that stands out about having auxiliary cameras is the ability to have better context surrounding events.
"It really opens up the ability of the supervisor or the fleet manager of that driver to be able to say, 'You really did a phenomenal job. If I had just looked at the telemetry information, it would have looked like you came to a harsh brake, and you ruined the tires or the brakes failed because you're constantly hard braking.' They can now say, 'You did this for a reason … There was a child crossing the road,'" Chernock said.
Lytx's Surfsight auxiliary cameras, which integrate with its Surfsight dash camera that provides in-cab driver coaching like Konexial, can be installed on the side, front and rear of the vehicle to record cyclists, pedestrians and other road users who may be near heavy goods vehicles. Lytx's Surfsight auxiliary cameras – offered via partnership resellers rather than direct selling like the Lytx DriveCam – can be configured via wire or Wi-Fi depending on placement. Wrap-mount cameras can be hung on round surfaces like vehicle mirrors, and the flush-mount camera is designed to be mounted flush on flat surfaces, such as the back of a vehicle, by drilling it in place.
When installing auxiliary cameras solely on the side near the vehicle mirrors, fleets can choose between the wired and Wi-Fi connectivity options. In an installation setup that involves different parts of the vehicle (back of the vehicle, cargo, roof, etc.), no matter the vehicle size, the wired connectivity method is recommended to ensure connection stability.
Developers of backup cameras for heavy-duty commercial trucks have previously noted that connectivity between tractor and trailer has posed an issue in implementing such products.
[Related: Adoption of multi-camera technology is on the rise among fleets]
Chernock said that issue is left to the telematics solution providers that Lytx supplies with the Surfsight cameras. Konexial does not offer cameras for the rear or trailer – only the sides of the tractor – so that challenge wasn't present with its product.
Both Konexial and Lytx's auxiliary cameras record constantly – rather than trigger based – when the truck is moving, and neither function like a backup camera so a driver doesn't have a view from the camera on their screen.
With the My20 LogiCam Aux, footage of events is recorded and stored within the Konexial admin dashboard for up to four months where it can be downloaded on demand, allowing fleet managers to review footage in the event of an accident or other incident. Evans said this empowers managers to take action to prevent similar events in the future by identifying areas where drivers may need additional coaching, training or support.
"What makes this entire system highly effective is the fact that we can build a customized scorecard for the carrier," he said. "We can combine the video data … with granular telemetry data at the seconds and milliseconds level. For example, if the truck swerves, I can go back and look at the video for why did the truck swerve and maybe it was distracted driving or maybe it was a good thing that the driver swerved to avoid a deer."
But neither the Konexial nor the Lytx auxiliary cameras drive alerts for real-time, in-cab coaching; only the inward-facing AI dash cameras provide that.
Surfsight records footage and transfers it to the cloud. Then if something triggers an event, driver managers can view the footage to see what the driver was doing when they swerved, for example.
"It definitely enables that coaching conversation to be a much more productive one because you've got all angles, whichever angles the customer chooses," Chernock said, adding that having "extra context across the board, regardless of whether it's risky driving or cargo theft or whatever the case may be," is the primary benefit while "the end goal is to keep everyone safe."