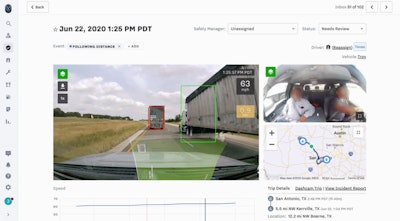 The formula for growth in a hot freight market is simple: buy more trucks and hire more drivers. Only it's not that simple.
Motor carriers are certainly buying more trucks. In the fourth quarter of 2020, Class 8 truck orders totaled 142,093, second only to the third quarter of 2018 for the record.
Carriers are also trying to hire more drivers. With the flurry of pay raises during the past few months, many fleets are now starting drivers at $80,000 or more per year.
Forgoing quality for quantity to onboard new drivers is not a risk that most fleets are willing to take, however. And with escalating labor costs, recruiting difficulties and towering safety priorities, the industry is moving towards self-driving trucks.
U.S. Xpress, for instance, recently announced a significant financial investment in TuSimple, and is actively testing the technology on select shipping lanes.
The future of trucking may be self-driving trucks, but for the foreseeable future, advanced technology that uses artificial intelligence (AI) and machine learning will not be used by fleets to replace drivers. Instead, the focus will be using technology to build and retain a safer and more productive workforce.
Below are three ways fleets are using AI to build better drivers.
1. Simplifying work
AI has many possible applications for driver safety, retention and productivity. To drivers, perhaps the most immediately recognizable benefit is to simplify their work.
For example, the task of annotating electronic logging device (ELD) records when changing duty statuses "can be pretty repetitive," said Avi Geller, chief executive of Maven Machines, a mobile fleet management and dispatch software provider.
When changing from driving to non-driving status, drivers have to note the reason — "taking a 30-minute break," or loading, unloading or fueling.
Maven uses AI-powered algorithms in its ELD platform to automatically detect the type of duty status change and suggest annotations to drivers. The task becomes semi-automated; all drivers need to do is click the suggestion.
"This is a little example of things getting simpler," he said. "We put a lot of thought into the driver's experience."
2. Increasing engagement
During the last few years, the perception among drivers for technology in the work environment, especially cameras, has changed from "Big Brother" to an essential safety and exoneration tool, said Ryan Wilkinson, chief technology officer of IntelliShift.
New safety developments in AI can detect and alert drivers to complex risky behaviors like fatigue and distraction.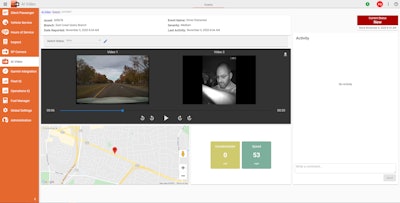 By leveraging AI-enabled dash cams, fleet managers are able to coach drivers using preventative in-cab alerts that let drivers know if they're distracted or following other vehicles too closely. Safety managers can also share videos of these events directly with drivers to enable remote and self-guided coaching, said Jonathan Bates, executive vice president of marketing for MiX Telematics, which has over 750,000 connected vehicles worldwide.
On a related note, many fleets are using cameras and other AI-powered applications to increase driver engagement.
"As always, fleets remain focused on investing in the talent they have — whether it be incentives for safe driving, an employee recognition program, or personalized coaching and training," said Ingo Wiegand, director of product management at Samsara, which offers a cloud-based ELD and fleet management platform.
"We've seen the power of AI come in for each of these scenarios, especially in this increasingly remote work environment," he added.
Fleets are using Samsara driver safety scores to determine driver pay raises and incentivize safe driving, he explained. The scores use data from speeding, harsh driving, AI-detected events and more.
IntelliShift has fleet customers in field service, last mile and long-haul sectors. Its mobile app includes a configurable driver leaderboard that lets drivers view performance at the end of each shift. The scoring categories include engine idling, speeding violations, hard braking and harsh turning.
Fleets can also score driving events captured by IntelliShift's AI-powered camera such as distracted driving, tailgating and lane departures, said Wilkinson.
As a supplier of telematics and fleet management technology, MiX Telematics is having conversations with fleets about how they want to help motivate drivers to take charge of their own destiny and safety.
"Fleets are desperate to hang onto their best drivers," said Bates.
Mix Telematics has a driver gamification app, MyMix, that fleets can use to help drivers understand their own driving behavior, see how they rank to anonymous peers, and encourage them to take ownership, he said.
3. Maximizing productivity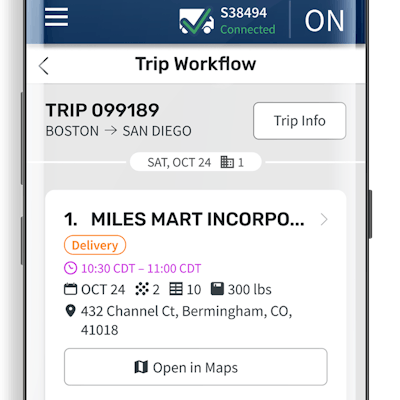 Route planning is another area where fleets are using AI-powered software to help drivers become more productive.
Maven's cloud-based platform uses "very sophisticated" algorithms that optimize routes for less-than-truckload and final mile delivery fleets, Geller said.
For an LTL or parcel delivery companies, the software's ability to add an extra stop or two in a driver's route during normal business hours "changes the economics of their business," he said.
"We are able to do that through vast amounts of data we bring in, combined with an algorithm running on that data," he explains. Maven's cloud-based software uses AI to learn traffic and shipment patterns by time of day, time of year, and specific driver behaviors, he explained.
The software uses these learnings to determine the best route and sequence of pickup and delivery stops.
In addition to optimizing the route plan, fleets and their drivers can use applications to analyze and visualize how they performed against the plan.
The driver shortage is limiting the easy options for growth, but fleets are looking to add to their capacity by using AI-powered applications to build safer, more productive drivers.