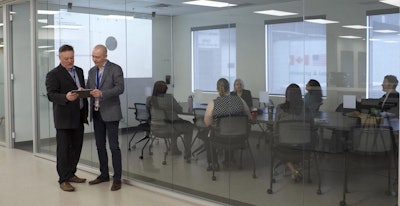 Just as diesel engines convert raw fuel into horsepower, motor carriers that use business intelligence (BI) technologies are turning raw data into timely and relevant information.
Fleets already have an abounding supply of data from transportation management software (TMS), electronic logging devices (ELDs), vehicle telematics, electronic payments and other systems.
Without BI, the data outputs from these systems have to be refined through a process that may involve creating spreadsheets to report key performance indicators (KPIs).
Smaller fleets that operate fewer than 200 trucks have not traditionally invested in a BI technology stack to automate routine or more advanced reporting needs. This could change now that a growing number of technology suppliers are harnessing the power of cloud computing to deliver an affordable BI stack as a software-as-a-service (SaaS).
CCJ recently spoke with three companies that have entered the trucking space with SaaS offerings for BI.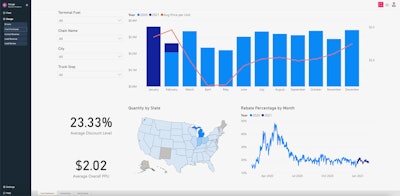 Motorcity Systems
BI has traditionally been viewed as too expensive of an undertaking for smaller fleets due to the high upfront costs of software licenses, servers and professional implementation fees.
Fleets with a skilled IT staff can invest in off-the-shelf BI technology stacks from Microsoft, and some TMS suppliers offer BI products with pre-packaged "cubes" for reporting and analyzing datasets for operations, finance and other core areas.
Products from TMS providers typically must be installed on a fleet's servers and have to be configured differently to meet the needs of each customer, which adds to upfront fees and implementation cost.
After working for large and small truckload carriers in various IT roles, Bob Stemple founded Motorcity Systems in 2017 and developed a cloud-based BI system.
Motorcity has a component that resides on a fleet's network to pull data from separate systems into an Azure cloud in small bits. The data is replicated and normalized in the cloud before it is delivered to users through a reporting and analytics package called Gauge.
Only pre-compiled numbers are displayed in the Gauge dashboard, increasing the speed of the interactive reports because all of the processing takes place in the cloud, he said.
Motorcity Systems is compatible with TMS systems from Trimble and McLeod Software and integrations with electronic payment and telematics systems, he said.
The SaaS model saves fleets money in implementation, Stemple said. The startup is quick, and fleets benefit from having their data replicated in the cloud to shield themselves from ransomware attacks on their on-premise servers, he added.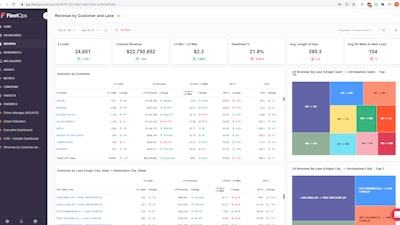 FleetOps
Liam Lynch founded FleetOps in 2018 to develop a cloud-based BI system for motor carriers. He had previously worked for 13 years at ELD and telematics provider Blue Tree Systems, which was acquired by Orbcomm in 2017.
FleetOps has a SaaS product that comes with dozens of KPIs, and the company is able to handle customization requests. Having a pre-packed set of metrics makes it possible for new customers to be up and running within an hour and a half, he said.
FleetOps uses a Microsoft product to connect to its customers' TMS and IT systems to extract and push data to its Google cloud. The customer only needs to provide a username and password to initiate this connection, he said.
The company has 80 motor carriers now using its BI platform's dashboards for operations and customer service.
With the driver manager dashboard, users can manage driver credentials, home time requests and metrics for revenue per mile, revenue per truck and other areas of performance from one screen. The metrics can be displayed for different timelines — by day, week, etc. — to spot trends. Users can drill down any metric to see the source data for each order or load.
A customer service dashboard can be used to analyze customers by groups, by lanes and other dimensions to spot problem areas such as deadhead miles. Once users start drilling into a customer or lane, "they start asking some questions," he said, like "why are we taking loads in this lane?"
"It starts a conversation, which leads to an end result," Lynch said.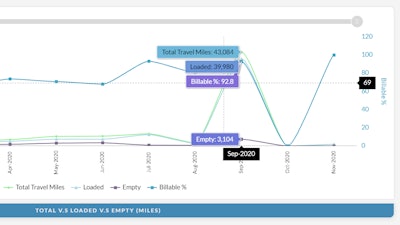 EOX Vantage
As a provider of managed services for businesses, EOX Vantage has been around since 2008. The company has 400 employees with a large operation in India to provide managed services to lower the cost of administrative functions for businesses.
EOX Vantage has developed services for insurance and transportation companies that consolidate data and business activities into a single dashboard. It has about 65 customers in transportation.
The company recently developed a BI reporting bundle for motor carriers with a single dashboard for business metrics that focus on revenue and cost metrics. The BI reporting works by pulling only pertinent data from a fleet's servers.
Fleets with up to 200 trucks "can't afford a data warehouse and a data scientist that writes reports," said George Thellman, senior director of EOX's transportation management solutions. "With our tool, they slice and dice on the fly."
The report bundle comes with eight reports and integrated workflow tools for communicating with team members with chat, email and by using robotic process automation (RPA).
The BI platform from EOX Vantage uses query language that remembers what users ask for to speed the results for commonly asked questions such as "who is my safest driver?"
Difficulties fleets experienced with bringing data together into a single database for reporting and analysis have become easier and more affordable to solve using the next generation of cloud-based BI tools.