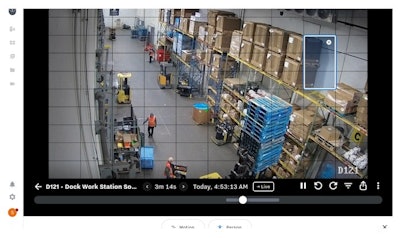 As technology becomes more advanced, motor carriers are gaining new opportunities to make workers at all levels more efficient by bringing together information and workflows in a "single pane of glass" for greater control and visibility.
Samsara, a provider of ELD and IoT technology for fleet management, added a new Site Visibility feature for monitoring physical locations using AI cameras in a single dashboard alongside driver video and safety data captured by Dash Cameras.
Food Express, a bulk transportation business based in Arcadia, California, recently began switching to Samsara Fleet products that include Samsara's Vehicle Gateways, Asset Gateways and Dash Cameras, when management learned about Site Visibility.
"Food Express needed even more visibility into our operations," said Jim Terry, Director of IT. "The Site Cameras complement our fleet tracking so we can better monitor our assets. We get complete visibility this way and can view everything from a single, Samsara dashboard."
One of the biggest advantages to Sites, Terry said, is that being cloud-based makes it possible to observe facilities from anywhere at any time and have a reliable source that is not on premises. "We hadn't seen a solution like that on the market before," he said.
Food Express has set up alerts in Sites to detect when workers are not wearing harnesses, and to detect vehicles and people after-hours that could indicate theft.
"Having the interface as part of the overall dashboard for Samsara is convenient and allows us to set up and control access in the same manner in which we control our fleet," Terry said. "Seeing everything in one view saves a lot of time and allows us to see trends across the business."
Site Visibility also has an AI-powered intelligent search tool for users to ask questions such as, "Who was the last person to rack this pallet?" or "How was this piece of equipment damaged?"
Custom driver workflows
Maven Machines, a fleet management and telematics software company, has a new software platform it developed for users to create custom forms and stop- and location-based workflows.
The platform, Maven Workflow, is paired with its fleet management software that includes dispatch and ELD functions. Maven Workflows gives users a step-by-step guide for each stop a driver makes that shows necessary information and forms configured for that specific stop type, location, and customer need.
With the new feature, drivers can access information about their trips and stops on their devices to eliminate email-based communication methods.
Automated communications with carriers
Werner Enterprises launched a carrier portal that gives its alliance carriers visibility to Werner freight and booking of loads at the touch of a button. The new Carrier's EDGE portal also lets carriers view tracking information, buy or sell equipment, and communicate directly with Werner associates.
Carrier's EDGE will integrate with Trucker Tools' digital loading and freight matching to provide Werner alliance carriers with one location to view and book available freight.
Carriers also will be able to view historical load data and insurance, upload documentation and manage available capacity. Carrier's EDGE will provide smart recommendations based on preferences, previous offers and loads.
"Carriers rely on real-time visibility and data to improve their operations and keep trailers full and moving," explains Derek Leathers, Werner's vice chairman, president and chief executive. "While our carriers rely on Werner's customer service and personalized approach, they also desire a portal that will allow them to self-service when it's convenient for them, whether that be after hours or in a time crunch.
Carrier's EDGE is the latest addition to the cloud-based Werner EDGE offerings for drivers, shippers, carriers and associates.
App-based driver management
MiX Telematics has a new app-based tracking system for vehicles and drivers. Beyond tracking locations of drivers, MyMiX Tracking records, measures and alerts drivers to risky behavior events that include speeding, harsh braking, harsh acceleration and mobile phone use while driving.
The app is an extension of MyMiX, a driver engagement app that gives drivers information and alerts to improve their driving style, including immediate feedback. MiX Telematics said the new app is ideal for fleets that run sub-contractor vehicles, leased vehicles, company cars, short-term rentals or grey fleets.
The app is available for download from the Apple App store and the Google Play store and a soft launch is underway with existing customers in selected regions.