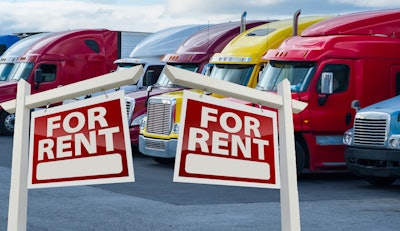 Some of the most valuable technology companies that have emerged during the last few years have created "sharing" economies. The term is a misnomer, however, since those who participate in the online community platforms are buying and selling services, not running philanthropies.
Online platforms from Uber and Airbnb are examples of online platforms where "sharing" takes place through peer-to-peer transactions, as opposed to B2C or B2B transactions, even though the boundary lines are not always clear-cut.
The transportation industry has proven to be rife with peer-to-peer business opportunities. Fleets are using new online platforms to collaborate, even with competitors, to find new markets for unused trailer space and equipment. Companies that developed technology to coordinate such transactions have been attracting a lot of investment dollars recently as well.
Sharing trailer space
Tech startup Flock Freight is a digital freight broker targeting a structural inefficiency in trucking by "sharing" trailer space to create truckload shipments of freight.
RELATED: Can trucking keep up with freight demand?
Flock Freight was founded in 2015 by Oren Zaslansky in San Diego after he spent more than 20 years as an owner of a trucking and logistics company. He knew that 80% of truckload shipments are not completely full, and saw this as an opportunity to pool LTL shipments into truckloads on a scale that had not been done before.
Freight pooling — a process of consolidating LTL shipments into truckloads — is a standard practice for LTL carriers and third-party logistics providers. Where Flock Freight has differentiated itself is by offering shippers an upfront guarantee for shared truckloads.
Its shared truckload offering launched in 2019 after the company had built up sufficient lane density and created algorithms to optimize freight pooling by predicting when and where pooled truckload shipments will be available.
LTL shipments with more flexible pickup and delivery schedules have a higher probability of being offered to shippers as a guaranteed shared truckload.
As an example, Flock Freight may have eight pallets from a customer that ship from San Diego to New York City; 10 pallets from a different customer from Los Angeles to Philadelphia; and six pallets from Las Vegas to Detroit. It can offer a shared truckload pricing to shippers and offer a combined truckload shipment to a carrier who will make the pickups and deliveries in sequence.
Shippers only pay for the space they use on a trailer and get the service advantages of full truckload — being loaded at the origin and unloaded at the destination with no cross-docking. Its shipper customers and carrier partners can book loads online or through its app.
Last year, Japanese-based SoftBank led a $113.5 million Series C investment in the company and was joined by Volvo Group's venture-capital arm, among others.
On-demand equipment
In 2018, Ryder System spotted an opportunity to create a digital, peer-to-peer platform for fleets to rent out their idle equipment on a short-term basis. At first glance, such a platform might seem to compete with, or even cannibalize, Ryder's leasing and rental products.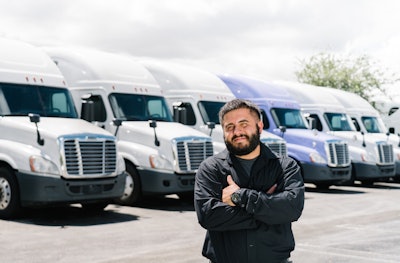 Ryder saw things differently and launched COOP to complement its existing products and services by leveraging vehicles it does not own to create efficiencies and help fleets monetize idle equipment, said Romain Rousseau, general manager of COOP by Ryder.
To validate the COOP model, Ryder studied telematics data from a large number of commercial fleets. The study found fleet vehicles are idled 24% of the time, on average, excluding weekends and maintenance events. Another finding was that seasonality created huge swings in vehicle utilization. Some fleets needed more equipment at the same time others had idle equipment.
COOP by Ryder has Class 3-8 trucks and trailer listings from motor carriers who can bridge seasonal gaps in productivity by renting, or renting out, idle vehicles.
COOP is available in six markets. The first three to open were Texas, Georgia and Florida. Recently, the platform expanded to California, Tennessee, and North Carolina.
Expanding during the COVID-19 pandemic has been challenging from a human resources standpoint. The decision of where to expand next largely depends on supply and demand from current customers, he said, and the company has people in the field to help customers through the onboarding process.
"Our teams have found a way to work efficiently remotely," he said. "At some point, we will start rolling out nationwide in the next few years."
RELATED: New connectivity tools enter the market for freight, equipment transactions
Several hundred transactions are taking place daily through the platform. About 5,000 available vehicles are available for rent at present, but depending on the season, listings of equipment in COOP have increased to 50,000, Rousseau said.
Fleet owners can list equipment at chosen locations by day of the week and maintain full control over rates. The owner is paid digitally at the end of rental transactions. For insurance, renters can bring their own policies or use Ryder's insurance that includes physical damage and $1M in liability.
The fleet owner does not deal directly with renters when incidents occur, such as breakdowns. Ryder provides 24/7 roadside assistance. Both parties use a mobile app to document the state of vehicles before leaving and when returning. If damage occurs, Ryder coordinates the repairs.
"We are trying to provide a pretty hands-off experience for vehicle owners," Rousseau said.
Criss-crossing trailers
Trailer pools always have been a pain point for motor carriers, and the severity has increased during COVID-19 with swings in freight demand causing trailers to sit idle at shipper and receiver facilities.
Finloc, an asset-based equipment lender that owns and leases trailer assets to fleets, developed vHub as an online platform for fleets to exchange trailers for one-way moves and short-term rentals, said Francis Roy, vice president of the Montreal-based platform.
Motor carriers that use trailers for one-way moves have the flexibility to pick up and deliver their own loads. The vHub platform gives visibility to trailers available for rental and one-way moves by type (reefer, dry van, flatbed, etc.) and location. The platform also provides details about the owner's reputation and gives asset owners visibility of important renter information such as insurance coverages and reputation.
Roy describes vHub as a community of carriers, private fleets, trailer OEMs and rental companies. To help facilitate transactions, vHub integrates with telematics systems on trailers to receive locations and mileages automatically to facilitate rental transactions. Drivers can use a mobile app to locate trailers when they are dispatched to pick them up and take pictures of any damage.
The platform manages all the accounting for both parties to have a paperless transaction. Fleets set their own trailer rental rates based on daily-, hourly- or mileage-based use. Renters pay a 10% transaction fee to vHub and a flat $80 fee for one-way moves, Roy said.