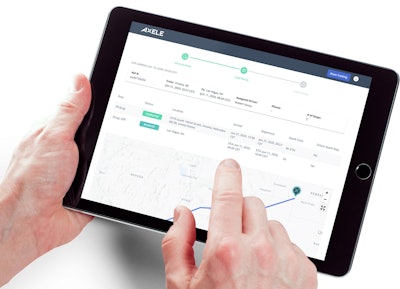 Venture capital and private equity investors have poured billions into the trucking and logistics (T&L) industry to fund startups whose aim is to digitize the load-matching process.
Most of these investments are not going to companies that are on a mission to help small motor carriers automate core operational processes like booking loads, analyzing key performance metrics, driver payroll and invoicing.
"I don't think that investment has flowed into the real base level, the building blocks of truckers," said Matt Cartwright, chief executive of Magnus Technology Group.
One area where investments have been made in startups with small-fleet appeal is for electronic logging devices (ELDs). Once that opportunity passed, the 470,000 trucking carriers in the United States, about 90% of which have fleets of six or fewer trucks, may have felt somewhat neglected even though the cohort accounts for two-thirds of total trucking capacity.
The increase in digital freight platforms over the past few years has created more apps and websites for carriers to monitor to find loads, and to manually compare and analyze the data to find their best options.
Recent developments by technology companies are filling a void with new tools for small fleets to find, analyze and plan loads using cloud-based transportation management software (TMS). In a sense, fleets are now able to do Expedia searches across the freight market to find the best freight rates, instead of searching for the best rates for flights and hotels.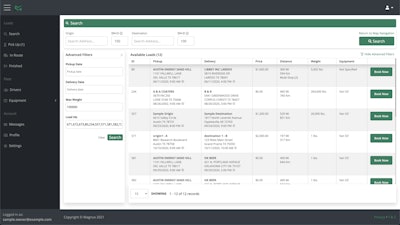 Many small fleets still use client-server software that lacks the ability to integrate with load boards and digital freight matching platforms, said Cartwright, who founded Magnus Technology 20 years ago in Austin, Texas. The company has a cloud-based TMS that integrates with multiple load boards and freight brokers through application programming interfaces (APIs). Its fleet customers range from seven trucks up to 3,000.
The Magnus TMS helps fleets find the best loads, fleet wide, by considering drivers' hours of service, home time requirements, equipment maintenance and more, he said. Pricing is based on the number of active trucks in the fleet.
Last April, Quality Transport, a 20-truck dry van carrier based in Freeport, Ill., began using Axele, a new cloud-based transportation management system (TMS) from Optym. Before joining Quality Transport in 2018 as its senior vice president, Amanda Schuier was working for a larger carrier with more technology.
The systems of Quality were not cloud based, and "a lot of things needed improvement," she said, such as reducing the amount of paper and being able to access documents remotely.
As one of Optym's first customers in the truckload space, Schuier was able to provide feedback and requests for features that developers added to Axele, such as the ability to split truckloads into shipments from two or more customers.
"Beta testing is fun. We've got a better product, but they had to listen to my demands. Overall, we are so much better than what we were a year ago because of technology upgrades," she said.
One of the most welcome features in the new TMS system is having drivers' hours-of-service (HOS) data from the fleet's Samsara ELD system integrated with load planning functions. The TMS also has a mobile app that helps drivers plan out their workweek and capture images of load documents to expedite the billing process.
"We can bill the same day. This is critical, especially for small fleets. We have to maintain cash flow," Schuier said.
Optym says its Axele TMS is integrated with DAT to automate truck postings and load searches. The company is currently working on more integrations with other load boards and digital freight matching platforms.
On top of these integrations, Axele's user interface has a dashboard that tracks key metrics, such as rate per mile. "We are definitely more cognizant of rates with the new TMS," said Schruier, who closely tracks revenue against weekly targets.
Because the software is cloud based, "I have instant visibility to our data, and a running report of what is going on, so I can see issues," she continued. If revenue for the week is up or down, "I can see it really quickly."