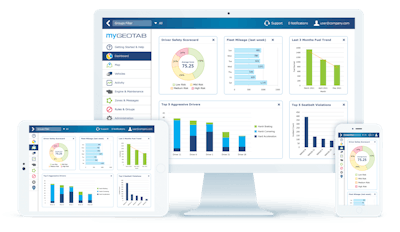 Most fleets are using some, if not all, of their software products through a subscription rather than the more traditional client-server approach. A downside of the SaaS model is its linearity, meaning users have limited options for customizing the software to meet their specific needs.
Telematics provider Geotab announced a new product that changes the traditional SaaS model during the Geotab Extend virtual conference, March 23-24. The new product, Extended Services, will allow fleets to create secondary databases for sharing vehicle telematics data with their own applications as well as granting secure access to third parties through an open application programming interface (API).
Colin Sutherland, Geotab's executive vice president of sales and marketing, describes Extended Services as a "scalable way for customers to use data."
Prior to creating the new service, fleets that wanted to share data with third parties had to provide login credentials to their own Geotab platform, although they could limit access based on user permissions. Extended Services creates an entirely separate database that only contains data that fleets want to share.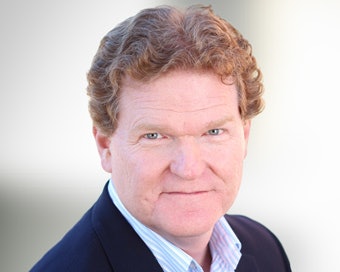 Instead of requesting data from the main Geotab database, an open API that hits a secondary database would have a faster transaction speed of under two seconds, Sutherland said.
[Related: Geotab creates 'Order Now' program for third-party apps]
One area where the product could immediately see use by fleets is to share a database with insurance companies for quoting and underwriting policies. Some insurance companies, especially "insurtech" firms, have programs that allow fleets to share telematics data to obtain price quotes. Other insurers have ongoing data sharing programs that fleets use to quality for discounts.
Fleets may not want to share telematics data that includes customer locations, for example, or the time of day that drivers are driving, said Neil Cawse, chief executive of Geotab. Extended Services allows the customer to control that and other parameters.
Cawse expects to see fleets sharing the same database containing the last 30 days of data, for example, to multiple insurance companies to obtain competing quotes based on their actual risk behaviors.
Equipment leasing companies are another Geotab customer that Sutherland sees a demand for Extended Services. Currently, 50,000 of the more than 2.2 million vehicle subscriptions in Geotab's network are owned by equipment leasing companies who are offering telematics services to their customers from the Geotab platform.
Leasing companies will be able to set up separate databases for telematics modules they offer to their fleet customers — one database for ELD data, another for fuel card data, engine diagnostics, odometer readings and more.
Neil Cawse sees additional use cases for Extended Services that include sharing vehicle data with a third-party maintenance service center. A shop doesn't need to know, nor would a fleet want them to know, how many harsh braking or speeding events that drivers had. A fleet could choose to only make visible certain data sets, like diagnostic trouble codes.
Distributing data and controlling access and flow "is what it's all about," he said.
[Related: Could 'insurtech' lower costs of truck insurance?]
Cawse points to another use case with the Port of Vancouver, Wash. The Port has a program that guarantees wait times for trucking companies will not be more than 30 minutes if they install a telematics device or share location data. By using Extended Services, fleets will be able to create a database that only shows the locations when drivers enter the port. The moment trucks leave, the record in the database will shut off, he said.
Other announcements made by Geotab during its Geotab Extend event are:
Geotab for Small Business, a new offering specifically designed to support small businesses who may own and operate only a few vehicles. Small business owners will receive access to Geotab's telematics platform as well as direct support services.
A new GO9 Rugged device. The new hardware is designed to better withstand harsh conditions such as extreme temperatures, precipitation and dirt with the added benefit of providing the same technology as the traditional GO9 device. On-road and off-road fleets can be managed in a single platform.