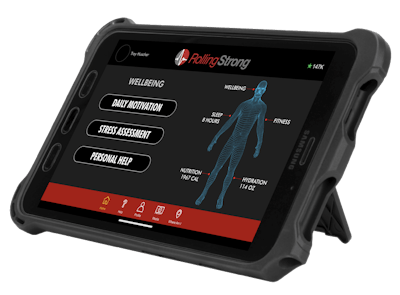 While the work schedule of professional truck drivers varies, the sedentary nature of the job doesn't – nor do the limited healthy food options on the road.
The demographics of the driver workforce are another health concern. Nearly 57% of all truckers are over the age of 45, and 23% are over 55. Nearly a quarter of the current trucking workforce is on track to hit retirement age within the next 10 years, and nearly 8% of truckers currently are already above retirement age.
A medical study conducted in 2014 found obesity and smoking were twice as prevalent in long-haul truckers as the general population. Both increase their risk of heart disease and diabetes. Sixty-one percent of drivers in the study reported having two or more of these risk factors: hypertension, obesity, smoking, high cholesterol, no physical activity, and six or fewer hours of sleep per 24-hour period.
Drivers are well aware of the toll of their career takes on their health. As part of CCJ's 2020 What Drivers Want survey, drivers listed heath as their No. 2 job concern (19%), next to "paying my bills each month" at 28%. Additionally, 7% of drivers said the thing they dislike most about their job is "driving has been bad for my health."
The survey had 1,056 respondents, split between company drivers (82%) and leased owner-operators (18%).
Boosting corporate health programs
Given the concerns drivers have about their health, what can motor carriers do that will help create a healthier work lifestyle? Smartphones are nearly ubiquitous among truck drivers, and developers have created plenty of health apps for individuals and groups to track their progress towards fitness goals.
Some motor carriers have also installed their own apps on in-cab mobile platforms to give drivers a more convenient way to participate in corporate health and wellness programs.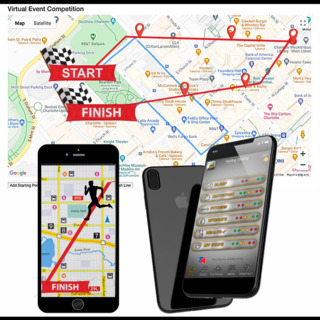 Drivers can compete in virtual competitions, such as 5Ks, using the Rolling Strong mobile app.Fleets that use the Platform Science connected vehicle platform have the option to choose the Rolling Strong driver-focused health and wellness app from its marketplace of trucking industry-focused applications.
"Our technology makes it possible for third party apps, such as Rolling Strong, to be integrated onto the systems of all our fleet partners, and we'll continue to add more apps that serve drivers and meet their specific needs on and off the road," said Thomas Colby, senior vice president, Partner Ecosystem, at Platform Science.
The Rolling Strong health and wellness mobile app has a Health Risk Assessment Questionnaire to identify individual areas for improvement. App users can also monitor hydration, nutrition, fitness activity, sleep and weight, and have access to Rolling Strong health and wellness coaches for advice.
The app has exercise programs with guided workout routines that can be done anywhere without the need for a gym. The routines are based on personalized preferences with duration and intensity choices, and daily step tracking with an integrated wearable activity tracker. Rolling Strong also gives drivers annual reminders about DOT certification and medical evaluations coming up for renewal.
Mesilla Valley Transport (MVT), a Las Cruces, N.M.-based truckload carrier (CCJ Top 250, No. 74), uses Rolling Strong as its driver wellness program on Platform Science. Additionally, the company has kiosks at all company terminals where drivers can check their weight and vitals.
The quick test lets drivers know if their blood pressure is high and indicates other health concerns that may need to be addressed, explained Royal Jones, president of MVT. When out on the road, drivers use the Rolling Strong app to monitor their progress and connect with a wellness coach to learn about proper diet and ways to exercise on the road.
"These things are just extra care that we can give our drivers to make them feel better about their health and job at MVT," Jones said.
Another motor carrier that uses the Rolling Strong platform is Koch Trucking (CCJ Top 250, No. 96). The truckload carrier in Minneapolis, Minnesota, provides the mobile app to about 850 drivers as well as administrative staff.
"We know that maintaining personal health can be a challenge so for the past year we've been looking for a partner who could help everyone improve their quality of life at work and at home," said Angela Scanlon, human resources director at Koch Trucking.
Koch Trucking introduced its new wellness program in February in conjunction with American Heart Month 2021, a program from the Centers for Disease Control that aims to help people focus on their cardiovascular health.
For drivers, Koch Trucking provides Rolling Strong's RS Flex system that creates an in-cab workout gym. RS Flex connects low impact resistance bands to various connection points in the truck while the app guides users through workout routines.
"Drivers are a rare commodity these days, so we hope this program will help achieve our main goal, which is to keep them driving," Scanlon said. "Unhealthy habits have taken too many of them out of the game on extended medical leaves, or they have sadly passed away at a young age. Rolling Strong is a program designed for drivers that has helped thousands lose weight, lower blood pressure, and successfully recertify their CDL medical cards. With it, we believe they will be able to take better care of themselves."
Rolling Strong provides Koch Trucking users with in-app competitions to win awards for meeting certain health, wellness and fitness criteria. Koch Trucking awards prizes – such as tumblers, wearables and gift cards – to increase engagement and participation in the program.