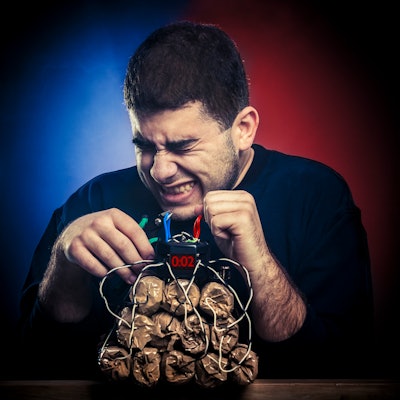 Hollywood action movies follow a predictable script for disarming bombs. Seconds before the ticker reaches zero, a protagonist cuts the blue wire and saves the day. 
Solving legal problems is not so simple, especially for motor carriers who over the last decade have seen the litigation environment turn "nuclear."
In a June 2020 report, the American Transportation Research Institute charted a 967% increase in the average size of verdicts from $2,305,736 to $22,288,000 between 2010 and 2018.
The good news, if there is any, is that rising litigation and insurance costs have created entry points for businesses to bring a fresh approach. For example, loss ratios have forced commercial truck insurers to exit the market but "insurtech" companies have come in with programs and technology to squeeze out savings for fleets.
[Related: Could 'insurtech lower cost of commercial truck insurance?]
This week, a new company named Bluewire announced plans to help fleets mount a proactive defense strategy for the Reptile Theory approach used by plaintiff attorneys. The Reptile approach creates anger and a desire for juries to punish trucking companies for perceived bad behavior.
Nuclear verdicts have never been handed down as a result of driver negligence. Rather, they come from juries being convinced that trucking companies simply don't care, said Steve Bryan, CEO of Bluewire.
Nuclear defense strategy
Bryan founded Vigillo in 2007, which became the preeminent supplier of safety data monitoring and analysis to fleets. The company had 2,000 fleet clients when it was acquired by Samba Safety in 2017.
In August 2020, Bryan left SambaSafety to be an entrepreneur. He often escaped to a cabin in the mountain village of Government Camp, Oregon, to think about how he could improve the trucking industry's image. He had already served on the executive committee of the Trucking Moves America campaign, but another public relations campaign is not what he had in mind.
[Related: SambaSafety acquires Vigillo]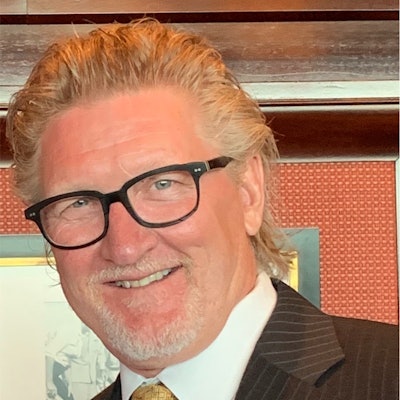 He wanted to gather, analyze and use data to help individual companies and the industry at large improve their image. Bluewire is a data analytics firm, he stressed during a Zoom conference on Tuesday, May 11, to announce the company to industry media.
Bluewire's mission is "to champion your company reputation," he said. It will be providing motor carriers and their insurance partners with scientific, data-driven methodology to help protect against vulnerabilities that lead to reputation-damaging false narratives.
As CEO, Bryan has a supporting cast of industry experts. Chief Operating Officer Bob Boyich has 40 years of experience in transportation and spent 28 years at CPC Logistics, which supplies truck operators to private fleets. Chief Legal Officer Doug Marcello has 40 years of experience as a defense attorney and has spent the last 16 years in trucking. Chief Technology Officer Peter Rowe was with Bryan at Vigillo and is "critical to the data science and AI we are going to do," Bryan said.
As part of forming the company, Bryan created a board of directors that includes safety experts Don Osterberg and Annette Sandberg, who will be "operating at a very strategic level to help us stay on track, and to move this huge mountain," he said.
The company also has an advisory board that includes industry experts such as Dave Osiecki, Steve Garish and Rob Abbott.
Measuring reputation
Bluewire is in the process of creating a Reputational Index with data science. The measurement will use qualitative and quantitative data. All of the inputs for the score have been identified as possible attack vectors, or vulnerabilities, that plaintiff attorneys will use in litigation to "start telling a false narrative," he said.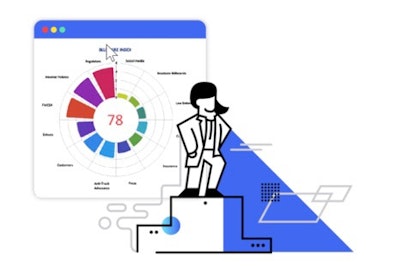 The index will show carriers their areas of strength or weakness using a scale of 0-100. Higher scores indicate more exposure to attack vectors, and how Bluewire customers can direct their efforts to "get out in front of false narratives," Bryan noted.
Attack vectors can include how a fleet communicates with drivers on job boards as well as FMCSA data, social media posts, and how a company uses safety and compliance technology. Bryan compares use of technology such as cameras and telematics to weapons of war, "but you have to have a strategy to win the war, and that is what Bluewire is bringing to the table."
The platform will also have a "white hat" recommendation engine to inform clients of the next best step to take. Bluewire will have subject matter experts and consultants in each area that can work with customers to make recommended changes.
Doug Marcello said juries award punitive damages to punish past conduct and determine future conduct. With a Reputation Index, a defense attorney could point out that the carrier has recognized and is addressing areas beforehand. "That is the story we want to tell," he said, "to take this off the table."
Bryan compared the services Bluewire will provide motor carriers to going to the doctor for a checkup. The doctor will examine a number of things to determine a patient's overall health by running blood tests or having the patient work out on a treadmill to evaluate cardiovascular fitness.
"We are the overall health evaluation," he said. "We are looking for a cure, not how to relieve individual symptoms."
Bluewire will not be digging into the data from technologies that fleets use, such as cameras and telematics systems to monitor driver behavior, he stressed. "What we are going to do is be the unifying theory that brings all of this together," he said.
Software the company is now developing will be tuned to get data from fleets at a high level, such as searching for certain text and phrases that carriers use in social media and in driver communications.
Product timeline
In June, Bluewire will launch an assessment at no cost to the industry with 25 to 30 questions to explore how companies think about their reputation. The results will help survey respondents "see the vision of what it takes to measure and manage reputation," he said.
A paid assessment will come later and will be "a much deeper dive," said Bryan. This will involve getting input from all departments to find vulnerabilities. Developing a software platform and the Reputational Index will come later this year and possibly early 2022, he said. At some point after that Bluewire could begin to offer a service to insurance companies, captives and brokers.
Bluewire will offer its platform as a monthly subscription model with pricing on a "modest" per-driver basis, which will allow the service to be scaled to carriers of all sizes.
Bryan sees similarities between how Vigillo was started (by educating the industry on the FMCSA's Compliance, Safety, Accountability (CSA) program) and giving carriers scorecards before the data became public. Bluewire will get the trucking industry thinking about the concept of measuring their reputation, which "I don't think has ever been approached before," he said.