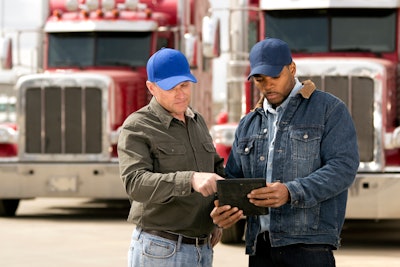 Supply chain disruptions over the past year have diverted shippers, logistics service providers (LSPs) and motor carriers from their pre-pandemic environmental initiatives.
"When capacity is super tight, you do whatever you can to get shipments where they need to be," said Glenn Jones, general vice president of product strategy at Blume Global, a developer of transportation management software (TMS) and visibility systems for shippers and LSPs.
Now that supply chains are beginning to normalize, Jones is seeing renewed interest from Blume's customers in getting transparency about carbon emissions for different transportation options.
Blume Global recently added new features to its cloud-based TMS for users to compare the carbon outputs of different transportation modes — air, ocean, rail and truck — as well as for the specific routes and equipment used for each shipment.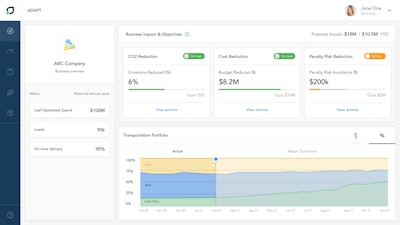 "I think this is really going to be a defining feature of logistics going forward," he said. Tracking the carbon emissions of ocean, air or railroad shipments is much easier than trucking. Getting lane-specific details about the emissions of a tractor-trailer is difficult since trucking companies generally do not assign trucks to loads until the last minute, Jones explained.
Anshu Prasad, chief executive of Leaf Logistics, is also seeing a return of environmental initiatives. Many of Leaf's customers are in charge of supply chains and transportation procurement for large companies. An increasing number have "sustainability" in their job titles, he said.
"There is a recognition on the shipper side that transportation has one of largest impacts on their overall carbon footprint," Prasad noted. Transportation emission reduction is a primary focus in the Environmental, Sustainability and Corporate Governance (ESG) statements on the websites of public and private companies and in their annual shareholder reports.
[Related: Biodiesel helps win freight bids as environmental pressures mount]
New York City-based Leaf Logistics has a freight contracting platform that buyers (shippers and 3PLs) and sellers (carriers) use to secure future transportation capacity, rates and service.
Many shippers and LSPs already give bonus points to fleets registered as SmartWay Carrier Partners with the Environmental Protection Agency, but Prasad is seeing a greater emphasis on the use of data and tools to reduce transportation costs and carbon emissions on a transactional basis.
Mutually beneficial goals
Reducing non-laden miles (empty or "deadhead" miles), is coming into a focal point for shippers and LSPs to reduce the overall cost and environmental impacts from transportation.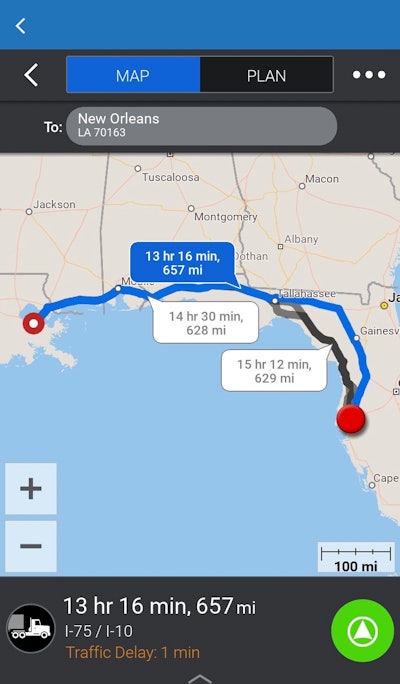 Empty miles have always been a primary focus for motor carriers, and the importance has been elevated during the past year due to a driver shortage and rising transportation costs, said Chris Orban, vice president of data science at Trimble Transportation, which provides mobile and back-office fleet management technology.
With shippers and LSPs focusing on deadhead mileage, will carriers have more opportunities to work on mutually beneficial outcomes?
In the past, carriers have not generally been asked to share data with their customers about reductions they've made in carbon emissions, as this "has mainly come as a side benefit" for fleets who've made an effort to reduce empty miles and make other operational improvements, Orban noted.
Fleets' efforts to reduce empty and other non-necessary miles go hand-in-hand with another major goal to increase safety, said Doug Schrier, senior vice president of strategy at Transflo. Fleets that optimize their route planning not only reduce miles driven but also their accident risk while gaining the added benefit of lower emissions and diesel spend.
Mileage-based key performance indicators (KPIs) that carriers already use can be easily converted into metrics for tracking emission reductions.
Transflo's cloud-based mobile driver app, ELD, telematics and back-office automation platform, for example, has a dashboard that fleets use to track a number of KPIs. Transflo also works with fleets on "ROI accelerators" to understand where performance is today and how to drive it forward, Schrier said.
One of the most useful KPIs that fleets use to tighten up their network to reduce costs and emissions is the percentage of laden (loaded) versus non-laden miles, he said, which is the same as revenue versus non-revenue producing miles.
Non-laden miles includes moving trailers to different customer sites, going to a truck stop to fuel prior to getting a load, and miles to move trucks empty into markets to pick up their next loads, he explained.
Another useful KPI is the percent difference in "directed miles" or routes that fleets provide to drivers through navigation and the actual miles that drivers ran, Schrier said. This percentage tends to be pretty high. It's not unusual for actual mileage to exceed directed miles by 10%, he noted.
Transflo has a driver scorecard in its mobile app that fleets can use to share individual mileage results with drivers, and alert them to their non-necessary miles so they can self-manage corrections, he said.
Targeting empty miles
Logistics companies, more so than carriers, may have more opportunities to present emission-savings plans to shippers from reducing empty miles and costs by connecting freight movements from multiple carriers.
"We think a lot about that," Prasad said. With Leaf's platform, shippers and 3PLs can analyze their supply chains and identify freight lanes that have predictable schedules, which can be offered to carriers for different time periods.
Freight contracts can be extended for days, weeks or months at a time, he explained. In some instances, lanes can be combined to create a repetitive round trip to negotiate more favorable rates and reduce emissions.
Leaf Logistics has a dashboard with performance metrics that shippers and LSPs can use to track their progress in reducing their carbon footprint around endpoints in their networks as a result of fewer empty miles, he said.
Shippers and 3PLs that report on such metrics to their investors and shareholders can show "they really understand what is going on," he said.
Blume Global has several features in its TMS that its customers are using to reduce or eliminate empty miles for container moves. Containers often go from seaports directly to railroads, and as soon as the containers are unloaded they go right back to the seaport empty, Jones said.
[Related: why is driver utilization so low?]
Customers of Blume Global move a large volume of domestic containers on rail. Shippers and intermodal marketing companies (IMCs) use the TMS to find domestic containers in the TMS platform that can be reloaded before they return to a port, he said. When an IMC secures a reload, it uses the revenue to offset the cost of the return move for the ocean carrier.
Blume Global introduced the domestic reload feature about seven years ago, and "it has gained a lot of traction lately," he said.
The TMS platform has a similar feature, Street Turn, to optimize return routes for drayage trucks. It matches imports with exports for drayage carriers to reduce empty miles by matching containers that go inland with loaded containers they can take back to the port.
A 2018 study by the Boston Consulting Group found that street turns could reduce empty miles by more than 50%, and "we are executing on that now," Jones said.
In the near future, Blume Global plans to add another feature to its user interface that will show the carbon emissions of an end-to-end shipment across multiple modes, as well as enable users to include sustainability in the automated carrier selection process for contract and spot loads, he said.
As supply chains return to normal, budding pressure from government regulations and social interest in environmental initiatives are spurring changes in how shippers, LSPs and carriers conduct business and land new opportunities.