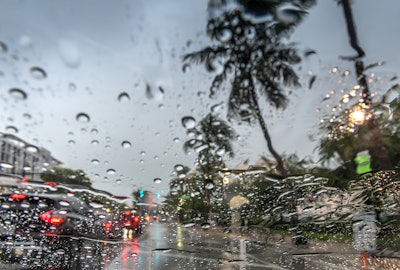 According to the Center for Disaster Philanthropy, the total aggregate cost for the 2020 hurricane season was almost $47 billion, making 2020 the seventh costliest hurricane season in history.
Predictions don't look any better for 2021. The forecast calls for 17 named storms this year, including eight hurricanes and four major hurricanes, according to Colorado State University. This impending busy hurricane season means that asset owners must effectively ensure they can keep employees and equipment safe while curbing significant losses.
Telemetry technology is a solution used in fleet management, but over the years the technology has progressed to provide big data for deeper intelligence and meaningful analysis. Advancements in telemetry tech can now easily pinpoint employees and assets, as well as products, and rapidly respond to changing environmental conditions to ensure ongoing safety and security.
Prioritizing safety
In the supply chain, keeping employees safe should be paramount. And, with access to IoT solutions, companies can gain greater visibility into the whereabouts of employees and assets. With access to real-time location data, companies can communicate with employees, alert them about impending bad weather conditions, and effectively re-route them to safe zones. With maintenance alerts, companies can also ensure that all assets meet the necessary safety checks before they are out on the road, which helps mitigate accidents.
When companies are able to effectively react and respond to developing environmental conditions, they can help to reduce the impact on their business. Telematics can contribute to proper material handling, creating a less risky environment. Especially after the storm has passed, critical relief efforts are needed. As such, companies can move quickly to provide medical supplies and equipment to those affected. And, with visibility into the condition of supplies, companies can ensure they are well-maintained in refrigerated assets if there is no power in the affected regions.
Locating employees, assets and products
Knowing exactly where employees, assets and products are located during a potential hurricane or tropical storm can help companies to adapt their plans effectively. With access to real-time data analytics, companies can provide employees with alternative routes to avoid congestion and road closures in changing weather conditions. This means that pick ups and deliveries can be rescheduled to minimize business impact.
Using logistics telematics, companies can also enable real-time monitoring of the security, location and condition of high-value enterprise assets such as industrial trucks, tractor trailers, containers and truck fleets. With access to this data, the security, control and management of precious cargo is also assured. Assets can be equipped with high-definition cameras, image recognition processors and door sensors, while the cargo area can be equipped with environmental sensors for true supply chain visibility. Remote readings can also provide the specific cargo's temperature, light, humidity and movement to easily detect any issues and report them to the driver and management. Knowing what products are on what assets – such as the product type, condition, quantity and quality – is a critical level of visibility companies need during hurricane season.
Predictive and preventative analysis
When assets are monitored with technology powered by solar panels and supercap batteries, companies can expect continuous visibility and reporting, not only on the asset, but also of their employees and cargo. Using telemetry data available, companies can perform "what if" analysis from the past.
In addition, AI and machine learning capabilities provide predictive analysis and/or preventative analysis that helps improve strategic plans and minimizes the impact of future weather systems – such as impending hurricanes. This is especially beneficial for fleet owners operating in hurricane-prone areas such as Florida, Texas, Louisiana and the Carolinas.
As environmental conditions continue to be quite volatile, predictive weather data tells us that temperatures and sea levels are likely to rise leading to more extreme weather conditions like hurricanes, tropical storms and tornadoes. To reduce the impact to the supply chain, owners can circumvent some of these issues with access to robust telemetry data to better prepare and improve readiness, response and recovery efforts. There's a tremendous amount of cooperation that occurs when there are hurricanes as organizations come from all over the country to help troubled areas. Having access to real-time data on the location and status of assets and human resources are critical in the coordination of relief efforts as well as adjustments needed to keep the supply chain moving.
With telemetry tech providing extensive data, companies have insights into their employees, fleets and cargo and can make more informed decisions to ensure their safety. Telemetry tech helps companies to increase efficiency and productivity while reducing costs and improving profitability throughout the supply chain regardless of hurricane disruptions.
Mark Stanton is the GM of PowerFleet for Supply Chain Solutions. In his role, Mark is responsible for all business-related activities including sales, engineering, product management, finance and administration, and warehouse operations for both the industrial and logistics sides of PowerFleet's business. Prior to joining I.D. Systems (PowerFleet) in 2014, Mark was the vice president of corporate sales at Isotrak Inc.