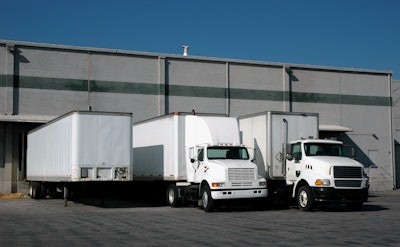 This is the second installment of a two-part series on carriers paying for unloading services. The first installment explored the makeup of "lumper" fees. This article covers new and emerging trends in payment systems that remove headaches for carriers.
Motor carriers, especially in the refrigerated sector, are accustomed to managing payments between drivers and "lumper" services at receiving locations.
By law (49 U.S. Code Section 14103), shippers are required to reimburse carriers for paying unloading fees. As part one of this series showed, carriers want to escape being in the middle of unloading transactions because of the cash flow problems and administrative burden it creates.
Much of the frustration is due to carriers using traditional cash and check payment systems that require them to send codes to drivers and chase down lumper receipts to include with their freight invoices. Approximately 10% of lumper receipts are lost, experts say, which adds to driver frustration and can be a significant expense.
New technology makes it possible to move payments for lumper services to the next level of efficiency and save drivers and motor carriers time at the dock.

Modernizing the dock
A growing number of distribution centers, warehouses and receiving locations are contracted with service providers that bring more to the unloading dock than labor.
Capstone Logistics, for instance, is the largest warehouse services provider in North America with 570 sites under management for customers that include major grocers and retailers.
"We are at an important nexus within the freight industry that, coupled with our scale, provides us with a great opportunity to augment technologies and drive efficiencies," said Ahmed Abdalla, chief technology officer of Capstone Logistics.
Capstone is working on several initiatives that will improve the payment process for carriers to pay unloading fees. It is also evaluating new technologies and partnering with startups to digitize transportation paperwork and reduce administrative workload.
Today the company offers a Direct Bill program where unloading fees are pre-paid by shippers for drivers and fleets to bypass payment. Another new program, CapstonePay, gives drivers a remote, zero-touch payment system and electronic receipts when using unloading services at Capstone-managed facilities.​
"Right now, we can provide carriers and drivers with an instantaneous electronic receipt and are doing this in over 200 locations," Abdalla said. "We also have the ability to quickly provide further valuable information regarding damages, which we know is something that carriers need for payment processing."
Digital payments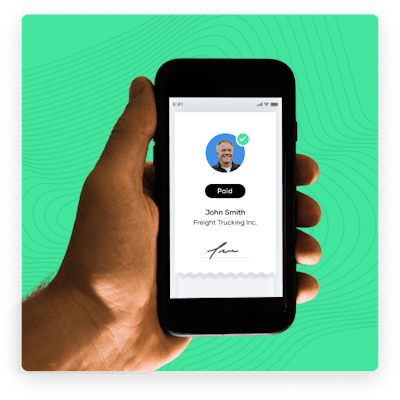 Traditional cash and check payment systems used by carriers and drivers for lumper fees have been transformed by digital technologies.
FreightWorks, a 110-truck motor carrier based in Rutherfordton, N.C., is using Relay Payments, an electronic payment system that gives carriers and freight brokers a Venmo-like experience to pay unloading fees.
Currently, fleet managers use Relay Payments and work with drivers to pay lumpers. The payment goes directly to the lumper service streamlining reconciliation and receipts.
"It is super simple, but it makes a huge impact," said Jordan Kidd, director of business intelligence.
For FreightWorks, the payment and receipt process is now automated. Before using Relay, FreightWorks had $30,000 in lost lumper receipts that "we never got reimbursed for," he said.
Relay has different options for digital workflow. Besides using websites and mobile apps, the payment system can be integrated with the transportation management software (TMS) that carriers and freight brokers use.
Merit Logistics, a national third-party warehouse services provider based in Southern California, recently announced that is is using Relay Payments to accept electronic payments from carriers for its unloading services. Merit Logistics is deploying Relay Payments across its nationwide network of client distribution centers.
In addition to saving time on the dock, Merit has seen how replacing paper check payments with a process that is fully electronic will enhance the profitability of their client distribution centers overall. Merit customers include some of the largest grocery and retail chains in the country.
"About 80% of our carrier receivables were previously paper checks," explained Robert Gunderson, CFO of Merit Logistics. "With the switch to Relay Payments, we will eliminate the direct costs associated with paper check payments. The multi-step manual process of handling paper checks involves phone calls, printed receipts, related expenses, and a host of issues impacting both carriers and us."
Several years ago, Comdata introduced a new Comchek Mobile platform that effectively made its Comchek Express money transfer system — a staple in the trucking industry for the past 40 years — into a PayPal-like system for sending and receiving electronic funds. With Comchek Mobile, funds can be transferred directly between parties by using IDs.
Shippers, brokers and carriers have traditionally used the Comchek Express system to send unique codes to drivers to give to lumpers, who would write them on paper checks that were cashable at locations in Comdata's proprietary merchant network.
In practice, a freight broker or carrier could issue a cash advance to a driver by using the driver's unique Comchek Mobile ID. They could also send a traditional Comdata Express Code. When a driver receives funds he or she can use the Comchek Mobile app to pay a lumper by entering the lumper's ID.
Leveraging visibility
Another ongoing development that could prove beneficial to motor carriers and their drivers is the use of freight visibility data by companies that provide unloading services.
Capstone Logistics is working with visibility providers, such as project 44 and FourKites, to improve efficiency at Capstone-managed DCs. The company is using its proprietary APEX system to capture data and provide visibility to dock operations to drive 10% to 30% productivity improvements, Abdalla said.
"When we provide both warehouse services and freight management for a customer, we can take visibility even further. The integration of data and operational processes allows us to extend savings from transportation through dwell and detention time reductions, dynamic dock scheduling, and real-time activity tracking / proactive exception management," he added.