Trucking news and briefs for Tuesday, June 8, 2021:
Navistar targeted by hackers
Navistar learned of a credible potential cybersecurity threat to its information technology system May 20, the company disclosed Monday.
The company said to-date its IT system continues to be fully operational, but on May 31 Navistar received a claim that "certain data" had been extracted from its system. Navistar said it is working with third-party experts as it continues "to investigate and address the scope and impact of the cybersecurity incident." Law enforcement is aware of the cybersecurity incident, the company added.
Upon learning of the cybersecurity threat, the company said it launched an investigation "and undertook immediate action in accordance with its cybersecurity response plan, including employing containment protocols to mitigate the impact of the potential threat, engaging internal and third-party information technology security and forensics experts to assess any impact on the company's IT system, and utilizing additional security measures to help safeguard the integrity of its IT system's infrastructure and data contained therein."
Bolt Express celebrates 20 years
Bolt Express is celebrating its 20th anniversary.
"This is a celebration of our employees and drivers. It's all about the team," said Guy Sanderson, chief executive officer. "It's a strong reminder of how proud we are of them and how proud they should all be of the role they have all played in everything we have accomplished, and most importantly, the type of company that we have created."
Sanderson said the the company's core culture and values have been a driving force of the Toledo, Ohio-based time-sensitive transportation services provider's growth. "Our biggest advantage as a company has been and continues to be, our company culture," said Sanderson.
Bolt Express acquired DSE Services of Daleville, Indiana, in 2014 and more recently, Premium Transportation. The two acquisitions, combined with an increased drive in sales, profit-sharing incentives, and a higher level of recognition of the value of stakeholders, have led to overall organic company growth. Bolt Express Vice President Michelle Dunn says, "We do consider the financial impact when we make a decision, but we also take into account how that decision will impact our customers, our drivers, our employees, and our community. This philosophy contributes to our success and lets our employees know that they are a part of something that has a greater purpose."
Goodyear, Cooper complete merger
The Goodyear Tire & Rubber Company on Monday announced it has completed its acquisition of Cooper Tire & Rubber Company, finalizing the merger agreement made public on Feb. 22. The combination unites two leading tire companies with complementary product portfolios, services and capabilities to create a stronger U.S.-based leader in the global tire industry. The combined company will offer more options across the value spectrum making it easier for customers and consumers to choose Goodyear- and Cooper-branded tires.
"We are excited to officially bring Goodyear and Cooper together and unite our shared focus on customers, innovation and high-quality products and solutions. This combination strengthens Goodyear's ability to serve more consumers globally and provides increased scale to support greater investments in new mobility and fleet solutions," said Richard J. Kramer, Goodyear chairman, chief executive officer and president.
As a result of the closing, Cooper's common stock will cease to be traded on the New York Stock Exchange.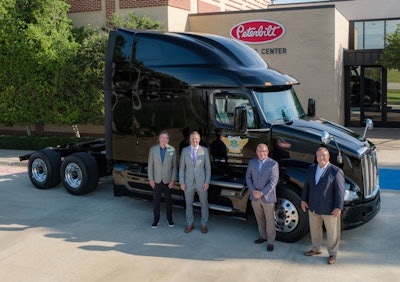 Peterbilt delivers its first all-new Model 579
Peterbilt has delivered the first production new Model 579 to Smith Transport.
An early adopter of the UltraLoft when it launched in 2018, Smith Transport is an employee-owned company.
Smith Transport CEO Todd Smith noted the company's first truck more than 40 years ago was a Peterbilt. The New Model 579 is the most technologically advanced Peterbilt ever with an aerodynamic and fuel-efficient design, a 15-inch digital display and Advanced Driver Assistances Systems. The interior of the New 579 includes soft-touch materials with a premium fit and finish. When configured as an UltraLoft with an integral sleeper featuring 70 cubic feet of space, drivers have more storage than any comparable integral sleeper and an eight-foot high ceiling. The cabin has room for small appliances, including a 1.1 cu ft microwave, a 32-inch TV, a tall wardrobe closet, multiple power outlets and optional bunkbeds with a clever fold-away ladder.