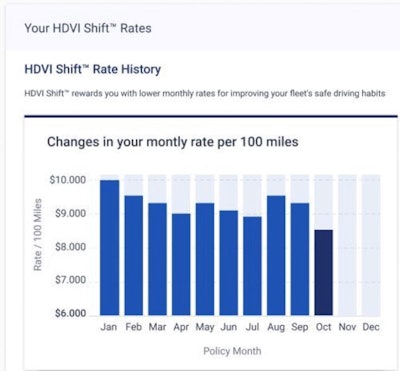 Venture capital firms have poured money into startup "InsureTech" companies with user-friendly insurance products for consumers' homeowners, auto and speciality lines.
Money has also flowed into InsureTech companies that specialize in commercial auto during the latest insurance crisis for motor carriers. In the past few years, traditional insurance companies have been raising premiums by double digits to make up for past losses and future payouts. Some have pulled out of the trucking market altogether.
The business models of InsureTech companies utilize real-time data shared with them by fleet customers to price their policies and reduce accident risks.
"There is a huge demand out there," said Chuck Wallace, co-founder and CEO of High Definition Vehicle Insurance (HDVI) Group. HDVI was founded 3.5 years ago as a commercial auto insurance company focused on technology and product innovation.
The company is currently seeing policies grow by 30% per month in the seven states it currently does business in which include Illinois, Indiana, Minnesota, Ohio, Tennessee, Georgia, and Texas.
HDVI plans to be in 12 or 13 states by the end of the year, he said. "We are seeing really nice traction and results from fleets out there."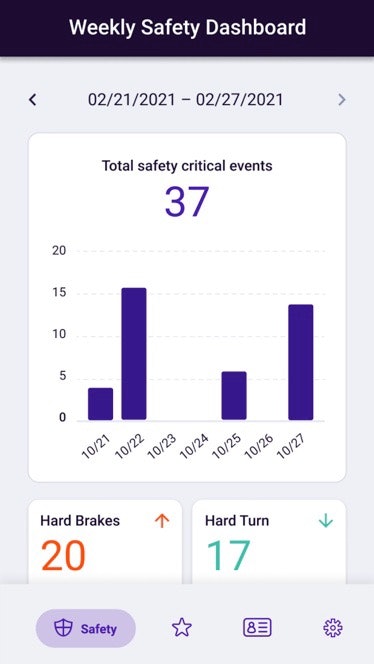 HDVI recently announced a new product, HDVI Shift, that rewards fleets with monthly discounts of up to 12% for safe driving behaviors. HDVI starts with a 12-month policy at a competitive base rate and then applies a discount to monthly payments.
[Related: InsureTech firms expand coverage, service options]
Fleet customers know what their next payment will be in advance. Policy premiums can never go above the initial base rate; they can only get better during a 12-month policy, explains Reid Spitz, head of operations for HDVI.
Included in an HDVI Shift policy is the cost of fleets to use video telematics and electronic logging (ELD) systems. HDVI Shift pays for the hardware and subscriptions for a wide range of video telematics devices.
The company provides a fleet portal that gives real-time safety insights and a mobile driver app that gives individual safety information. Both sets of tools help fleets and drivers achieve policy savings, and HDVI also provides human support and services, Wallace said.
Huddleston Enterprises, a 22-truck dry van carrier based in Memphis, Tenn., started an insurance policy on June 1 with HDVI. To date the company has saved 4.8% total from the original premium after two successive months of getting a 2.4% discount, said Brian Crawford, safety director.
Crawford credits daily interaction with driver behaviors and driver incentive programs for helping the fleet achieve the savings from HDVI. The safety dashboard that HDVI provides details risk factors such as harsh events, distracted driving, speeding, and policy violations.
Huddleston has a standing monthly safety meeting with HDVI, he said.
HDVI offers a full lineup of insurance products — liability, physical damage and cargo. The Shift product is currently available for liability, but Wallace sees opportunities to make the pricing for its cargo insurance line more dynamic as well.
"We are just scratching the surface," he said.
From a financial standpoint, HDVI has the capital to continue scaling and growing the company to become a large entity in the transportation insurance space, Wallace said. Last week, HDVI raised $32.5 million in Series B funding. One of its new investors is Daimler Trucks North America (DTNA).
Daimler is focused on bringing more integrated services and offerings to its customers who buy or lease trucks, Wallace said, and "insurance is a big part of the picture for fleets." After looking at many different insurance companies, Daimler "liked what we are doing. They see us as the right company to partner with going forward," he added.
Richard Howard, president and CEO of Daimler Truck Financial Services North America & Asia, said that due to the rising cost of insurance, "providing better insurance solutions that are truly integrated with vehicle ownership life cycles and usage is an important initiative" for DTNA and Daimler Truck Financial Services.
The latest investment round in HDVI was led by Weatherford Capital with new investors that included McVestCo, along with continued participation from Munich Re Ventures (one of the largest re-insurers in the world), and 8VC, Autotech Ventures and Qualcomm Ventures who specialize in freight, logistics and mobility.
[Related: How do fleet safety execs combat 'Reptile' litigation approach?]
HDVI is initially focused on 18-wheelers, but the company plans to take its products into the lighter duty space of commercial auto for Class 4-6 vehicles as well as last-mile delivery across North America and worldwide. Working with large investors with an international presence will help with those expansion plans, Wallace said.
Lowering the cost of cargo insurance
Another recent development in the InsureTech spaces comes from technology provider Overhaul, which is now offering a cargo insurance program with CNA, one of the largest commercial property and casualty insurance companies.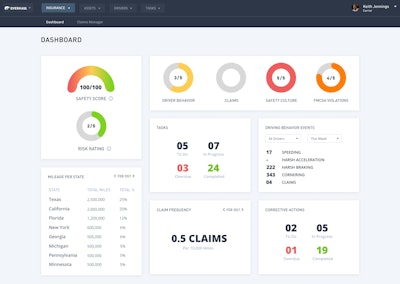 The program utilizes TruckShield, Overhaul's new risk-management app, to provide credits to cargo insurance for safe driving. TruckShield's technology simplifies insurance, maintenance, and safety administration, as well as allows motor carriers to build a data profile that demonstrates ongoing safety and compliance improvements, the company said.
When risky behaviors are detected, the app can attach video coaching or training plans for drivers to complete within a given timeframe. The low-cost TruckShield app utilizes existing hardware in a motor carrier's fleet to give drivers the ability to lockdown the location of stationary equipment to monitor for unauthorized movement of assets and cargo.
If a theft occurs, an immediate alert is sent out to Overhaul LE Connect, an extensive law-enforcement network.
In addition to working with CNA, Overhaul is working with a variety of insurance brokers and motor carrier clients to "get through the chaos that is auto liability market," said Overhaul's Chief Risk Officer Pat Stoik, "by lassoing the data that is being thrown at everybody, and putting it in a usable, actionable format."
Stoik believes that technology will lead to insurance policies being priced on a very granular level. If a fleet has trucks that are not being used due to difficulties with hiring drivers, for example, insurers can use data sharing to credit their monthly premiums.
"This gives the opportunity and capability of modifying premiums based on actual miles driven," he said. "We are working on that."
Recently, Overhaul announced its $35 million Series B round, which brings their total funding to $55 million. In addition to adding new partnerships, the company plans to use the investment to accelerate its product roadmap.