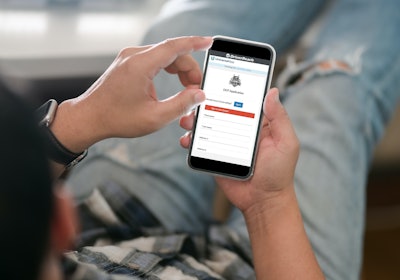 Technology news briefs for the week of Aug. 29:
PrePass now available on Omnitracs One
Omnitracs has made the PrePass application for weigh station bypass available on the Omnitracs One platform. PrePass notifies drivers of upcoming weigh stations on trips, verifies carrier credentials and vehicle weights in advance for drivers to skip inspections.
The PrePass Safety Alliance service is currently used by more than 650,000 trucks from more than 77,000 trucking fleets. With the application, trucks are bypassing stations more than 12 times per month, on average.
Omnitracs also announced that refrigerated carrier Grand Island Express has selected Omnitracs One to be its unified platform for compliance, routing, driver to back-office communications, and customer support.
TextLocate develops instant freight visibility tool
Startup company TextLocate has developed a value-priced system that locates shipments using a proprietary text messaging platform. TextLocate allows logistics companies to verify the exact location of shipments by sending a text message to drivers.
The technology uses a web application to determine the precise GPS location of freight in transit. This eliminates the need to download a mobile application, the company said. Also, it does not continuously track users' location or require a software investment.
TextLocate is offered in multiple pricing tiers that include a free introductory level. Individuals and businesses can sign up online to start using the tool in minutes. The company is headquartered in Chattanooga, Tenn., and was founded in 2021 by logistics technology executive Ryan Rogers who has worked for Amazon, U.S. Xpress and Covenant Logistics.
DriverReach sees record 2021 growth from driver recruiting market
The hot freight market and severe driver shortage has created a boon for technology companies that assist fleets with driver recruiting.
DriverReach has seen a 41% growth in customers using its recruiting and retention management software system during the first half of the year. It has also increased monthly revenue by 81%.
The company has expanded its full-time headcount by 31% and full-time contractors for sales outreach, development, onboarding, and data tasks.
New features added to the company's platform this year include:
An enhanced E-Doc system for turning hiring and onboarding paperwork into electronic documents and forms that can be sent to and signed by applicants on mobile devices.
One-click access for drivers to view their DOT application and submit it for employment at multiple companies.
More integrations with drug and alcohol screening services.
CalAmp releases thermo tag for shipment monitoring
Asset tracking and visibility provider CalAmp developed a new smart sensor, the iOn Xtreme Temperature Tag, for monitoring the environmental temperatures of assets in conditions as low as -270 and up to 400 degrees Celsius.
The temperature range of the smart sensor is ideal for tracking and monitoring shipments of pharmaceuticals, vaccines, biological materials and liquid nitrogen, the company said.
When affixed to an asset or container, the tag captures proximity location and ambient temperature readings at a user-defined logging rate. It then transmits that data via proprietary Bluetooth Low Energy (BLE) signal to CalAmp gateway devices. The gateway devices track shipment conditions from the warehouse to the final destination by connecting to the CalAmp Telematics Cloud (CTC) platform.
CalAmp partner Overhaul, a supply chain visibility provider, has deployed CalAmp's new technology in its stack of cold chain tracking systems.
U.S. Bank creates Voyager Mastercard product
U.S. Bank added a Mastercard payment option to its Voyager Fleet Card. The new U.S. Bank Voyager Mastercard can be used for fleet-related expenses anywhere Voyager or Mastercard are accepted.
The U.S. Bank Voyager Fleet Card can be used to pay for fuel, maintenance and other expenses at more than 320,000 locations across the U.S. that use the proprietary Voyager Network.
The new card works at any merchant who accepts Mastercard, allowing drivers to use just one card for many fleet-related expenses beyond fuel and maintenance, including emergency travel purchases like tows and hotels. Fleets can tailor spend controls for individual drivers and vehicles.
Axele expands cloud-based TMS for small carriers
Axele, a cloud-based transportation management system (TMS) for carriers, has added new ELD integrations and expanded its rate confirmation data extraction feature.
New companies participating in Axele's rate confirmation data extraction are Logistics in Vision, Hazen Transfer, FLS Transportation Services, Schneider (CCJ Top 250, No. 7), Covenant Transport Systems (No. 38), Arrive Logistics, Dupré Logistics (No. 114), and FreightSource.
Axele has an autofill feature that takes data from rate confirmations and populates new loads to save time and reduce errors.
Luma wins 'Best in Biz' award for driver training
Luma Brighter Learning's online eNugget driver training platform has received the Gold prize from the Best in Biz Awards 2021 for the small or medium business product of the year.
Luma provided specific data that demonstrated how clients that use the eNugget LMS improve training completions, reduce costs and driver turnover, and increase overall driver satisfaction and engagement all during a pandemic. Luma has tripled its growth since the start of 2020.
Maven Machines appoints chief product officer
Fleet management and telematics software company Maven Machines appointed Bob Cunningham as chief product officer. As CPO, Cunningham will work closely with company leaders to address customer and partner needs, and lead product department with an emphasis on the user experience.
Cunningham joins Maven from Tobii Dynavox, a global provider of eye-tracking enabled and touch-based augmentative and alternative communication (AAC) devices for individuals with special needs.
Maven has an all-in-one planning and dispatch platform that optimizes routes and automates communication.
"The trucking industry certainly isn't new to technology, but much of the technology that's currently being used doesn't always provide fleets and drivers with the best user experience," said Cunningham.