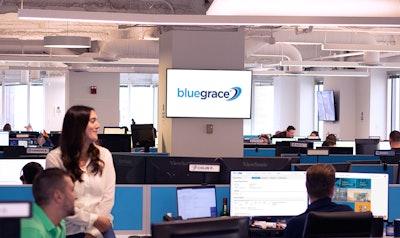 Truck capacity is stretched tight and motor carriers are heading into peak retail season with a full head of steam. Just how tight is it?
A leading indicator, Truckstop.com's outbound tender rejection index (OTRI), currently stands at 22.48. The normal market rate is 5%. Truckstop.com's market data also shows that spot rates have gone up an average of 20%, year-over-year, for all freight sectors.
An internal metric used by logistics service providers (LSPs) daily to gauge capacity is their percentage of pre-booked loads. The lower the percentage, the more work it takes to find trucks to cover loads.
"We are seeing a lot more of that work being done," said Mark Ford, chief operating officer of BlueGrace Logistics, a Tampa, Florida-based logistics service provider (LSP) that manages less-than-truckload, truckload and multi-modal dry van, refrigerated and specialized flatbed freight for shippers.
LSPs are paying higher freight rates but are being inundated with business from shippers who are getting a high percentage of their load tenders rejected by contract carriers and dealing with other supply chain disruptions.
"Pretty much every shipper is forced to re-evaluate the way they do business," said Will Kerr, president of Edge Logistics, an LSP headquartered in Chicago. "They are open to new ideas, technology, and new ways of thinking."
Transportation and logistics providers that can bring capacity are in high demand. Increasingly, more are turning to new freight matching tools that connect them faster and more efficiently with carriers through "book it now" processes.
Carriers are benefitting from this trend by eliminating more phone calls, emails and manual steps to secure loads. A potential drawback of carriers having more automation, however, is they might be leaving money on the negotiation table. Then again, if the price is right, why negotiate?
Finding hidden capacity
Digital freight matching has accelerated the past year as LSPs are looking for capacity they otherwise would not have access to on their own.
BlueGrace Logistics has its own transportation management software (TMS) system and carrier sourcing team to match loads with trucks, but "it's also good to have a combination of other platforms," Ford said.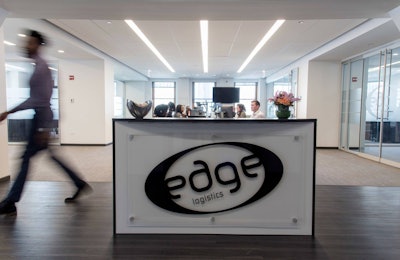 "We don't rely on one method to cover any shipment," he continued. "If you are only sourcing capacity one way, you are not providing maximum value to your customers."
Recently, the company began using the Book-It-Now digital freight matching platform from Trucker Tools. BlueGrace already used Trucker Tools for load tracking, which is one of many features in the mobile app used by hundreds of thousands of owner-operators and small carriers.
With the Book-It-Now feature, drivers are presented with available loads and pricing to accept and confirm rates with a single click.
Ford estimates that BlueGrace covers about 75% of its loads internally using its TMS and historical data to facilitate transactions with carriers. Using the Trucker Tools platform will help with covering the other 25%, which traditionally have caused "a bunch of manual activity to conduct a transaction," he said.
BlueGrace developed its own pricing product that calculates rates for the Book-It-Now loads it sends to carriers through the Trucker Tools platform. A high percentage of these transactions are happening after normal business hours and on weekends. "That's where we see a lot of value," he said.
When carriers select a load, the entire dispatch and load tracking process is automated if the carrier has already gone through BlueGrace's onboarding and compliance process, Ford said. If the carrier has not they can still bid on loads. The dispatch takes place after BlueGrace has onboarded the carrier.
Edge Logistics started developing proprietary technology when it opened its doors seven years ago. "We are very data driven," Kerr said. One of its tools is a mobile app for staying connected with motor carriers who can view available loads and match freight.
The company built its own pricing engine that makes it possible to send carriers loads they can book instantly. The loads are sent to carriers through the mobile app or, if they prefer, by email or SMS text messages. Edge has fully automated its dispatch, load tracking and invoicing as well.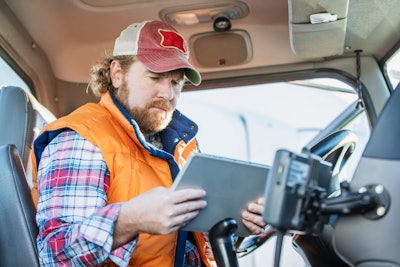 For the past few weeks, Edge Logistics has seen a core group of 5,000 active weekly users log into its system to book loads automatically. Kerr considers this a success, considering that Edge has between 2,000 and 3,000 available shipments per week.
"We have more carriers than loads," he said. "That is a big reason we've been able to grow."
Most of Edge Logistics' shipper customers are large accounts, he said. Overall, the company works with about 40,000 truckload carriers and has annual revenues in excess of $140 million.
When capacity began getting tight in the second half of 2020, Jacksonville, Florida-based Surge Transportation decided to pivot toward automating the load booking process, said Omar Singh, president.
The company uses PowerBroker, a TMS system from McLeod Software, and is currently deploying McLeod's Digital Freight Matching (DFM) web service to share "book now" loads with the DAT freight matching platform, Truckstop.com and Trucker Tools.
"It will be great to be in front of the pack," he said.
For pricing freight, Surge Transportation uses LaneMaster, a real-time rating engine from Cargo Chief. LaneMaster gets true freight pricing data through integrations with a consortium of major TMS systems.
Building a foundation
Using digital freight matching technology to find capacity seems easy enough, but transportation and logistics service providers will not be successful unless they have all the tools necessary to be a preferred option for carriers.
Companies that properly manage detention pay, communicate clearly, pay freight bills quickly, and do other things right for carriers are more prepared to step into the world of automated freight matching, explained Robert Brothers, vice president of product development at McLeod Software.
TMS systems like McLeod's PowerBroker have tools for managing the full lifecycle of freight transactions, pricing and carrier relationships. The tools can be appended with automated digital freight matching tools that communicate with carriers via mobile apps, email and text to send book-it-now loads to carriers.
McLeod's DFM web service allows freight matching services like Truckstop.com, DAT, Trucker Tools, Cargo Chief and Parade to integrate with PowerBroker and get available loads from LSPs to offer to carriers. If carriers are not already doing business with an LSP, the PowerBroker TMS can automate the onboarding process to verify insurance, safety credentials and more, Brothers said.
Merging freight lanes
Digital freight matching platforms fit a specific need to find capacity for spot loads. Some technology providers are looking beyond spot transactions to save shippers money and improve asset utilization for carriers by identifying patterns in freight flows to execute short-term "flex" contracts.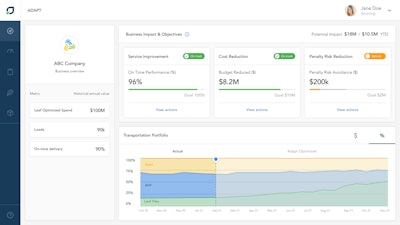 Leaf Logistics has developed a new platform, Leaf Adapt, that continuously analyzes inbound and outbound freight flows from multiple shippers to find network efficiencies. The software makes recommendations for shippers to more cost-effectively meet their transportation capacity requirements.
The company works with shippers that collectively have $22 billion in freight demand. By analyzing this database, Leaf finds ways to more efficiently cover loads by offering continuous moves and circuits to carriers rather than sending individual loads to the spot market.
Leaf Adapt is a forward-looking recommendation engine that uses machine learning to continuously search freight networks and find short-term "flex" contract opportunities based on the business needs of its customers and market dynamics.
Anshu Prasad, founder and chief executive of Leaf Logistics, said the platform helps shippers lock in guaranteed coverage and rates that save 10% or more. Leaf Logistics has a broker execution arm that works with carriers to execute the short-term freight contracts.
Despite capacity being stretched thin for shippers and LSPs, the amount of "hidden" capacity in industry is significant. The latest digital freight matching tools are helping logistics companies more quickly secure capacity, at the right price, and identify opportunities to improve network efficiency with carriers.