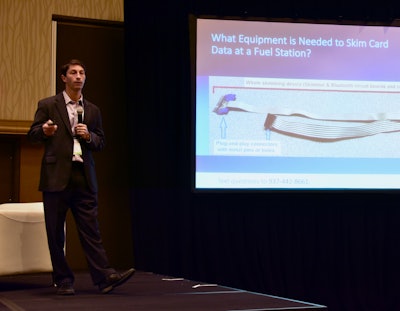 Two Secret Service agents came to the Comdata user conference in Orlando on Sept. 13 to warn fleet managers about fuel skimming, an illegal activity that costs the trucking industry millions every month.
Long before the Secret Service was tasked with protecting U.S. presidents, the agency was founded in 1865 to suppress counterfeiting. That mission continues today with investigating credit card fraud.
Fuel thieves are spreading rapidly along the I-10 corridor from Florida through Texas, Arizona and into California, they said. Most are immigrants from Cuba, via Miami, said Special Agent Roger Fuentes. "Guys who did drugs have switched to this. It is a lot less dangerous."
"Fleet cards are gold to these individuals," he added. "[Thieves] can purchase a larger quantity of fuel because fleet cards have a higher threshold."
Fuel station skimming is a technique for stealing credit and debit card information from point-of-sale terminals at fuel pumps. A thief removes a card reader from a pump and installs a counterfeit version that has an embedded inline skimmer.
A skimmer is a small electronic device that reads the magnetic card stripe. The devices are sold on the dark web and even on eBay by suppliers in the Philippines, China and India, said Special Agent Larry Lomonaco.
In many cases, the technicians who service fuel pumps are conspiring to sell reconnaissance to thieves to help them defeat security systems and install skimmers, the agents said.
Thieves download card data from fuel skimmers using smartphone apps, when in Bluetooth range, by entering a PIN — usually a six-digit number. In some cases, thieves use fuel skimmers with cellular chipsets to transmit data, but this practice is less common since the devices are more prone to being located by law enforcement, Lomonaco said.
Once the card information is captured, thieves use counterfeit fleet cards to purchase fuel. The cards are typically nothing more than re-encoded gift cards from Wal-Mart or Amazon, he said.
Fuel thieves will show up at fuel stations with vehicles that have been modified with concealed fuel bladders. They sell fuel to willing buyers such as owner-operators and construction companies, Fuentes said.
Securing fuel transactions
Traditional card controls, such as setting daily limits for gallons and dollar amounts, have limited ability to prevent fuel fraud. As an example, Lomonaco said he recently investigated a case where a state National Guard unit lost $800,000 over a three-month period from thieves using counterfeit GSA fuel cards.
Jon Bernstein, Comdata's vice president of product innovation, followed the presentation from the Secret Service agents to discuss available tools for fleets to prevent fraud.
Comdata has a product that uses GPS and vehicle tank capacity data from ELD telematics systems to enhance pre-authorization fuel controls, he said. When a card is swiped at the pump, Comdata instantly verifies that the vehicle is at the location using GPS data from the telematics system, he said.
Comdata is also able to use tank-level data to authorize a fuel transaction for only the gallon amount needed to fill the tank. If a discrepancy is found with the vehicle location or tank capacity, Comdata's fleet card system will decline a fuel transaction or send an alert, depending on fleet preference.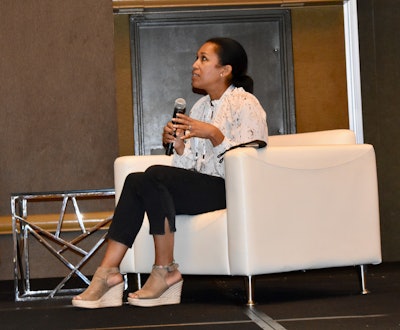 As an example of a card control, Bernstein said a fleet could prevent fuel transactions if a driver's tanks are already more than 50% full or set a gallon limit that is automatically determined by the remaining tank capacity. If a driver has 100 gallons in a 200-gallon tank, for example, the purchase limit for a fuel transaction could be 100 gallons.
Toni Gleeson, CPA corporate controller of Lazer Spot, a Georgia-based yard logistics management company with 2,500 trucks, said the company last year lost $100,000 to fuel fraud in Texas.
Lazer Spot has been using traditional fuel card controls. About six months ago it deployed a feature by Comdata that verifies the location and tank levels of vehicles by using data from the fleet's Geotab ELD and telematics system to authorize fuel transactions.
Overall, the company spends between $750,000 and $1,000,000 per week in fuel and DEF. Using the technology from Comdata has virtually eliminated fuel fraud and reduced its non-billable fuel expenses by about 42% year-over-year, Gleeson said.