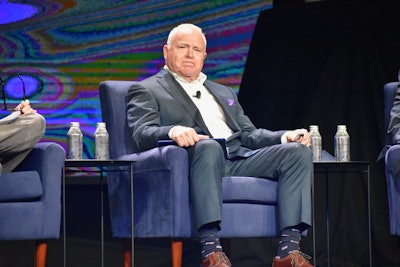 Shifting the driver paradigm: Winning with equipment, technology and culture
Join us in person at the the 2021 CCJ Solutions Summit, Nov. 30 - Dec. 2, in Chandler, Arizona. CCJ Summit assembles fleet executives, thought leaders, industry analysts and leading suppliers to explore ways equipment, technology and corporate culture can shift the driver paradigm and overcome your No. 1 challenge: Cultivating a qualified workforce.
Don't miss your chance to collaborate and socialize in-person with your peers at the picturesque Sheraton Grand at Wild Horse Pass.
Motor carriers are seeing an unexpected trend: Drivers are working less despite getting record pay increases.
A CCJ survey conducted the first week of September found that 83% of fleets increased driver pay at least once in 2021, but 29% have seen driver availability decrease in the busy summer months.
The percentage of fleets who saw a decrease in driver availability was even higher (57%) among those who operate more than 500 trucks. Only 14% saw an increase in driver availability.
Robert Low, president and founder of Prime, Inc. (CCJ Top 250, No. 15), said the company has been successful in keeping trucks seated with drivers compared to prior years, but "our available number is diminishing."
"Our drivers are converting increased earnings to time off," he said at the Truckload Carriers Association (TCA) annual conference, Sept. 28, in Las Vegas.
[Related: Two fleets named TCA's Best Fleets to Drive For]
Average driver availability for Prime during the workweek used to hover around 82%. Lately the metric has been as low as 73%, he said. This change means that about 10% of capacity has left the system, which is impacting mileage and load counts, he noted.
Low made the comments on stage during an executive panel at the TCA conference, but he also commended the fact that drivers are earning more than ever before. "They should be proud of their earnings," he said.
Mark Seymour, president and CEO of Kriska Transportation, agreed with Low's assessment that higher pay might be curtailing productivity. Kriska is a 350-truck fleet based in Prescott, Ontario, Canada, with cross-border operations.
"I think there's lots of truth in the fact that the more we pay our drivers doesn't mean they are going to work harder," he said. "It means they are likely going to work less to make the same so they can have more work-life balance."
Holding capacity tight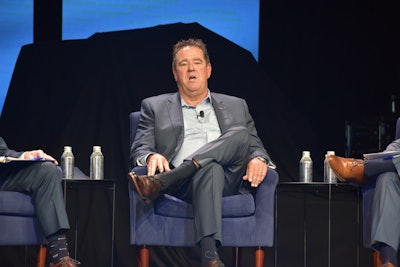 Driver availability is not the only pressure point on the transportation system. The panel agreed that carriers will struggle to add capacity in the foreseeable future due to equipment shortages, regulations, and other challenges.
"My advice is to make the best use of things you have to work with now," Seymour said. "Don't think you are going to get more of it. Just make the best use of it."
Shortages of materials have backlogged new truck orders and caused used truck prices to soar. Small fleets and owner-operators are buying used trucks at premium prices from larger fleets and Low believes that some owner-operators who are getting into the business today by purchasing equipment at higher prices will have difficulty sustaining their businesses when the market turns.
Kevin Knight, executive chairman of the board for Knight-Swift Transportation, the nation's largest truckload carrier (No. 4), does not foresee the driver shortage easing. He said the company is going to great lengths to make drivers' jobs better.
"Our drivers are valued within our walls more than they have ever been," he said.
Knight credited the driver shortage for getting rates to where they should be, and cautioned fleets to seek higher returns on their capital rather than add more capacity to grow.
With motor carriers struggling to expand the driver pool, the prospects of self-driving trucks are growing brighter. The CCJ survey found 7% of fleets have grown their interest in autonomous trucks in the past year. Three percent are less interested, and 41% said their interest has not changed.
As self-driving trucks continue to gain steam, however, "we have to know that our drivers are counting on us to make sure that whatever the future looks like, their importance is equal to or greater than it is today," Knight said.
Autonomous trucks will not reduce demand for drivers anytime soon, Knight believes. He sees the business model for autonomous trucks requiring more drivers — a driver at each end of a linehaul — to make pickups and deliveries.
"[Autonomous trucks] are not going to save as much money as expected," he said. "A driver will be in the cab for at least the next 15 to 20 years."
Knight pointed out that intermodal trucking already operates like an autonomous linehaul system.
"We as leaders have a responsibility to look out for our drivers," he said. "I think as an industry we do a pretty good job. We just can't fall asleep at the wheel. I think the driver importance will become greater, not less, over time."
Talking politics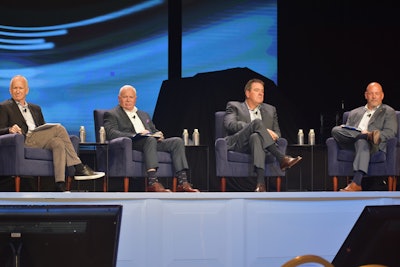 The executives were asked to weigh in on some heated political topics by moderator Dave Heller, TCA vice president of government affairs, and questions from the audience. The topics centered on labor laws, the vaccine mandate from the Biden administration and the legalization of marijuana.
Knight expects the trucking industry to see more regulation under Democrat leadership but noted that not all regulation is harmful. The truckload sector was concerned about electronic logging devices (ELDs), for example, but "for the first time we had capabilities of measuring what drivers' hours are worth," he said. "I don't think the average wage of drivers would be approaching what is today if ELDs hadn't come into play."
Knight recommended trucking industry associations, like the TCA, stay neutral with their political affiliation to get things done in Washington.
Low responded to a question about the future of the owner-operator model amid court cases and laws that present existential challenges. Prime operates one of the largest contractor fleets in the country. This business model puts "skin in game" for drivers by carrying more risk to reap more rewards as entrepreneurs, he said. "That's powerful."
The owner-operator model is "essential to the American Dream," said Low. Like many carriers, Prime pays owner-operators a percentage of gross revenue for loads to be "perfectly aligned in that way with our drivers. They are cheering for us and we're cheering for them."
Related: Are owner-operators a legal landmine for fleets?
Low said he needs to speak with lawmakers and wants drivers to explain why they like being owner-operators. "It riles me up to think about doing away with this model, which has been so powerful and essential to success in this industry," he said.
The legalization of marijuana has contributed to the driver shortage. Nearly 100,000 drivers have been taken off the road for positive drug tests for marijuana, opioids and other substances since January 2020.
Knight said his company uses hair follicle testing for pre-employment screening and has been rewarded with safety results. "I don't think there is any room for drugs on our highways," he said.
Marijuana complicates drug testing rules since it is largely moving toward being viewed like alcohol.
"The fact of the matter is you don't want somebody smoking marijuana and then getting in one of your trucks right after it takes place," he said. "From my perspective, there is just no room for drug use in Class 8 trucks."
Enforcing the jab?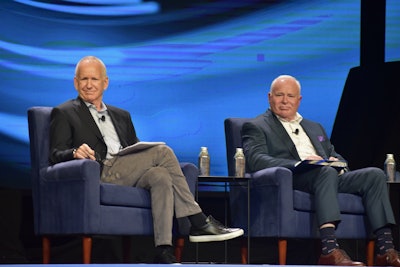 Businesses with more than 100 employees are scrambling to understand what they will do if the Biden administration enforces a COVID-19 vaccine mandate.
Most of Springfield, Missouri-based Prime's drivers are independent contractors and will not be under the mandate because they are self-employed. Low said resistance will come from driving and non-driving employees if the mandate is enforced.
"In our part of the country, where we have terminals, people don't like mandates very much," he said. "I think we will lose the drivers. I think it is a bad thing for capacity."
Knight said the leaders of Knight-Swift are trying to be as transparent as possible with drivers by letting them know the company will not do anything "until we know for sure what we are supposed to do."
Knight sees a vaccine mandate as being too complicated to be enforceable.
"When you hire an employee under a certain condition and then you change the rules it is a whole different complication," he said. "We let our drivers know that 'we are going to work through this in a very good way for you.'"