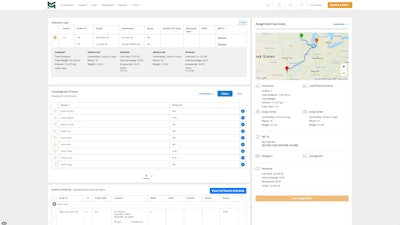 Trucking and logistics management service company Magnus Technologies announced a new enterprise SaaS-based transportation management system (TMS) for truckload carriers.
Magnus said that analysis of existing TMS products in the truckload market shows pent-up demand for a scalable, enterprise SaaS-based platform that can replace outdated client-server architectures and meet complex and evolving business needs.
"Motor carriers have been looking to grow and scale their businesses at a faster pace but are often limited by past investments in TMS systems with client-server architecture," said Matt Cartwright, CEO of Magnus Technologies. "We are happy to introduce a cloud-native, enterprise-grade TMS with cutting-edge technology that is scalable to carriers of all sizes at an affordable price point."
Austin, Texas-based Magnus has 20 years of experience designing, developing, and delivering enterprise TMS software, beginning with a platform used by auto transporters and logistics companies.
The new Magnus Technologies Platform offers truckload carriers extensive functionality and integrations with best-in-class software and services, the company announced.
The Magnus platform is available through a monthly subscription with fluid pricing based on the number of active trucks in a fleet. The platform has the following components:
A cloud-based Magnus TMS with modules for load planning, rating, driver payroll and settlements and accounting. The load module finds the best driver-load matches fleetwide by considering drivers' hours of service, home time requirements, equipment maintenance and more. The system also supports multiple methods to automatically rate loads and leverages advanced data science techniques to analyze historic lane profitability.
The

Magnus Driver App

, a stable end-to-end mobile dispatch system that automates route assignments, load tracking, communications, document capture and more. Once a load is dispatched to a driver it becomes visible in the app. The driver can then update the status of the order at the critical steps along the route.
Magnus Carrier Advantage is a private "brokerage" network that allows carriers to share loads and capacity with other members of the Magnus network and track shipments for an end-to-end automated fulfillment process.
A full-featured Business Intelligence reporting suite that lets users create custom reports and gain insights. Users have the option to compare operational data with industry data to drive better business decisions.
Magnus Technologies made the announcement at the Truckload Carriers Association Annual Convention, Sept. 25-28 in Las Vegas.
Motorcity Systems and Eleos expand driver workflow
Motorcity Systems, a provider of software and systems integration, has added new automated dispatch-driver communication and workflow features to the Eleos mobile platform via the company's Relay system.
The Relay system by Motorcity gives dispatchers visibility across different communications devices and platforms. It has integrations with numerous third-party ELD telematics, mobile communications platforms and devices, as well as new or legacy transportation management software (TMS) systems that fleets use.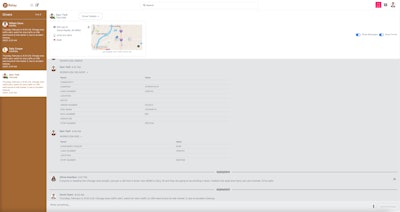 With Relay, fleets can organize drivers in groups to track conversations and the completion of digital forms on a visual timeline. Visual and audio cues alert dispatchers and drivers when new messages are received. Relay also has real-time chat, group messaging and a search engine, among other features.
Eleos is a fully customizable, white-labeled workflow app used by motor carriers for in-cab and out-of-cab functions. The app unifies trip management for professional truck drivers through a single login and interface to access ELD data, trip planning, turn-by-turn navigation, document scanning and other features.
"We built Relay to address the communication and messaging problems that motor carriers and drivers experience with traditional TMS and back office systems," said Bob Stemple, co-founder and president of Motorcity Systems. "Relay removes the delay in message delivery seen in legacy systems and eliminates lost messages or texts by integrating these into one unified messaging platform — bridging the after-hours communication gap."
Motorcity Systems also supports the Drivewyze service through the Eleos workflow app. Drivewyze is the largest public-private weigh station bypass network in North America.
"The Relay integration is the latest example of how Motorcity Systems is applying its technology and expertise to help Eleos customers get even more out of their technology and improve the driver experience," said Wes Pollock, vice president of sales and strategic partnerships at Eleos.