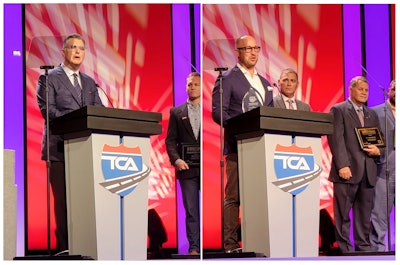 Nussbaum Transportation Services (CCJ Top 250, No. 195) and Boyle Transportation again have received top honors in the Best Fleets to Drive For program at the 2021 Truckload Carriers Association Annual Convention in Las Vegas. For Nussbaum, it is the company's third straight award. Boyle has now won the award for the second consecutive year.
In a year with record participation and more than 150 fleet nominations, Nussbaum and Boyle stood out from the competition by leading in innovation, driver development and workplace culture efforts. Nussbaum was named best-in-class in the large carrier category, while Boyle won the small carrier category division.
[Related: Got driver woes? Registration open for CCJ's Solutions Summit]
"Nussbaum has always believed that fostering an atmosphere of frequent communication, trust, and grace is paramount to building a strong culture," said Brent Nussbaum, CEO of Nussbaum Transportation Services. "As an employee-owned company, we look for opportunities to recognize our people for acts of service to our customers, vendors and each other. We call them 'Own It' moments and recognize them both internally and across social media. In addition, Nussbaum offers our drivers additional opportunities for career advancement. The Best Fleet to Drive For award challenges us each day to remember something my father used to say- If you take care of your people, everything else will take care of itself."
"Eighteen months ago when we first received this award, I said that it was the proudest moment in our company's history," said Andrew Boyle, co-president for Boyle Transportation. "A week later, the pandemic hit. And every day since has actually been the proudest moment in our company's history. The way our people – at all levels and roles – have responded in the face of adversity has been inspiring. We're fortunate to have dedicated staff members who are committed to putting professional drivers in a position to be safe and successful, so it's gratifying to see their efforts validated."
The companies were chosen from a group of 20 finalist companies who also were recognized during the event. Other large carrier category finalists include American Central Transport, Bison Transport, Challenger Motor Freight, Erb Transport, Fortigo, Fremont Contract Carriers, Halvor Lines, Prime and Wilson Logistics. Small carrier finalists include Central Oregon Truck Co., Chief Carriers, FTC Transportation, Garner Trucking, Grand Island Express, Jetco Delivery, Thomas E. Keller, Transpro Freight Systems and Wellington Group of Companies.
In conjunction with driver training firm Carriers Edge, TCA evaluates and grades each participating company in the areas of compensation, benefits, driver performance recognition practices, human resources strategy, development and growth opportunities, operational strategy and work-life balance.