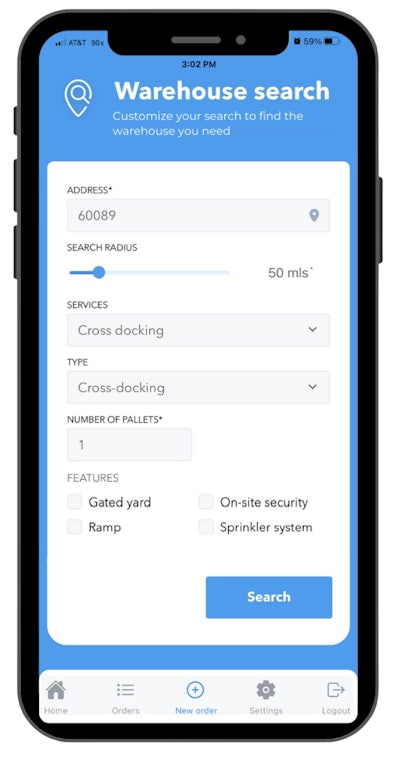 Tens of millions of loads are rejected every year in the U.S., but Chicago-based technology startup Olimp Freight aims to eliminate costs associated with rejected freight with the launch of a mobile version of its online warehouse-sharing platform.
The website, which connects carriers, brokers and dispatchers with on-demand warehouses for cross docking, daily warehousing, pallet reworks and last-mile delivery, now has a mobile app to provide easier access on the go.
While the app is new, the platform has not changed with any additional functions; Olimp Chief Operating Officer Frederik Roikjer said the app was created to facilitate the transactions the platform already offers online.
Through the platform, carriers, brokers and dispatchers can search Olimp's nationwide network of more than 1,700 partner warehouses across the U.S. and Canada based on their location and services to find a warehouse that meets their needs. The platform also features price comparison, location information and reviews and allows users to book and pay on demand online. A variety of services can be selected, including short term warehousing, pallet rework, local delivery, cold and frozen storage, food-grade storage, hazardous materials storage and bonded warehouses. And Olimp partner warehouses offer no minimum storage requirements.
Roikjer said a big factor in creating the app for iOS or Android was to simplify the process for truck drivers. He said the mobile app is easier than accessing the website on a handheld device.
"It's giving the power and that flexibility to do business and get the job done in your own hands while you're on the road or don't necessarily have a computer in front of you," he said.
The app allows drivers, dispatchers and brokers, etc. to input their zip code, search radius, number of pallets and how many days they need for storage, reducing delays when a load is rejected.
"For a variety of reasons, 5% to 12% of loads are rejected or delayed at the receiver. Brokers and truckers lose valuable time looking for a place where they can take the freight," said Olimp Founder Igor Volchenko. "Our mobile app simplifies the search and booking of real-time warehouse services, saving time and money while letting truckers get on to the next job."
Reducing frustrations and keeping drivers on the road means they're making more money, helping reduce driver turnover in an industry that is experiencing a long-term driver shortage.
The industry is also a key player in the supply chain, which is also experiencing shortages. This app could also help address those issues as ease of use with the app speeds up processes and warehousing provides a place to drop rejected freight so a different driver can pick it up while the driver who dropped the load can move on.
"Warehousing storage needs is a big part of the freight market altogether, yet the warehousing space is very analog in how it works. It's very fragmented," Roikjer said. "Technology was not really built in an efficient way to connect people that need warehousing with warehouse supply, so it's been hard always for warehouses to get new business for people that have immediate warehouse needs; it is incredibly hard to find something short term."
But with Olimp's technology, the company expects to see significant growth for warehousing.
"From rolling out more technologies such as the app, we expect to grow the business on both sides of that marketplace: more customers in more warehouses, so we ultimately can be the go-to warehouse business for everything freight in the U.S."