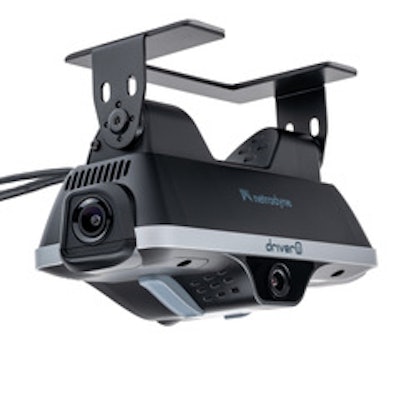 Netradyne
Earl Jones wiped sweat from his brow as he stood from his seat behind the wheel to turn his big rig closer to his destination. That was in 1984 when he started his career in the trucking industry with no training, no power steering, no air conditioning and certainly no telematics.
"It's a lot different now in 2022 than it was in 1984," Jones said.
Jones experienced the transition from paper logs to an ELD, from an atlas to navigation on a computer screen and from training in a classroom to training in realtime in the driver seat of his truck with a cab- and front-facing dash cam.
Jones said he began noticing a shift toward more technology in a truck in the mid-90s as the prevalence of ELDs were on the rise but not enforced.
"I remember thinking, 'I don't think I could ever deal with electronic logs,' but here we are now," Jones said. "I never dealt with a dash cam until I started with Cargo Transporters (CCJ Top 250, No. 170). When I first started, I was a little nervous about it. About two weeks after, I began to relax, and I realized it was definitely for my safety."
Now, like ELDs in the 90s, dashcams are becoming more prevalent or rather the industry standard, said Hayden Cardiff, founder and CIO of Idelic, the developer of a driver-performance management platform. And they're changing the face of driver training.
While there are many benefits to dashcams – driver exoneration in the event of an accident, potential decreased insurance rates and even driver retention – safety training drives them all.
Lytx provides dashcam technology that gives safety managers insights into driver performance so they can coach drivers based on their videos and reports in person, but drivers can also view their own reports within the Lytx driver app.
"Fleet managers can use the technology and collected data to their advantage, by generating reports and reviewing videos that surface risky driving behaviors. Coaches can then work with each driver to address specific behaviors and discuss areas of improvement, making their overall business operate safer and more efficiently," said Jeff Engle, channel sales director at Lytx. "Prior to video telematics solutions, the training was less tailored to each individual and more general in nature; it didn't involve meaningful analytics that could be used to identify where specific operational and driving improvements could be made."
Jones said using a dashcam has highlighted some bad habits he had picked up and wasn't aware of, like following too close or not coming to a complete stop at stop signs. Now, he said he pays more attention to detail.
Cardiff said the old way of training – prior to video telematics – failed to significantly improve safety outcomes and often resulted in higher driver turnover because it focused on retroactive coaching following an event like a crash rather than coaching to change driver behavior – such as following too close – to prevent such an incident.
"This has now evolved. What we're seeing as industry best practice and the best way to go in and coach drivers is using a holistic professional development plan. So multiple steps across multiple weeks, all tuned to the same behaviors, not events," Cardiff said. "So coaching and helping to change behaviors. Events feel like a personal attack. 'You did this. Don't do it again!' as opposed to, 'We're seeing this behavior; let's talk about how we can change that behavior to improve outcomes.'"
Mark Murrell, president of CarriersEdge, which offers a training platform with dashcam integration, said smart carriers want to use telematics to proactively work with their drivers for improvement rather than be reactive.
The CarriersEdge system pulls coachable event information from different camera providers to allow safety managers to work with drivers to break bad habits by assigning specific training for specific behaviors with progressive interventions. For example, for a first offense, they receive training materials like a safety video they have to watch or a handout they have to read, but by the third offense, they may be written up or have to have an in-person meeting with a safety manager.
Engle said although face-to-face coaching is still the primary method used by many organizations, the need for alternative solutions like remote coaching has been on the rise, including in-cab alerts that, for example, remind drivers to put on their seatbelt or show potential road hazards.
Historically, carriers would receive an alert about an event within 48 hours of it happening, and then it would take a long-haul driver up to a week or more before they returned from a trip to have a safety manager "barking down on them, creating a negative feedback loop versus creating positive reinforcement," said Danny Korrs, director of product and marketing at Netradyne.
But now technology allows not only for the recording of events and coaching based on video footage once a driver returns but also real-time coaching while a driver is on the road, which Korrs said is significantly more effective than having to wait a week to instruct when a driver has already forgotten what they did wrong.
Netradyne's Driveri technology provides real-time audible alerts that tell a driver to maybe put their phone down or to stop following too close to prevent unsafe acts and reduce risk. The technology can even detect a yawn through a mask with its 4 trillion calculations a second. Safety managers are also able to conduct remote coaching through the application, sending drivers specific alerts for areas in which they can improve.
"We created a solution using edge computing object detection, which allows us to generate a green zone score based on the holistic representation of good and bad driving behavior," Korrs said. "Through edge computing, we're able to do everything directly on the device with no human intervention with 99.6% accuracy. Human intervention actually has a 98.2% accuracy."
The object detection element – Netradyne's solution can detect traffic lights, speed-limit signs and more up to a mile away – has ushered the technology forward from trigger-based solutions that drivers learned to deflect, Korrs said, and Murrell said the technology will continue to move in that direction.
Right now, many telematics solutions still involve a human reviewing dashcam footage and flagging training opportunities.
"Over time, that will get much more automated as machine learning comes along and systems are able to identify those things more reliably on their own," Murrell said. "You will get much more real time, and they will be able to do next-level analytics on trends and identifying high-risk areas."