Technology news and briefs for the week of May 1, 2022:
FreightSmith releases new app feature to mitigate warehouse traffic
FreightSmith, a recently launched software company that released a free app that allows truck drivers to start processing mobile check-ins, mobile payments for freight deliveries and other features, has updated its platform with a pre-check option.
This new feature allows drivers to check in at the warehouse or distribution center from a nearby location, such as a truckstop, which improves traffic flow through those facilities. Once checked in via the app, the driver receives a VIP gate pass that allows them to enter the facility, hassle free, on arrival.
FreightSmith is piloting this feature in southern California.
"Our current partner in southern California had local traffic congestion issues, which we were determined to solve," said Tim Wells, FreightSmith senior director of strategy. "The functionality around pre check is 100% aligned with our vision of removing waste in the receiving process and improving driver productivity."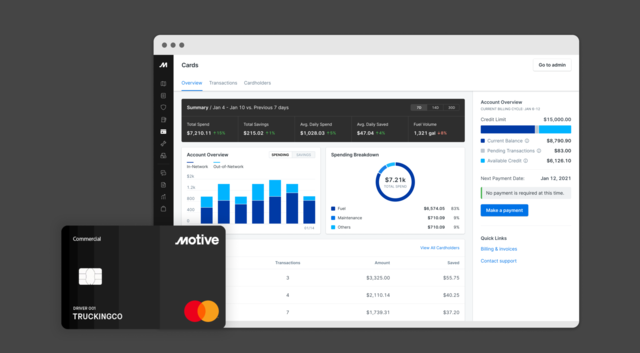 Motive has launched Motive Card, an expense card that is natively integrated into its fleet management platform.Motive
Motive launches card integrated with its fleet management platform
A fleet management company has released a new zero-fee corporate card that allows fleets to automate their financial and physical operations in one place.
Motive, formerly KeepTruckin, has launched Motive Card, which is natively integrated with a fleet management platform and is rolling out in phases to existing Motive customers who can use Motive's spend management application to control where and when their employees can spend. Managers can adjust spend controls by cardholder, amount and category directly from the fleet dashboard.
Stephanie Matos of BB Auto Logistics LLC, which has already begun using the card, said using the card saves her company time and money because it allows her to keep track of expenses in the same dashboard where fleet operations are managed and provides fuel savings.
The Motive Card offers businesses fuel discounts at popular fuel providers like Love's, TA, Petro Stopping Centers and TA Express. It also offers discounts on tires, maintenance and more.
The card, issued by Sutton Bank, has no activation or annual membership fees and can be used for any business expense.
Nauto adds new subscription to aid fleets in tech adoption
Nauto, a provider of AI-based vehicle safety technology for commercial fleets and the automotive sector, has launched a new subscription offering for channel and small to mid-sized fleets looking to optimize their driver and road safety needs.
The Nauto Essentials Subscription enables fleets of all sizes to accelerate adoption of Nauto's predictive-AI vehicle safety technology.
The company has partnered with Brandmotion and Advantage Asset Tracking, bringing it to 15 channel partners across established fleet management companies like Donlen, leasing companies like Orix, resellers through a partnership with Geotab Marketplace and more.
Through Nauto's channel program, partners can now resell Nauto's predictive-AI vehicle safety tech to existing and new customers to help reduce distracted driving events and collisions up to 80%. For fleets with limited resources, the Nauto Essentials Subscription provides in-vehicle alerts and fleet safety reporting that are designed to automatically encourage safer driving without manager involvement and help prevent collisions while respecting driver privacy.
The technology tracks and analyzes risk in real-time, and when it detects risks, provides preventative warnings that give drivers extra time to respond. Nauto's tech is trained on more than 1.3 billion AI-processed driving miles to make alerts accurate and to help eliminate issues such as alert fatigue from false alerts.