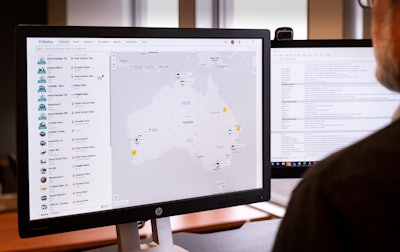 Rand McNally
Rand McNally estimates that more than 1 million trucks on the road have some form of the company's digital solution – from navigation to telematics.
Now, the company is working to bring new technologies to market with its recent acquisition of Australia-based fleet management and vehicle insights company Fleetsu.
Rand McNally CEO Aaron Dannenbring told the CCJ during a recent call that the company was looking to acquire a technology company to enhance Rand McNally's existing products.
"Rand McNally has been involved in commercial transportation since really the advent of over-the-road commercial transportation," Dannenbring said. "However, when we looked at where we were, we have a very strong footprint, good customers, good hardware, good products out there. But we realized that the next generation of these kinds of connected services really goes a lot deeper into the areas of fleet efficiency, fleet safety, fleet security and, generally speaking, fleet performance.
"So the kinds of services that vehicle fleets want now, especially commercial carriers given the price of diesel fuel, given the need to manage fleet efficiency, required us to have a set of developments on our platform that were more sophisticated than what Rand McNally had to start with."
He said were Rand McNally to develop the technology itself, it would have been a multi-year process.
And that's where Fleetsu came in.
Joseph Roark, TELEO Capital operating partner and Rand McNally chairman, said in a press release that Fleetsu's platform, analytics and data capabilities will allow Rand McNally to offer a connected vehicle solution across the full fleet supply chain.
Dannenbring said connected-vehicle technologies are still in their infancy, and this acquisition allows Rand McNally to jump in at the start.
Fleetsu's technology includes understanding driver behaviors and truck performance, like fuel efficiency and canvassing the engine for health, among other things. The platform features real-time location tracking with geofencing and direction and speed limit monitoring; driver safety information such as speed, braking, accelerating and cornering, as well as customizable thresholds and triggers to ensure drivers are taking breaks; alerts and notifications, including when a vehicle enters a specific area, is underutilized and stolen mode tracking; logbooks; a report builder to improve business processes and reduce operating costs; and electric vehicle data with EV charging status, charging station data and more.
"The Fleetsu team has done an incredible amount of work to develop some of those next-generation applications on their platform. So that was really at the heart of (the acquisition)," Dannenbring said. "That's what we were looking at. We were also looking for teams that could help us jumpstart our future development, and the Fleetsu team is a team of world-class engineers."
He counts among them Fleetsu Founder Jakub Felinski, who now serves as Rand McNally chief innovation officer.
Felinski, who said he didn't expect his 7-year-old company to be acquired so quickly, said Fleetsu has a strong customer base and engineering presence in Australia that it plans to retain and grow following the acquisition.
"When Rand McNally came to us and explained how they have this iconic business and is looking to transform more into being a technology powerhouse when it comes to connected car solutions, this was something that I got really excited about because not very frequently can you essentially team up and infuse a 160-year-old company that is very fast moving, funny enough with modern technology to essentially make it look and feel more like a startup," Felinski said. "That's why we agreed to the transaction because it strengthens both of us at the same time. So for me, it's an exciting opportunity that we can continue to innovate with Rand McNally, that we can jointly develop and continue to develop world-class products for the market that Rand McNally is very strong at."
Dannenbring said this acquisition gives Rand McNally a jumpstart on future innovation, and the new technologies this acquisition will produce will help fleets save money, drive more efficiently, operate more safely, help drivers take better trips, lower insurance premiums and other benefits.
But Fleetsu's technology first needs to be integrated into Rand McNally, and he said those changes taking effect depends on the segment of the market in which the company is operating.
"For our current customers – mostly long-haul trucking fleets that have ELD requirements – we will be porting those requirements into the new platform, and that's going to be a journey of probably a few months on the early side to several months on the later side to get all of that transitioned over," Dannenbring said. "When a customer does not have an ELD requirement, that's going to happen much more quickly. The Fleetsu platform is already operating at scale in other markets around the world, and it just so happens that a lot of those markets don't have the same ELD mandate requirements that we have here in the United States. So for customers of smaller trucking fleets – sort of smaller trucks where if you don't need a commercial license for it – we can activate those fleets in a matter of short weeks as opposed to the months that it will take us on the ELD side. But within the next couple of quarters, we anticipate that we'll have a high percentage of our customers up and running on the new platform."
Felinski said the transition will be an easy one as Rand McNally and Fleetsu are aligned in how their businesses are set up. But he said the acquisition does offer Fleetsu a lot of opportunities in the market now that it is under the Rand McNally banner.
The acquisition does the same for Rand McNally in the sense that Dannenbring is working to make it a global company, which it is one step closer to with this transaction. This acquisition creates a platform for the company's global ambition and its ability to enter new markets more quickly. Dannenbring said Rand McNally has already "won some recent business … that will be truly global in scope," but the company is not ready to announce those details.
He said Rand McNally pursued Fleetsu, in part, because having a global footprint is a Rand McNally goal, and Fleetsu has business on multiple continents in addition to Australia.
"We have some business abroad, but realistically most of our business is here in the United States. But we have global aspirations. We see the same opportunities in just about every market that we see in the United States," Dannenbring said. "With the capital backing that we have – we have great shareholders at TELEO Capital – the brand recognition that we have here and abroad and with the Fleetsu platform, that provides a springboard for us to open up some very significant international opportunities as well. We see this as a springboard for our future growth aspirations."