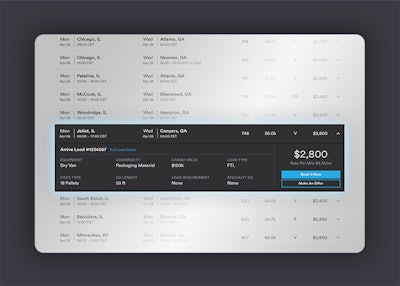 Arrive Logistics
Texas-based third-party logistics company Arrive Logistics has launched its own proprietary transportation management system that caters to its employees and its transportation partners via one platform.
ARRIVEnow is the company's new cloud-based native technology platform that offers a suite of digital solutions, including ARRIVEnow Carrier and ARRIVEnow Shipper.
With the ARRIVEnow Carrier freight management portal, currently accessed by more than 50,000 carriers, carriers can find, bid on and book loads instantly with a mobile device or desktop browser. ARRIVEnow Shipper, which provides instant pricing for over 500 shippers through integrations, will be available via web portal in early 2023.
Blair Blake, Arrive's vice president of carrier strategy, said the company has been working to build its carrier portal over the past two years, brainstorming with its carrier network on what pain points needed addressing.
"Listening to our carriers talk about how long it takes them to source and find and book a load was an incredible pain point for them. So being able to create a platform where they can step in and make decisions on their own or reach out to us through communication tools that we have within ARRIVEnow Carrier that allows them to communicate with us at Arrive on their own accord. That's just one specific example of how we really established ARRIVEnow and were able to build that according to our carriers' needs," Blake said.
The carrier portal has a book-it-now feature with the ability to interact according to a carrier's preferred route. It also has a make-an-offer system in which Arrive employees can negotiate an agreement that suits both parties. In addition, the portal offers committed tendering that enables a carrier to commit to a contractual lane and specific rate, allowing it to reposition its equipment back to core markets systematically.
"On top of that, Arrive's matching algorithm through machine learning ensures that the right carrier is matched and connected to a viable load or lane according to their operational needs," Blake said. "I think that's key to call out there as we've really been able to reduce deadhead. That's quantified against the industry average (roughly about 17%), and we're substantially below that (8%) from a data perspective. As a result, ARRIVEnow has helped save 90 million kilograms of CO2 this year through that deadhead reduction, so that has helped sustainability within the supply chain network … When you talk about deadhead, in general that's going to quantify with cost savings for (carriers)."
Blake said Arrive's 24/7 customer support is another cost-saving factor as it enhances carrier productivity.
Based on carrier feedback, he said another pain point for carriers is shipment delays and how to handle those situations. Oftentimes, a carrier will arrive to a shipper's facility at night, and the freight isn't ready. Blake said Arrive provides access and optionality for the carrier to log in to the carrier portal and make booking decisions on their own without waiting until the next morning with backup from around-the-clock support from Arrive if needed.
"So if they're at home, if they're at their son or daughter's sporting event, and as a dispatcher they need to make a quick decision, without picking up the phone they can log in, they can make a decision on their own," Blake said. "That really provides productivity gains."
And every load has data that drives productivity, lowering Arrive's cost per transaction and driving more volume into its platforms.
"We believe the best solutions are driven by data, powered by technology and delivered by people," Arrive Chief Technology Officer Michael Senftleber said in a news release. "In 2022, Arrive will use all three resources to manage over $2.4 billion in logistics transactions. 90% of all freight moving through our system includes some significant form of automation, and 60% of those shipments come directly through digital integration with our shippers. ARRIVEnow Carrier accounts for over 30% of all booking transactions and is projected to reach 50% by late 2023."
By 2023, ARRIVEnow Carrier will offer over 5,000 transactional truckload shipments to its carrier network daily.
Arrive also plans additional investments in building out the carrier portal based on carrier feedback. Throughout the fourth quarter and into 2023, Blake said Arrive will execute upon developing a document upload feature for carriers to have a more seamless and effective way to submit their paperwork.
Over the next three years, Arrive will invest more than $120 million into ARRIVEnow software development, led by a growing team of more than 250 engineers, data scientists and product management professionals. Arrive said it will hire more than 3,000 team members across sales, client success and business operations through 2025 to complement that investment and drive additional growth.