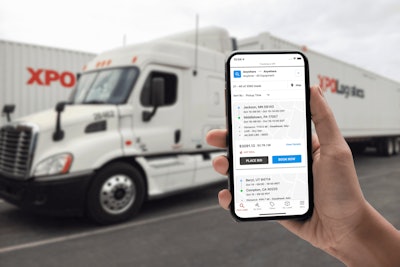 XPO Logistics
May the best algorithm win — at least when a digital solution is actually needed.
As increased supply chain complexities and other market concerns continue to make headlines, it's no secret that smaller carriers and owner-operators will have to become more nimble to keep freight and revenue flowing.
For many that means leaning on digital platforms that can make the most of ever-changing data and in turn provide the best freight options for both carriers and shippers alike.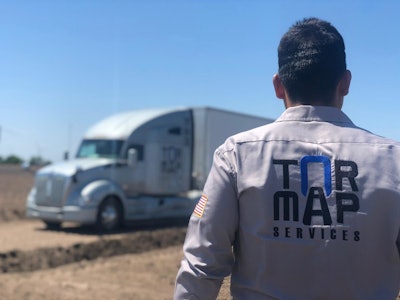 XPO Logistics and their customers say the Connecticut-based company has done just that with XPO Connect, a digital freight marketplace introduced in 2018 that has now amassed more than 800,000 downloads, up 63% year-over-over, and has led to 80% of XPO loads being handled digitally.
By why not 100%? As XPO senior vice president of technology Yoav Amiel explained, digital isn't for everyone.
"Although we are building robust capabilities to gradually address some edge cases automatically, there will always be cases where human intervention will be needed," Amiel said.
Certain merchandise, particularly high value cargo, may have shippers wanting to "verify and have some conversations with carriers to make sure that they're aware and taking all the required precautions."
[Related: How artificial intelligence can improve driver, fleet efficiency]
Eventually, Amiel anticipates digital marketplace efforts at XPO Connect to penetrate "the higher nineties at the end, but there will always be some edge cases where humans will be needed."
And that's not just with exceptional loads. Amiel envisions people focusing more on building business relationships thanks to the automation XPO Connect can bring.
"The fact that we are automating a lot of the process does not mean that there will be no humans behind the scenes to handle relationships with carriers and shippers," Amiel added. "It's not just about automation; it's actually reducing the workload on the operator who, instead of doing a repetitive task that a computer can do, can focus on what human beings actually bring to the table. They could use their brains, and they could use their relationship-building skills with the carrier. They can grow our carrier base."
With XPO's brokerage business now up to its seventh consecutive quarter of double-digit growth, the company recently announced that XPO Connect would become RXO Connect when the asset-light-focused RXO spins off from the asset-based less-than-truckload XPO later this year.
Automation where it counts
Making sense of complex, shifting market conditions is a job often better left to computers, as two XPO Connect carriers recently were reminded.
Carolina Torres, general manager of Tormap Services in Lyford, Texas, said XPO Connect handles the critical work of finding loads that work best for their drivers and their six trucks that run dry van over the road.
"XPO Connect has helped us to have the visibility of what load there is at the moment, what really works for us depending on the dates, the times and the cities," Torres said. "What I really like also is that you can see if it's something different like a hazmat load or a drop trailer that maybe might not work for us. It definitely cuts time on looking for loads."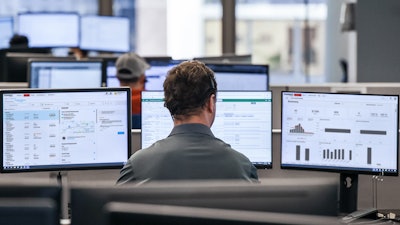 The tracking feature keeps Torres informed of truck location, cutting back on phone calls with drivers, which they appreciate.
"They're driving so it can be a little distracting for them," she said.
[Related: Ohio carrier's app offers more driver pay visibility]
Transitioning to XPO Connect came easily.
"I didn't have any issues," Torres said. "I was able to see everything right there like the search bar. You start searching loads, and they have everything on the top side like tracking the payments and administration information. It's not that difficult to move around."
Dealing with one representative at XPO Connect has stepped up efficiency and the overall comfort factor, she added. "It's good to have one representative instead of talking to many people because it has happened to us before when speaking to someone about a certain specific situation that's going on with the load, and then you give them a call again, but it's somebody else and you have to explain everything again, and they don't even know what's going on.
"I really appreciate having one representative that knows us already. She knows what kind of carrier we are, but we also know her background and how she can help us out through the process of booking loads and so forth."
When Minnesota-based Sparta Transportation opened for business three years ago, owner Mansour Younis explained that it was "hard finding loads out there."
Talking directly to brokers wasn't always fruitful, so Younis went online where he found more consistent loads. After trying different platforms, he eventually decided it best to go with XPO Connect to keep 12 owner-operators running regional and long-haul.
"XPO has the best system where you can send a bid out on a load and get a fast, accurate response either by the portal or email," Younis said.
While drivers did complain about other load platforms, Younis said he's "never heard any complaints about XPO. I always like saying good things about XPO. It's the best way to get busy and to keep getting steady jobs."
Closer look at XPO Connect
For nearly the past two years, XPO Logistics has enjoyed consistent growth – something chairman and CEO Brad Jacobs largely credits to XPO Connect.
"In our North American transportation division, led by Drew Wilkerson, our truck brokerage business again sharply outperformed the industry," Jacobs said last month in XPO's second quarter earnings report. "We delivered our seventh consecutive quarter of double-digit volume growth in truck brokerage, up year-over-year by 16%. Our XPO Connect digital platform is the force behind this growth, with a 74% year-over-year increase in weekly average carrier users, and 80% of orders created or covered digitally, up from 74% in the first quarter."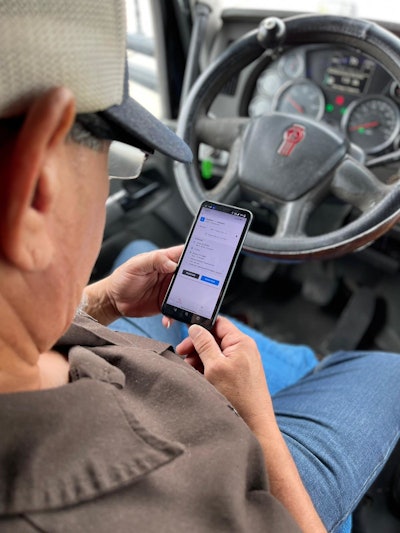 Amiel pointed out that behind XPO Connect's success is a full transportation program supported by four key components.
First up is a special interface for shippers where they can perform all their necessary tasks like receiving quotes, placing orders, obtaining analytics, viewing documents and paying invoices.
"The second component is the carrier interface where they can log in and book loads," Amiel continued. "They can track their shipments, see where things are. They can gain analytics as well. They can manage their drivers; they can manage their trucks. They can do all of their business through that system."
The third component of XPO Connect is designed to assist internal efforts. Dubbed their freight optimizer, this transportation management system allows internal reps working with shippers and carriers to provide optimum service.
The fourth and final component is the XPO mobile app.
"It's important to understand that it's a role-based app, meaning that depending on the role of the user, we actually expose or enable the capabilities, which are relevant for that role," Amiel explained.
For instance, owner-operators have different needs from typical fleet drivers and will require more app interaction for things like finding loads and bidding. The average fleet driver won't typically focus on app functions like that but may lean on tracking and document upload features instead. Functionality doesn't change when users hit the road.
"All the capabilities that we offer through the web interface for our carriers are available through the mobile app because we know in some cases they'll actually need [all those capabilities] on the road as they progress through their trips," Amiel said.
Access to years of carrier and shipper data help give XPO Connect an advantage over its competitors, Amiel said. That and the system never sleeps.
"We built a proprietary machine-learning recommendation engine that actually brings to the carrier exactly what they're looking for," Amiel said. "We learn from their behavior. We learn from where they are, where they're headed, from their past history, and we actually bring to their app and to the web interface the right load at the right time that is easier for them to find and book instead of searching through thousands and thousands of flows."
Automated pricing that adjusts to changing market conditions also helps streamline the bidding process.
"We built a proprietary pricing engine that knows how to price each and every load at every given moment," Amiel said. "So if a carrier sees a load let's say from Chicago to LA at a specific price, if they log in maybe five hours later, the price could be different. It's a lot like the stock market."
Behind those 800,000-plus XPO Connect downloads are over 100,000 carriers with access to 1.5 million trucks and growing thanks to a solid marriage of data and well-engineered algorithms.
"A lot of leveraging AI and machine learning allows us to be very efficient, and from the carrier perspective, they receive the best level of service possible," Amiel said.
[Related: Volatile year shows growing pains for in-app freight pricing, value of negotiation]