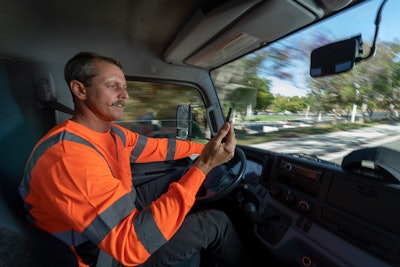 Lytx
Roadway fatalities remained flat in 2022 after two years of dramatic increases, according to data from the National Highway Traffic Safety Administration. While U.S. Transportation Secretary Pete Buttigieg said there remains a national crisis of traffic deaths, the trucking industry is showing signs of improvement in safety.
Overall risky driving behavior among fleets using the Lytx platform decreased in 2022, even as miles driven increased, resulting in a significant drop in collisions per mile traveled in 2022 compared to 2019. That's according to the video safety and telematics provider's annual State of the Data report that offers insight into risky commercial driving across the country and safety trends for fleets.
The data, derived from the Lytx Driver Safety Program and the Lytx Vision Platform that includes over 221 billion miles of driving data, shows that in 2022 overall risky driving improved by 29% and collisions per 1 million miles driven decreased 23.1% compared to 2019 – the year prior to COVID-19, which resulted in unprecedented changes in driving behaviors.
David Riordan, Lytx's executive vice president and general manager, Enterprise, said the driving environment has changed, and this data can help fleets understand their performance within the new environment and how to improve.
"This last calendar year was really the first year that everybody got back to work. We heard from clients that the transition from pandemic-level roadways to almost back to normal has been a challenge. Driving during the pandemic, there were a lot fewer cars, the speeds were higher, and all of a sudden there got to be more cars, and so you had a lot more starts and stops and risky situations," Riordan said. "Our fleets have been able to operate in those environments and actually improve their collision rates and improve their risky driving behavior."
[RELATED:Technology and defensive driving training top factors in preventing truck crashes]
According to the data, the five most improved risky driving behaviors from 2021 to 2022 were not scanning the roadway (down 18%), blank stare (down 16%), driving too fast for conditions (down 11%), driver unbelted on a residential road (down 10%), and veering off identifiable roadway (down 9%). Driving too fast for conditions was also the No. 1 improved risky driving habit in comparing 2022 to 2020, down 52%, and the No. 2 most improved risky driving habit in comparing 2022 to 2019, down 74%.
Riordan attributed these improvements to fleets taking proactive measures in managing their safety by implementing technology as well as Lytx's adoption of artificial intelligence during the timeframe of this study.
"During that time window was the full-scale adoption of AI to better identify new risks and actually have in-the-cab interaction with drivers so they are aware of it and can take active measures, or actively make improvements themselves in the moment," he said. "Increase in AI is proactively encouraging folks to not be distracted on their cell, or to be attentive in their driving, wear their seatbelt, maintain a proper following distance, have proper speed – all of those proactive, in-the-cab alerts have really been adopted over the course of the last three years."
Lytx's technology helps clients drive down risks through a combination of coaching workflows and automated driver self-improvement with machine vision and AI in-cab alerting.
"It's just helpful context. If you can tell them things that are industry-wide benchmarks, they can then look at their specific performance in collisions and specific behaviors and use that to set targets and have a meaningful discussion internally about where they want to improve," Riordan said.
Lytx captured more than 14 million risky driving incidents within vehicle fleets in 2022.
[RELATED: Video telematics help commercial fleets decrease crash fatalities]
Risky driving behaviors can come with immense costs to life and property. The National Safety Council estimated that comparing pre-pandemic 2019 to 2022, the death rate on American roads increased nearly 22%. Based on the annual report from NHTSA, there were 31,785 traffic fatalities in the U.S. in the first nine months of 2022, a decrease of 100 compared to the same period in 2021, even as the Federal Highway Administration showed that vehicle miles traveled in the first nine months of 2022 increased by around 39 billion miles.
"The environment and the statistics on fatalities are going the wrong direction, and yet commercial fleets are getting safer and having fewer accidents," Riordan said. "I would say this data absolutely supports the fact that commercial drivers are safer and less a contributor to the increase in collisions … The percentage (of accidents) that are preventable are such that it just further supports the fact that the outside public is the main contributor to the trends."
Here are some other interesting finds in the study:
Time of day impacts the likelihood of a collision
• In 2022, the highest total number of collisions occurred during the daytime hours (6 a.m. to 4 p.m.), with the majority occurring at 11 a.m.
• Alternatively, the highest collisions per vehicle (those on the road at each hour) occurred in the middle of the night (2 to 6 a.m.), with 2 a.m. the most likely time for a collision.
Day of the week impacts the likelihood of a collision
• In 2022, the highest collisions per vehicle occurred on Tuesday.
• Saturday was the safest day of the week with the lowest collisions per vehicle. Sunday was second lowest.
1. New York, NY
2. Philadelphia, PA
3. Los Angeles, CA
4. Chicago, IL
5. Dallas/Fort Worth, TX
Top five riskiest public roadways
1. Michigan (I-94 at Merriman Road, Romulus)
o A complex airport interchange
2. New York (George Washington Bridge near Riverside Drive, NY)
o The world's busiest vehicular bridge
3. California (Edom Hill Road and Varner Road, Desert Hot Springs)
o A lack of lane markings
4. New Jersey (NJ19 and I-80 in Paterson)
o A complex interchange with highways terminating into city streets
5. Connecticut (I-95 near Fulton Terrace, New Haven)
o A curved freeway entering the busy port of New Haven
According to the report, Lytx helped its clients in 2022 save an estimated $1.4 billion on claims, including workers compensation and insurance claims, and an estimated $402 million on vehicle maintenance. It also helped clients save an estimated $920 million in fuel costs, in part due to a reduction of 16% in idle times, which Lytx estimates prevented more than 90 million tons of CO2 emissions and over $24 million in wasted fuel.