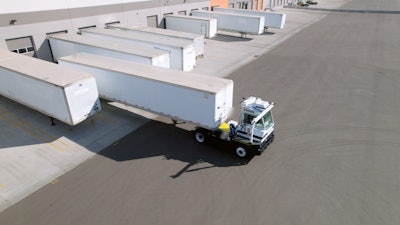 Outrider
The two-year-old child of an Outrider engineer was able to dispatch an autonomous electric truck with the click of one button. That truck, enabled with an AI-driven robotic arm that connects to the air lines of a trailer to release parking brakes, then maneuvers a 53-foot trailer throughout traffic in the yard to park it with centimeter accuracy at a loading dock.
Outrider Founder and CEO Andrew Smith said this automation creates significant efficiencies in the yard, which is a critical link in the supply chain that has a substantial impact on the warehouse and the transportation network as a whole. To create further efficiencies, Outrider recently rolled out another automated feature; its new automated trailer inventory tracking capabilities uses technology already onboard those trucks to collect locations of parked trailers during routine operations or as a dedicated function to enhance visibility into yard operations.
Smith said although many yards continue to use antiquated systems like spreadsheets to conduct operations, adoption of new technologies has accelerated even in the past 24 months. Companies like Outrider and Manhattan Associates are using cloud-based API architecture to automate yard processes to reduce pain points of yard operations and get drivers back on the road quickly.
Antiquated systems have yard personnel manually update trailer locations on foot or by driving through the yard – an error-prone, tedious process to gather information that quickly becomes outdated due to that method.
[Related: Yards shift closer to autonomy with outdoor wireless systems]
Smith said Outrider's new technology will save time and money for truck drivers, who waste hours each week looking for trailers, which are easily lost in yards as a result of moving many times for unloading, cleaning, loading, staging and storing, causing shipping delays. The tracking technology uses sensors and proprietary computer vision algorithms enabled by deep learning to detect vacant or occupied parking spots, capture trailer identification numbers and standard carrier alpha codes, as well as multiple other trailer characteristics.
"What I realized about yard management software platforms (and their) asset tracking technology was a lot of things were sort of a Band-Aid on the problem," Smith said. "At the end of the day, managing trailers and containers in big distribution yards are this major pain point because it's hard to staff around-the-clock movement of these trailers. Trailers get misplaced. It's a very hazardous environment as people get in and out of vehicles or go to and from warehouse facilities. There is this amazing opportunity to both automate, electrify and integrate these yard operations."
Outrider's newest feature is integrated with its cloud-based management software that shares this real-time inventory with customers' warehouse, yard or transportation systems via its application programming interface (API).
Manhattan Associates Inc.'s Manhattan Active Yard Management solution also is built on a cloud-native API-first component architecture. The company recently launched its "reimagined" yard management solution that now integrates with warehouse and transportation management solutions. Manhattan's updated solution offers a digital twin representation of the yard within the warehouse, providing users with real-time insights and clear visibility to every dock door and yard position, the trailers at each location, trailer status, the contents of those trailers, real-time progress of inbound and outbound warehouse operations and information related to pending arrivals and movement within the yard.
"The future of supply chain is with the unification of the solutions," said Blake Coram, director of product management at Manhattan. "Our vision of the future of yard is really a unified vision where the lines between applications don't exist any longer and our visibility to what's going on and how we're executing our decision-making and optimization processes can leverage information across what would be traditionally siloed solutions."
Smith said integrating the yard with warehouse management systems and TMS helps drivers get in and out of a facility much faster because they can communicate ETAs of the driver and have their pickup trailer pre-staged so they can disconnect from their drop trailer and quickly get back on the road. Using automated trucks instead of humans to move those trailers in the yard also improves that efficiency, he said.
"This will translate to millions of potential driver days back on the road as opposed to searching yards for trailers or searching for places to park a trailer," he said. "The Outrider system drives 30% to 40%-plus immediate cost savings for operating a yard. It enhances the safety of the yard (with reduced congestion); it drives untold savings by keeping over-the-road drivers out on the road and drives additional efficiency in the warehouse as well."