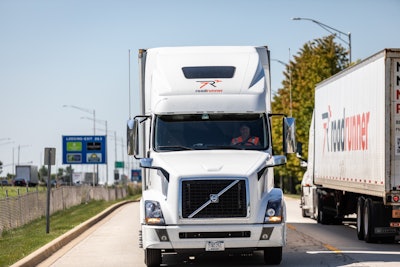 Roadrunner
An upcharge for guaranteed on-time delivery is nothing new in the LTL industry. It's a common offering among LTL carriers, but what isn't common is an on-time guarantee that waives 100% of the shipping cost – not just the upcharge – if the carrier fails to deliver by the deadline.
That is Roadrunner's (CCJ Innovator, May 2022) new proposition.
The company, which relaunched in 2020, has rolled out its Smart Guarantee LTL program in which shippers who pay an additional 25% charge receive priority service that ensures their freight delivers by the promised delivery date. If Roadrunner runs late with their shipment, the company will waive the entirety of the shipper's bill.
The offering is currently available in select lanes with plans to eventually expand it network wide. Roadrunner Chief Financial Officer Jack Korslin said the company has been piloting the program under the radar since June and has seen great uptake in the lanes it has offered the service in so far.
"While it's still early days, to date we have had a 100% success rate on all of our guaranteed shipments. We know over time, just the very nature of us continuing to grow this program, we're going to have failures from time to time, but we're thrilled to be starting off on a strong foot," Korslin said. "Today, we're consistently delivering in the 93%-plus on-time delivery threshold and even higher in some of our busiest lanes where customers can access this guaranteed product."
Month to date through October 25, Roadrunner had 97.7% on-time delivery between Southern California and Dallas, 96.9% from Chicago to Seattle and 97.5% from Memphis to Southern California.
"No two lanes are the same, but on the whole, investing in our drivers and our network and our technology has really allowed us to hit those type of numbers," Korslin said.
And the carrier is hitting those numbers without impacting safety.
There is no change in the process for drivers, Korslin said. Every driver still abides by Roadrunner's safety standards.
"A guaranteed shipment moves in the exact same way a standard shipment would; it's just the load optimization is taking into account that there is a guaranteed shipment … This has nothing to do with altering the driver behavior and everything to do with all the steps that lead up to it," he said. "It's incumbent upon the back-of-house processes to ensure that we're setting ourselves up for the greatest chance of success for guaranteed shipments."
He said success has everything to do with how Roadrunner manages its internal processes, which are driven by technology.
He said the key is ensuring high visibility of guaranteed shipments from inception to delivery. Since relaunching Roadrunner, Korslin said the company has invested heavily in IT that tracks loads down to the individual shipment level.
It goes beyond seeing where the shipment is in its lifecycle. Every single shipment that moves through the Roadrunner network is dimensionalized: ran through large laser scanners, which take photographs and measure dimensions of every shipment. The carrier also takes a minimum of four pictures of every single trailer that has been loaded. All of this is then centralized in a data lake that feeds a series of business intelligence tools that allow the carrier to pinpoint during a shipment's lifecycle if it is at risk of not meeting the committed transit time. It also pinpoints where the issue is occurring so the carrier can find the root cause faster and rectify it mid-lifecycle of the shipment or coach the related parties – from the dock to dispatch – to avoid particular operational mistakes going forward.
Everyone is made aware of guaranteed shipments through various notifications and dock automation technology, Korslin said. Flashing exclamation points make it abundantly clear to everyone in the ecosystems that a particular shipment is guaranteed and therefore to pay special attention, "not necessarily at the expense of our standard shipments, but in instances where we're already delivering ahead of our committed transit times, our load plan logic will take that into consideration. It'll take into consideration that a shipment is guaranteed and prioritize that shipment," he said.
While everyone plays a part in getting these shipments there on time, Korslin said the line-haul dispatch team is critical, serving as the centralized air traffic control group that is leveraging all of these tools, machine learning and Roadrunner's proprietary load plan logic to determine on any given day what the optimal route is for freight based on real-time images and data.
"All of our processes and technology is really around maximizing visibility, which doesn't apply to only guaranteed shipments; it's all of our shipments, but it's a really nice framework to use to, not alter our driver's behavior, but alter everything that happens in the background to ensure that we're setting ourselves up for hitting those deadlines in the most optimal way possible," Korslin said.