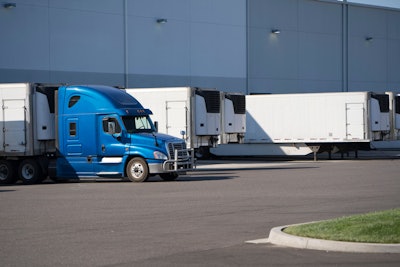 The National Motor Freight Traffic Association's common standard for electronic bill of lading (eBOL) application programming interface (API) went into effect Thursday. Now the organization's Digital LTL Council is turning its focus to developing a complete API roadmap, creating downloadable APIs that will make it possible for shippers, carriers and 3PLs to perform every function – from quote to cash – within the LTL shipment data stream digitally.
"We've identified seven operational APIs and two administrative APIs," said Digital LTL Council Executive Director Paul Dugent.
The list starts with rate quotes, followed by eBOL, which having been implemented has already greatly improved efficiency, accuracy and overall operations within the process, Dugent said.
"Under normal circumstances, the motor carrier would receive a paper bill of lading. Whether they do it in house or whether they send that out to be done, the information from that paper bill lading has to be keyed into the carrier's billing system. Therein lies an opportunity for errors, and those errors in many cases can be quite costly," he said. "So not only does the carrier get the information a lot sooner, they don't have to key in that information and risk errors. So that's a huge benefit for the carrier base. It is a benefit for the shipper also in that certainly if there is a misroute then that shipper's goods don't get delivered in a timely fashion, and that becomes a problem. With API they get that info back from the carrier instantaneously."
The next API, Dugent said, is pickup requests and pickup visibility, providing the carrier, shipper and 3PL with driver location. This API is currently in the study phase. That's followed by the in-transit visibility API, which aims to give the shipper or 3PL visibility into where a shipment is in the transportation to destination process and any holdups along the way. The next API is preliminary rate charges.
"I would say in quite a few cases, there is a reason for the charge that was originally anticipated to change. It could be the result of the carrier checking the weight and finding that the weight was incorrect, or the carrier may also check the classification of that shipment, finding that the classification is incorrect. In both cases, they're going to amend those charges," Dugent said. "With the shipper having advanced notice of those changes in charges, he's able to adjust his system and also notify his customer on the other end that there's going to be a change in those charges."
The next API creates a smoother process for overcharges with the financial rate dispute API. And finally, there's a cargo loss and damage where the shipper or the receiver has an opportunity through an API to submit a claim for loss and damages.
On the administrative front, the council has identified a document retrieval API and a carrier route guide API.
"The next step will be for the Digital LTL Council to open up a dialogue with the membership … where we get into the details of the roadmap, which will include the descriptions plus some dialogue flow diagrams, and they'll get a chance to ask very detailed questions," Dugent said. "Following that, we're going to recommend a prioritization of the seven. Once we've got gotten those nailed down, we will then go to the membership and ask for volunteers to participate in one or more workshops. The workshops are where the API instructions are created, and in those workshops, we'd like to have a variation of participants, which would include technology people, shippers, 3PLs and carriers to make sure we get a wide distribution of how this API should be constructed for the benefit of all parties."
This process will take time. It took three years of bringing together key stakeholders to refine the eBOL API standard. But Dugent said once created, he expects adoption to go quickly.
"We've got eight carriers who have adopted the electronic bill of lading. That represents 37% of the revenue in the LTL industry. We have pledges from another 11 carriers that represent another 35% of the revenue in the industry," he said. "Once everybody has adopted the eBOL, that would represent about 72% of the revenue in the industry, which we consider to be essentially full adoption."
Once implemented on an industry-wide basis, the initiative will eliminate time-wasting phone calls and other inefficiencies, including communication mishaps that arise from problems in shipping.
The Digital LTL Council's Chairman and PITT OHIO's Chief Marketing Officer and Executive Vice President Geoff Muessig said LTL carriers do a good job advising shippers and 3PLs by digital communication when shipment milestones have been successfully passed, but there is room for improvement when in digital communication when a shipment exception arises.
"This includes a pickup that was missed, or a shipment misrouted, or additional charges such as a liftgate fee added to an invoice," Muessig said in NMFTA's news release. "These new real-time APIs will allow carriers to communicate shipment and invoice exceptions as they happen, thereby reducing costs and improving service for all parties."
Sam Ralat, director of customer success at Estes Express Lines, one of C.H. Robinson's contract LTL carriers that has implemented the eBOL standard, said in the release that he spoke to the top 20 LTL carriers early in his career and realized they all had the same issues but were each trying to solve those issues in their own unique way.
But the industry needs to work together, Dugent said.
"Most carriers have their own APIs. What we're trying to do is standardize the APIs," Dugent said. "An API is an individual relationship between a carrier and a shipper, and they're one-offs, and you can have a number of those. So what we're trying to do is establish a standard so that everybody is working off the same schedule of data and the same structure to make it much easier for the industry. The benefits are going to be numerous for the industry."
NMFTA Executive Director Debbie Ruane Sparks said these APIs will help carriers who want to digitize but struggle with the time or the expertise to develop their own digital tools. As the NMFTA standardizes these APIs, those carriers that may typically fall through the technology cracks can simply download NFMTA's APIs instead of spending time and money on building APIs to each partner's specifications.
The Digital LTL Council has identified numerous benefits of standard APIs:
• Digital standards reduce the cost for carriers, shippers and 3PLs to onboard a new business partner.
• Fewer back-office keystrokes lowers administrative cost by allowing carriers to auto bill and auto rate shipments. Fewer keystroke errors leads to more accurate billing and fewer misroutes.
• Downstream carriers incur fewer free astray shipments, which improves service and lowers cost.
• Shippers and 3PLs gain improved visibility prior to pickup, which leads to fewer customer service inquiries.
• Access to shipment bill of lading information earlier in the day leads to better planning, reducing a carrier's cost to operate. Drivers spend less time inputting BOL information at pickup locations, reducing stop time.
• Shippers and 3PLs gain access to real-time service alerts when a shipment is delayed.
• Real-time notification of price changes to the invoice (e.g. inspections, reweighs, delivery accessorials) lowers the cost to reconcile and approve invoices. Digitalization provides 3PLs and shippers with an opportunity to auto-resolve discrepancies between the initial quote and the final invoice.
• 3PLs spend less time on PRO retrieval.