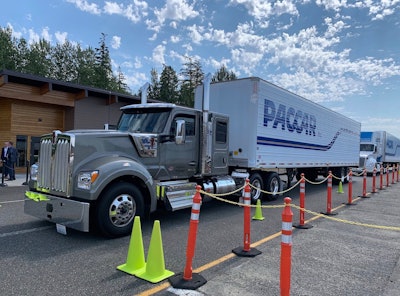 Commercial Carrier Journal
Buyers who purchase Kenworth and Peterbilt trucks manufactured beginning in 2024 will enjoy the benefits of a new ecosystem of connected products from fleet management functionality and ELD capabilities to truck-specific navigation and third-party applications directly from their vehicles.
Paccar, parent company of Kenworth and Peterbilt, recently developed a new collaboration agreement with telematics and fleet management software company Platform Science to deploy its Virtual Vehicle open OEM platform, giving customers access to a customizable platform for digital applications.
Jack Kennedy, co-founder and CEO of Platform Science, said the platform offers a broad suite of solutions that eliminate barriers to innovation, production and safety while allowing fleets to customize in-cab experiences.
"Virtual Vehicle unlocks new ways for fleets to innovate with a platform that offers real-time insights and combines accessibility, flexibility and compatibility to ensure a driver-first experience," Kennedy said.
The Virtual Vehicle platform can benefit fleets with productivity, flexibility, accessibility and cost effectiveness.
It increases productivity with factory-installed telematics hardware that allows fleets to maximize uptime by avoiding installation delays and costs for complementary hardware. The platform is flexible, allowing fleets to create a software experience catered to individual business needs through a growing pipeline of developer-created innovations.
It's accessible with its edge, cloud and in-dash data that optimizes networks, keeping data available 24/7/365, even when fleets are offline. And users of participating applications on Virtual Vehicle benefit from usage-based billing, making it cost effective.
The Platform Science ecosystem will eventually allow for third-party apps to be downloaded and managed remotely or directly on the truck interface, eliminating the need for costly and time-consuming after-market hardware wiring and installation.
"The new services powered by Virtual Vehicle will leverage the existing connectivity capabilities of our heavy- and medium-duty truck platforms," said Bart Lore, senior director of PACCAR Global Connected Services. "Thanks to the new app ecosystem, Peterbilt vehicles will take a quantum leap in terms of uptime and integration to existing fleet management solutions."
Via this collaboration with Virtual Vehicle, Peterbilt will build upon its SmartLINQ remote diagnostics system portal, and Kenworth will build upon its service management truck maintenance web portal TruckTech+.
The new suite of services will launch in 2024 for Kenworth's Class 8 T680, T880 and W990 models and medium-duty T180, T280, T380 and T480 models and for Peterbilt's Class 8 models 579 and 567 and the medium-duty models 548, 537, 536 and 535. Multiple service packages will be available depending on the truck model and intended application.