This is the first of a four-part series that looks at telemetry data as a maintenance tool in trucking, the information service providers seek to provide fleets, and how fleets use that information. The series is based on a survey conducted this spring by CCJ parent company Randall Reilly. The results can be downloaded here. Additional coverage in this series includes Technology seeks role as fleet maintenance partner, OEMs, aftermarket collaborate to fill gaps in telematic data, and What are fleets looking for from maintenance telematics?
Shiva Bhardwaj, CEO of predictive maintenance software Pitstop, grew up spending time in his father's mechanic shop in Toronto, where he became fascinated with the electronics that ultimately led him to launch a career as an engineer. Bhardwaj understands full well that every vehicle is different and therefore should be treated differently rather than have a uniform predictive maintenance schedule fleetwide, he said.
"Somehow every vehicle is treated the same as if they're driven the same by the same drivers and manufactured on the same assembly line, which we all know is not true," he said. "With ELD and maintenance history data and where we are with AI today, that's a lot of information that you can pull and tease out key patterns that help you understand what is trending towards failure, very uniquely specific to each (vehicle). Then you can take that and focus it on actionable insights so that the fleet can act on things that are actually going to break down. We've been able to prove that we can do this with 94% accuracy on average nine days ahead of a breakdown event."
Bhardwaj said that's where aftermarket telematics solutions prevail – they often provide more proactive measures to save fleets from downtime, whereas OEM solutions tend to be focused on reactive measures, like with fault codes that come up once a problem has been detected rather than using machine learning in the background to predict a problem.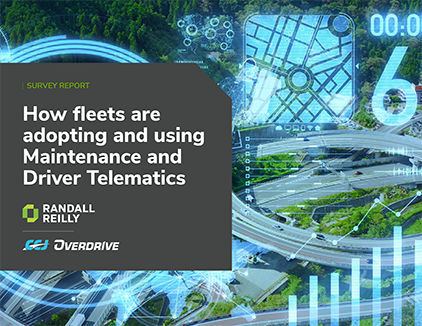 How are fleets and owner-operators using telematics? Find out with this comprehensive research from the editors at CCJ.
Download to access insights on what telematics solutions fleets/owner-operators are using, how telematics influences business decisions and more.
Many fleets have turned to aftermarket telematics providers to solve a multitude of problems, including predictive maintenance measures to keep trucks on the road. According to CCJ parent Randall Reilly's 2023 Telematics Survey Report, 45% of fleets are using a third-party or aftermarket telematics provider to gather maintenance-related data from trucks, while 55% of fleets don't use a third-party provider. Nearly just as many fleet respondents said they are still within the trial period of their OEM telematics services subscription and plan to renew, but a quarter of respondents said they plan to let their subscription go once the trial period ends, stating expense and redundancies as reasons for non-renewal.
Volvo Truck North America's factory equipped telematics solution has more than 100,000 users, but subscription retention is "lower than we would like," said VTNA Product Marketing Manager Chayene De Souza. "We believe its partially due to the wrong contact we have on file. After two years, people change in the organization, and we are probably not reaching out to the right person. The other part of low retention is connected to education; telematics is still new to many customers, and they don't always see the added value right away. Education and training is something we continue to invest in as well improving our subscription systems to ensure we reach the correct contact at the right time."
But other factors come into play.
"When a fleet looks at a telematics solution, they typically are doing it to solve a problem or, in many cases, many problems," said Scott Sutarik, vice president of enterprise solutions at Geotab. "The difference between OEM and an aftermarket having more market share, that's primarily a function, not of remote diagnostics, but of other needs; it could be compliance, ELD, or fuel tax charges or some other operational efficiency that maybe the OEM solution doesn't offer because obviously they're more focused on their product. I think that's why you see a little bit of a gap there."
Bhardwaj said the motivations are different. OEMs probably want you to buy more of their trucks or go back to their dealer, he said. But he said many fleets choose an aftermarket provider because they have a mix of vehicle type and need a solution that can bring insights from all vehicles into one solution that already integrates with existing fleet management software and other telematics providers.
"I think that's the power and benefit; that you don't need to log into three different systems that will never ever talk to each other because they're competing OEMs. You're logging into a single system that's pulling data from all these partners," he said.
He said it also comes down to the speed of innovating with software.
"That's how software thrives and wins, and I think the aftermarket is better positioned to iterate and take risks and try things that an OEM just isn't built to do," Bhardwaj said. "(OEMs have) preprogrammed software, so the speed at which it's going to improve is dependent on how fast the OEM's development team is. Whereas the aftermarket is taking in every single sensor data point like battery voltage, tire pressure data, various engine combustion data, fuel data, braking … That information is coming through because it's being fed to a machine learning model; every single data point, every single failure that's passed through the system actually helps improve and train the system so over time the system will get much smarter, much faster, all by itself."
End users (fleets) don't necessarily care how all the pieces fit together, only that they do fit, and that the experience is efficient and leads to costs savings and uptime.
Being tactical with repair
The dataflow, said Mint Hill, North Carolina-based Blue Dot Readi-Mix Fleet Manager Jason Spangler – a self-professed "process, inventory management and technology guy" – has enabled the fleet to bring more repair work in-house. His fleet uses a mix of third-party providers and Kenworth's TruckTech+. Spangler said Kenworth's TruckTech+ Service Management System helps him anticipate issues with real-time data reporting on fault codes, allowing his team to more quickly respond to problems while also building a bank of common faults and repairs for proactive maintenance planning. Computerized Maintenance Management System software from eMaint creates a predictive maintenance model for the fleet and EROAD provides telematics, preventive maintenance scheduling and job cost analysis.
"What I decided to do was put an engine and aftertreatment warranty on every truck," he said. "You've got to be able to know when you send a truck out (for repair) that there is some degree of certainty this is going to be a warrantable repair or not. That's where we do our homework, because we want to know with some level of certainty, when we pass this over, we should anticipate this being covered. Now, we're not always right, but for the most part, now three years into this program, we're pretty good at handing it off."
Charger Logistics (CCJ Top 250, No. 191) Director Vikas Monga said his fleet uses Daimler Trucks' Detroit Connect and Platform Science across its fleet as it seeks to track three critical elements: "One, we are monitoring our fleet health through it. Secondly, we use it for remote updates," he said, "and the third we use it for analytics, both safety and fuel."
Griffith, Indiana-based Charger Logistics' breakdown team monitors fault codes in real-time and based on the fault codes, whether it's a service now, service soon or if it's standard maintenance, Monga said, they take proactive corrective action. "It helps us to keep our downtime low considerably because we don't let the truck go to a point where it needs expensive repairs, and it keeps our costs as well down," he added. "It also provides us a location of the truck. That provides us the nearest dealers, which helps us a lot to make an informed decision where to send our trucks."
Sutarik said aftermarket providers are typically better at operationalizing data – creating a roadmap to proactively manage assets to increase uptimes. Geotab can push automated work orders on a vehicle to a maintenance system when something happens, for example. OEMs have a different focus.
According to the survey, only 27% of fleets' vehicles came factory equipped with a fault code action plan; 73% came with fault code reporting; 64% came with remote diagnostics; 48% came with remote updates; 45% came with vehicle health reporting; 20% came with dealer service management; and 18% were not factory equipped.
But OEMs are working on that front.
Volvo's telematics, for instance, is more than remote diagnostics. De Souza said Volvo connects other services to its remote diagnostics like its Volvo Action Services (VAS) and remote programming, which come in its Uptime Bundle that has been offered complimentary for two years when a customer buys a new truck since 2018.
"Basically, the way that it works is when there's a fault code in the truck … that goes automatically to our back office here. The remote diagnostics that we have will read that code … It analyzes it so if it's just noise, it doesn't go to the customer, because you wouldn't imagine the amount of data that we collect from the truck, but sometimes it's just noise," she said. "Once the fault code is analyzed – it could be like a check engine light – (it) goes to our team, which is real people. We have a 24/7 service called VAS on Call, and then those people call the customer; then we'll go from there. It could be that the customer needs to go to the shop to do a repair. It could be that we can do a remote programming; we can send software over the air and get this fixed."
De Souza said that solution is very popular with Volvo users, which primarily consist of smaller to mid-size fleets. She said larger fleets typically have their own systems or use a third-party provider that can be used across all OEMs in their fleet.
Cummins is also making strides on the technology of its telematics, including combining its data with artificial intelligence and machine learning to provide predictive insights. Ryan Kikendall, director of global quality at Cummins, said its latest innovation allows Cummins to predict component failures up to 90 days in advance. Its three key software applications – implemented across more than 1.3 million engines worldwide – include remote engine health monitoring, over the air trim calibration and software updates and predictive service (for accelerated maintenance and repairs).
"No one can interpret and convert Cummins engine data into customer value more accurately or effectively than we can," Kikendall said. "If you're a customer, you want genuine Cummins technologies, not third-party imitations. But you'll want them to be seamless within your existing systems and ways of working — and that's what we offer."
He said most fleets that maintain their Cummins telematics subscriptions use it to maximize uptime, among other reasons. Navistar's solution also aims to drive greater uptimes and reduce total cost of ownership; it's one OEM that does provide a fault code action plan to identify most likely needed parts and service as well as dealer on-hand inventory of needed parts, GPS mapping with nearby service centers and hotels and more beyond vehicle fault code reporting and severity ratings.
Many fleets choose an aftermarket provider because they also provide driver management tools; OnCommand Connection does that too, as well as equips its trucks with tools to boost fleet performance and fuel efficiency. Detroit Connect also analyzes safety performance data for driver coaching.
Ultimately, aftermarket telematics providers and OEMs each have pros and cons, but Sutarik said it comes down to the ability to operationalize the massive amounts of data.
"I can't tell you how many times we talked about how important it is to be able to take the data and then create an action out of it," he said. "So the amount of data I don't know necessarily matters as much as what you do with the data you do have."