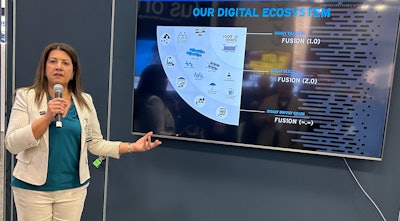 Clarience Technologies is extending availability of its Fusion data and analytics platform to external customers not currently subscribing to the company's Road Ready telematics system, and announced Monday at the American Trucking Associations Management Conference and Exhibition in Austin, Texas, new development of Fusion that will bring the product beyond trailer telematics and toward a broader telematics solution for fleet managers.
"Fusion is a digital ecosystem that connects all the data points in the transportation value chain," said Nada Jiddou, Clarience Technologies' chief digital officer. "Large commercial carriers have been struggling to find meaning in disparate data sources for many years. Even those who invested in their own systems to create the data integrations have realized the difficulty of the task. We saw this as an opportunity to help."
The updates to Fusion will interpret disparate fleet data coming from various onboard systems into a single integrated platform, including ELD data, TMS systems, repair management, service records, asset location and health, compliance inspection and history, leasing management, insurance policies and claims.
In addition to displaying all data in a single screen, Fusion is also designed to be AI Ready with capabilities that leverage machine learning principles, enabling the platform to learn more about a specific fleet as more data is ingested so that it can generate more meaningful insights over time. Additionally, its architecture can integrate predictive or generative AI tools onto the platform.
Clarience Technologies also aid it is working to bring the next iteration of the platform, Fusion 2.0, to market in 2024 with new functionalities.
In-line option brings light out detection to all trailer types
Clarience Technologies also introduced a new in-line configuration option of its Road Ready Light Out Detection System (LODS), expanding coverage of Road Ready LODS to now include every type of trailer. The telematics-enabled solution monitors trailer lighting systems and alerts the fleet of any light outages.
The LODS device can now be installed in-line within the wiring harness, allowing it to be mounted below the frame rails, making it ideal for flatbed, tank, or chassis/intermodal trailers where there is no nosebox.
"We now offer customers a choice of LODS solutions that can fit any trailer type," said Dane Hollar, Road Ready's senior vice president of sales. "Both solutions use technology to improve safety and DOT compliance through better visibility."