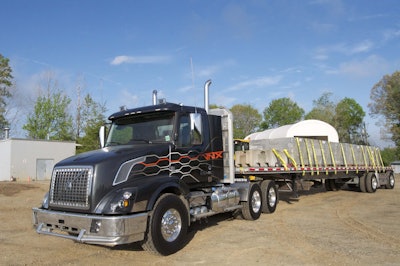 While many truck manufacturers do long-range market studies to determine if they should add a new truck model to their lineups, Volvo's approach to launching its new, VNX severe duty tractor was a bit more casual than the company's usual "By the Book" procedures.
The VNX story began a little over a year ago as Goran Nyberg was settling into his position as new president of the company's North American operations.
Nyberg had extensive experience with Volvo's expansive European product portfolio and noticed an opportunity in the North American lineup: A heavy-haul on-highway tractor that could handle occasional off-highway work as well. Volvo has a large presence in Europe's high-horsepower/heavy-duty markets. And, in Nyberg's opinion, Volvo was missing a tremendous opportunity to showcase those attributes to North American buyers.
It wasn't quite a sketch drawn on a napkin. But it was close. And it closely jibed with market research Volvo North America already had in hand. The go-ahead from Nyberg was the final piece of the puzzle: Armed with their assignment, Volvo's North American engineering team threw themselves into their work and crafted the VNX in record time.
The, result, says Jason Spence, Volvo's marketing product manager for long-haul business segments, is a truck that takes the best from the company's aerodynamic VN tractors and tough VHD vocational truck models and blends them together into a highly capable truck that handles well on the highway but is tough enough to work on the most rugged of jobsites.
Spence selected a fairly arduous route through the Smokey Mountains near Asheville, NC, for our test drive. The gleaming, jet black VNX was pulling a flatbed loaded with concrete blocks, rated at 77,500 pounds; a tough assignment on the steep 6- and 7-percent grades as I-26 winds its way into Tennessee. "But it's a great chance to show the pulling power this 550 horsepower D16 engine offers," Spence explained. "And it's also a great way to show how well our I-Shift automated manual transmission works in tough terrain with heavy loads."
With a take rate of 71 percent to date this year, Volvo's confidence in its proprietary automated manual transmission has never been higher. So much so, in fact, that while Spence says a manual gearbox can spec'd with the VNX, the automated manual unit is the standard transmission for the tractor. In fact, I-Shift is the standard VNX spec all the way up to 125,000 pounds GCW without application approval. (VNX tops out at 200,000 pounds, GCW. But a manual transmission is necessary at that weight.)
"In Europe, I-Shift is routinely spec'd for severe service applications," he explains. "In North America at the moment, automated manuals are making the most inroads in the on-highway/long-haul markets. But we want to make sure people understand that I-Shift is not limited to those types of jobs. It was designed from the get-go to be robust and durable."
Spence points to I-Shift's Power Launch feature as proof. Stopping the VNX on an unpaved grade covered with loose gravel, he had me shift to Neutral, rev the D16 engine up to 1,300 rpm and then shift into Drive. The transmission immediately delivered a smooth, metered burst of rear-wheel torque that easily powered the truck forward. "This feature allows iShift to precisely deliver the power needed to get a big, heavily-loaded truck like the VNX out of a deep hole or sandy soil," Spence explained. "It really shows the amount of vocational input that went into iShift's design."
More cruiser than bruiser
Stylistically, VNX shares more than a passing resemblance to the VNL family of tractors – albeit with a more robust look, bold chrome grill and wider stance. The truck stands tall on vocational floatation tires. The daycab interior is nicely appointed with large windowpanes allowing ample daylight inside while providing panoramic views 360-degrees around the tractor. These views are helped by Volvo's large rear-view mirrors, which Spence says feature 128 square inches of reflective surface — more than twice the current FCMSA requirement – to enhance driver awareness and safety.
Volvo's D16 diesel is a quiet engine to start with. But ample sound insulation means that cab noise levels are remarkably low. Pulling oversize/overweight loads like the VNX is designed to do usually means lots and lots of small-step shifting to get the truck going. But I was happy to let the I-Shift take over and do the hard work, while I concentrated on traffic and steering.
Deep wheel cuts helped me easily maneuver the long flatbed behind my test VNX through the narrow mountain roads that started our drive. Despite the big flotation tires under me, I found the VNX to be pleasantly docile on the twisting, turning, mountain roads. Later, at highway cruise speeds, the truck held its place in the lane with little or no steering input. Spence said this was a result of a twin-steering gear design Volvo engineers gave the VNX to insure excellent handling in a variety of road conditions.
On the interstate, the VNX quickly accelerated to cruise speed and was s delight to drive. The integrated engine brake easily held our speed in check on long downhill runs with minimal braking. Another nice feature was the cruise control, which works in conjunction with the I-Shift to maintain desired highway speeds. You can easily adjust your speed settings in mountainous terrain to stay with a preset limit. If you tell the system you never want to exceed, say, 67 mph, the transmission will downshift accordingly and apply the engine brake on downhill grades to keep you in that range. It's a slick system that reduces driver fatigue, improves brake life and enhances safety all at the same time.
Volvo has definitely got a winning design on its hands with the new VNX heavy-haul tractor. It features head-turning, conventional tractor styling with a killer combination of brute power and refined technology all working in together to get the toughest trucking jobs done.