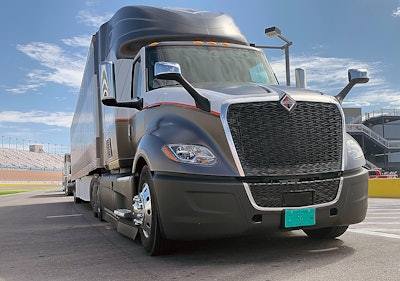 International's on-highway flagship, the LT Series, is getting its first significant design tweak since its 2016 debut.
An updated front-end design – one that includes a new bumper and grille style – is probably the only one you'll notice strolling through the truck stop unless you have a keen eye for aero, but this design change makes me sad. It looks great, but the classic vertical ribs in the grille were distinctive and carried some gravitas. Old school cool International cabover grilles had horizontal bars, but the vertical bars seemed like a reasonable middle ground on a conventional. Welcome to the future, I guess, as we're on the brink of powertrain technologies that won't require a grille at all.
"We wanted the introduction of our new powertrain to be visually different," said Brian McGreevy, program chief engineer for the S13 Integrated Powertrain. "People will know when you have an S13 Integrated specified in your LT Series."
The medium-duty line has already undergone this facelift (or nose lift as it were), so this change aligns the two segments.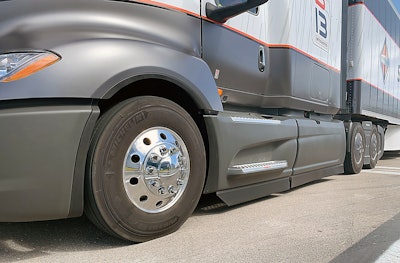 The next-generation LT also features an updated aerodynamic package geared for line haul applications, including DEF and fuel fill closeouts that allow air to flow smoothly over the chassis skirts; wheel well closeouts on the steers and a modified lower skirt trim that improves underbody air flow by restricting air flow through the wheel opening; and a new roof extender for better air flow between the tractor and trailer gap. The whole package adds a lot of curb appeal and makes for a fast-looking truck.
Driver safety enhancements include an electronic parking brake that automatically engages the vehicle and trailer parking brakes if the driver forgets to set them and an airbag affixed to the steering wheel.
I took International's new-look LT for two hot laps around the 1.5 mile track at Las Vegas Motor Speedway, or as hot as you can get in a semi on a track with nearly 30 degree banked corners and about 10 minutes of seat time. This wasn't as much a test drive as it was a demonstration. My quick drive was dovetailed into a dealer and customer product launch, so I was just happy to get some seat time considering that everyone waiting behind me was either a buyer or seller of International trucks. I hope to get some quality seat time with this configuration before it goes into production next year.
The LT Series can be spec'd with the new International S13 Integrated Powertrain – a package that includes a 13-liter engine built from the 12.7-liter Scania Super 13 and a 14-speed transmission that has a high degree of commonality with Scania's Opticruise. But the T14 obviously gets unique hardware and software calibrations specific for the North American market.
Since this powertrain debuted last week, I've seen some of the comments online, many of which focus on it being European in nature. What's wrong with that? All the best chocolate is European. All the best watches are European and European automotive engineering is among the best in the world. In fact, every major U.S. heavy truck manufacturer has some degree of European engineering influence. This is a global industry now, and it has been for very long time. Even International's A26 – the very engine that the S13 will replace because it gets more power and features a better torque curve – was MAN-inspired.
International's S13 engine doesn't have an EGR cooler (selective catalytic reduction is the primary means of emissions reduction), and I doubt the irony here is lost on anyone. To meet 2010 emission regulations, Navistar went all-in on EGR and kicked to the curb SCR – an emission solution embraced by every other truck manufacturer at the time.
However, this current approach to emission control isn't the flyer that trying to eliminate SCR ultimately turned out to be.
This almost EGR-free engine platform has been deployed in Europe for nearly a decade. For comparison, Navistar strapped SCR to its 13-liter MaxxForce in April 2013 to work alongside its EGR system, formally walking back its EGR-exclusive strategy. A year later, Scania introduced its 13-liter that used SCR exclusively as a means of emission control. The engine still uses EGR, but only to keep the aftertreatment warm for initial start-up, idling and other low-load conditions.
"Without significant EGR usage in normal driving conditions, and not being used as a significant part of the emissions reduction, an EGR cooler is not needed," McGreevy said. "With the removal of the EGR cooler and nearly no EGR, the engine generates less soot and [particulate matter], but has a strong NOx control provided by the dual-stage SCR."
As efficient as the SCR system is at cleaning up the exhaust, there's still emissions. That's where the new dual-stage aftertreatment comes in. The first dose of DEF is injected after the exhaust brake flap (downstream of the turbo), where the exhaust gases are still hot. A second dose of DEF is injected in the usual place inside the aftertreatment system, but by then the peak NOx level has already been reduced.
"Less soot and PM generated also supports extending DPF service intervals," McGreevy said. "Since there is no active DPF regen, no fuel dosing in the aftertreatment system is required."
The aftertreatment will almost certainly consume more DEF, but that's likely to be the case for every OEM in their quest for 2024 Greenhouse Gas certification. The exact consumption rate, McGreevy said, would be released at a later date, along with details on the powertrain's improved service intervals.
That I only made couple mostly flat trips around the Vegas 1.5 mile oval, I really can't weigh in on the power of the 400 hp, 1,850 lb-ft torque that was at my disposal – one of seven different available ratings ranging from 370 hp and 1,250 lb-ft to 515 hp and 1,850 lb-ft.
Navistar Executive Vice President of Operations Michael Grahe said Scania and International engineers took a modular approach in designing this now global powertrain and were charged with making it as efficient as possible while using the fewest number of necessary parts; hence the deletion of the ERG cooler and variable geometry turbo (the S13 uses a fixed geometry turbo) from the engine.
"We were not going to rush this," Grahe said. "Speed to market was not a factor. Quality – quality and reliability is key."
Step one, he said, was a close evaluation of customer needs, their power demands and how the company could work within those confines to produce a smarter 13-liter solution while meeting their expectations and government regulations. Five years later, the International S13 Integrated Powertrain came out the other side.
A Cummins X15 engine is spec'd more frequently in LT tractors than Navistar's A26 currently, and while Grahe said with its new powertrain International is "absolutely" going after that marketshare, he added that Cummins will remain an option and "an important partner for the foreseeable future."
I was driving a unit spec'd for fuel economy but equipped with 2.64 rear axle ratio. A 2.15 ratio will likely emerge as the favorite of the faster fuel conscious fleets. Compared to Navistar's first-generation International A26 engine specified with the 12-speed overdrive Eaton Endurant HD automated transmission, the new S13 Integrated Powertrain – combined with the updates to the LT Series – delivers up to 15% gain in fuel efficiency, and is about 30 pounds lighter. The bulk of the fuel efficiency gain – Grahe said to the tune of about 12% – comes from the powertrain, with the new aero picking up the balance.
Strapped behind Traton Group's new global engine platform is the T14 14-speed automated manual transmission – International's first-ever commercial transmission. New for the LT is the ability for drivers to toggle between three drive modes: performance, fuel economy or a blend of the two. This is a feature likely more handy for owner-operators willing to sacrifice mpgs for more power in some instances and can be deleted for carriers to lock in fuel economy.
The self-launch feature – or creep mode – helps get the truck started when the brake pedal is disengaged and it will be a handy feature in stop and go traffic, but one of the first things you'll notice is the skip-shift. Not having to crawl incrementally out of first gear makes take-off much smoother and quicker. Technically, this isn't a direct drive transmission, but the transmission will target direct drive because it's the most efficient, slipping itself into overdrive only when that is the best and most efficient option.
Compared to the currently available 12-speed AMT, the lower gear on the T14 is quite deep – almost a crawler in first gear – making for better startability under heavy loads. The "other" gear is the top gear. The two "new" gears bookend standardized middle range ratios, which allows Navistar to be clever with optimized shift scheduling when it's need for performance and fuel economy.
Recognizing that "the internal combustion engine will be required for many years," Navistar President and CEO Mathias Carlbaum was steadfast in pledging that the S13 will be "the last combustion engine that we will ever develop" as the company transitions to fully zero-emission by 2040.
Did Navistar indeed save the best for last? Time will tell, but my 3-mile, sub-45 mph trot around Las Vegas Motor Speedway was a good start.