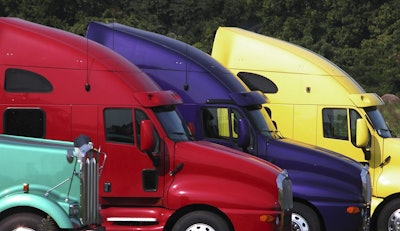 Sherwin-Williams Automotive Finishes offers one of the most extensive fleet color selection tools: Color Works – The Match Box – designed to meet the needs of the commercial vehicle, fleet, and large truck paint refinishing market.
The Match Box is a chromatically arranged system with more than 3,700 colors in 74 hand-held decks, grouped by color family. The large chip size also makes it easier to compare the chip to the vehicle. It utilizes one color per page and an easy to use ring design that makes updating the system a breeze.
Match Box was announced this week at the Work Truck Show in Indianpolis in conjunction with Sherwin-Williams' Fleet Express Scratch Repair Process, which allows the fleet facility to repair minor damages, faster – usually in less than one day
The Fleet Express Scratch Repair Process uses the patented Sherwin-Williams HP Process System with its proprietary Air-Bake technology, removing the need for paint baking to achieve a fast cure time. Instead, simple fleet repairs can cure outside the booth at ambient room temperature, allowing for same-day repairs.
The HP Process System, which has received numerous certifications from OE manufacturers, uses high-quality primers, basecoats, and urethane clearcoats. The HPC15 Clearcoat air dries to a 15-minute cure that can be sanded, polished, and then delivered to the customer, eliminating the downtime associated with temperature ramp up or cool down time.
"The Fleet Express Scratch Repair Process and the HP Process System are a win-win for all concerned; fleet facilities can paint more vehicles, add additional minor repairs, and even reduce their carbon footprint in doing so," says Dan Szczepanik, Sherwin-Williams OE/Commercial Products Manager. "That's why part of the process is aptly named HP – higher productivity, higher performance and higher profit."