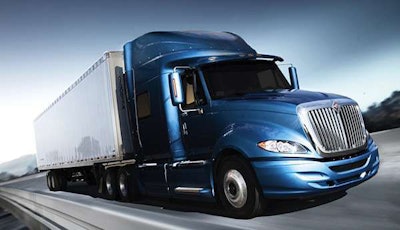 Navistar, Inc. announced Tuesday that its International ProStar linehaul and regional haul tractors are now available with the company's 13-liter engine and Eaton Fuller Advantage Series Automated 10-speed transmission, a combination the company says delivers up to five percent fuel economy improvement.
"The increased availability of automated transmissions helps us address the driver shortage issue by reducing the variance between experienced and inexperienced drivers," says Bill Kozek, president of North America Truck and Parts, Navistar. "Every percent of fuel economy improvement makes a difference, and pairing the aerodynamics of our ProStar with technologies from Eaton Fuller helps our customers maximize their fuel savings."
The popularity of automated transmissions is growing annually, having reached 30 percent penetration in the North American market, according to Kozek.
Additional benefits of the ProStar with the 13-liter engine and Eaton Fuller transmission include optimized engine and transmission communications, intelligent shifting and downspeeding, which the company says allows the engine to operate at lower revolutions per minute (RPM), to use less fuel without sacrificing performance.
As part of the engine and transmission combination, the Eaton Fuller Advantage Series Automated transmission will be offered in one rating combining Navistar's 13-liter engine rated at 450 hp and 1550/1750 lb. ft of torque for linehaul and regional haul applications in the U.S. and Canada.
The company's portfolio of fully automatic and automated manual transmissions also includes Eaton Cummins Smart Advantage, Eaton UltraShift Plus and Allison TC10 transmissions.