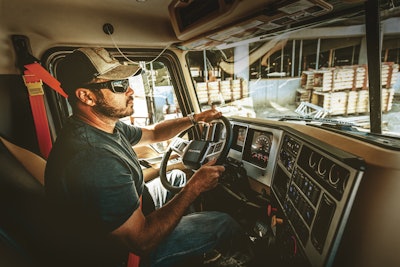 Mack Granite models featuring the company's active steering system – Command Steer – are now in production, Mack Trucks announced Monday during Work Truck Week.
Command Steer combines an electric motor with Granite's existing hydraulic steering. Multiple sensors throughout the truck monitor the terrain, driver inputs and environmental elements more than 2,000 times per second. Based on the data collected, Mack Construction Product Manager Tim Wrinkle said the system provides variable steering effort through the electric motor, applying additional torque as needed to make it easier to keep the truck on the intended route. Along with a reduction in driver steering efforts at low speed, Wrinkle said Command Steer also suppresses uneven terrain and reacts to surface irregularities by countering the steer force, smoothing the steering feedback and reducing steering wheel kick.
RELATED: Mack makes driver-activated OTA updates standard on select models
A return-to-zero feature automatically returns the steering wheel to the center position in forward and reverse, simplifying tight maneuvers and, Wrinkle said, the platform overall has shown to reduce driver input effort by up to 85%.
Also Monday, Mack noted its mRide spring leaf over rubber block suspension is now available at a lighter weight with the company's proprietary axles.
Available at 40,000-pound and 46,000-pound suspension ratings and with standard track axles, the setup saves 140 pounds with drum brakes and 146 pounds with air disc brakes – a result of casting suspension components into the Mack axle housing. The mRide's parabolic springs are thickest at the center to ensure the clamp load area offers the greatest strength and are tapered to improve driver comfort while providing extreme articulation and constant tire contact on the rough terrain. The spring leaf design and V-shaped torque rods ensure stability to efficiently transmit forces into the truck's frame while shock absorbers – along with rubber and steel shock towers – improve ride and handling.
Mack also enhanced its standard axle warranty for Model Year 2022 Anthem, Pinnacle, Granite, TerraPro and LR models, extending time and mileage coverage.