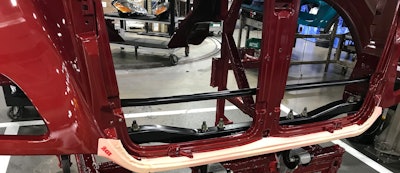 A global shortage of semiconductors reduced Paccar truck deliveries in the first three months of this year by approximately 3,000 vehicles, the company said Wednesday, and it's a problem that isn't likely to be resolved soon. 
"Paccar anticipates that the semiconductor shortage will continue in the second quarter," the company said via statement. "North American and European truck industry orders continue to be very strong. Paccar's forecast for 2021 truck industry retail sales remains unchanged."
Paccar's first quarter 2021 truck deliveries are estimated at approximately 42,000 vehicles, compared to 40,800 vehicles delivered in the fourth quarter of 2020.
The semiconductor shortage was spurred by chip manufacturers who pivoted toward consumer electronics during the worst of the pandemic as truck and auto sales swooned. Vehicle orders rebounded quicker than expected, leaving a dearth in supply. It can take several weeks – if not months – for semiconductor manufacturers to switch between production of different types of chips. 
Volvo Group, the parent of Mack Trucks and Volvo Trucks North America, last week said the company will implement stop days across its global truck manufacturing operations beginning in April due to supply chain problems with semiconductors and other components.
[Related: Volvo, Mack join automakers feeling the squeeze from semiconductor shortage]
Mack Trucks' Director of Public Relations told CCJ the company expects its Lehigh Valley Operations to be affected, adding "[at] the moment, we believe this will mean some non-production days during the quarter. The situation is fluid. We're doing everything we can to minimize the impact, and we are maintaining the flexibility to increase production if the situation allows."
Similarly, Volvo Group North America Vice President of Public Relations and Corporate Affairs said Volvo Trucks North America was monitoring the situation closely "as these constraints will continue in the second quarter, and we will adjust our production if needed. We're working closely with our suppliers to minimize the impact on our customers."
Despite many assembly headwinds, February 2021 was the second-highest total truck orders ever for the month of February, and orders for the previous 12 months now total 338,000 units.