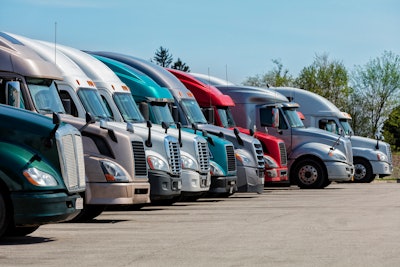 Lumber and used trucks: Two things you probably don't want to be in the market for right now.
The supply of late-model sleeper tractors remains tight as a supply chain crunch has slowed fleet replacement cycles and is driving prices for tractors with fewer than 600,000 miles "in the stratosphere," according to J.D. Power Commercial Vehicles Senior Analyst and Product Manager Chris Visser.
Month-over-month, J.D. Power's benchmark group of 4-6 year-old trucks – compared to the first 4 months of 2020 – is bringing 76.6% more money at auction, and Visser said he doesn't see much relaxation in pricing for trucks with average to low mileage for at least another two months.
According to Ritchie Bros., for the three months ending April, prices for used truck tractors increased 24% compared to the same time last year.
Steve Tam, Vice President at ACT Research said new truck production and sales continue to reduce the flow of units into the secondary market, limiting its potential, adding, "comments from dealers as well as classified listings – a proxy for inventory – corroborate the lack of supply that has come to define the current cycle, and the drumbeat of demand shows no signs of easing."
The average sleeper tractor retailed in April was 68 months old, had 432.099 miles, and brought $62,786, according to J.D. Power. Compared to March, this average sleeper was identical in age, had 25,779 (5.6%) fewer miles, and brought $5,238 (9.1%) more money. Compared to April 2020, this average sleeper was 7 months older, had 34,740 (7.4%) more miles, and brought $20,514 (48.5%) more money.
"A year ago, staring down the throat of the worst global pandemic in more than a century, who would have thought the discussion would pivot to how we can possibly meet such strong global demand," Tam said. "And yet, here we are, facing problems of prosperity, the likes of which we have rarely seen in the U.S."
Visser noted April's already healthy dealer sales number could have likely been better "if dealers had a larger selection of trucks to sell."
Month-over-month, Visser said late-model trucks brought 2.5% more money. In the first four months of 2021, late-model trucks are running 12.4% ahead of the same period of 2020. Retail pricing has been on the rise since the fourth quarter last year, but Visser said those increases have been more gradual than in the auction channel. On average, pricing is still similar to the last market peak in early 2019, he added.
Going forward Visser expects most trucks to see mild to moderate retail appreciation into the third quarter. Economic factors should start moving back towards trend later in the year, and truck availability should expand, limiting price appreciation somewhat.