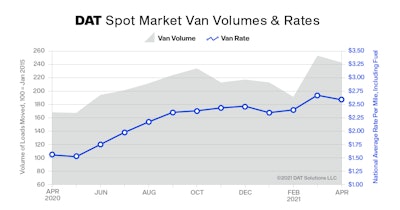 Trucking news and briefs for Tuesday, May 18, 2021:
DAT Truckload Volume Index falls 5% in April from record March
Truckload freight activity declined last month, but April was still the second busiest month on record for shippers, freight brokers and motor carriers, said DAT Freight & Analytics, which operates the industry's largest online freight marketplace and DAT iQ data analytics service.
The DAT Truckload Volume Index (TVI) registered 225 in April – down 5% from the all-time high set in March. The index is an aggregated measure of dry van, refrigerated and flatbed loads moved by truckload carriers. A baseline of 100 reflects freight volume in January 2015.
"It's not unusual to see a decline from March to April, but truckload freight activity remained at historic levels compared to previous years," said Ken Adamo, chief of analytics at DAT. "The April TVI was 39% higher than it was in April 2020 and April 2018, and 26% higher than in April 2019, indicating unusually strong demand for truckload capacity last month. Trucking companies are in the driver's seat with respect to pricing power."
The national average spot rate for van loads on the DAT One load board network was 8 cents lower than the March average at $2.59 per mile, but the second-highest monthly average van rate on record. The national average spot reefer rate was $2.93 per mile, 2 cents lower than in March, while the spot flatbed rate averaged $2.96 per mile, 18 cents higher month over month.
Contract rates for truckload services were historically high in April, DAT said. The average contract van rate was $2.66 per mile and increased for the 12th consecutive month. In addition, the average contract rate for reefer freight was $2.78 a mile, 15 cents below the average spot reefer rate.
The national average contract rate for flatbed equipment, which is used to haul construction materials, heavy equipment and a variety of other industrial goods, was $2.96 per mile – $1.03 higher than in April 2020. On the spot market, the flatbed load-to-truck ratio averaged 95.7, meaning there were more than 95 loads posted for every available truck last month.
"There's a feeling among businesses that they are at their ceiling for the price of logistics," Adamo said. "Spot and contract rates are high as we enter a period when truckload capacity is only going to tighten, as produce and retail goods move ahead of the July 4 holiday and back-to-school shopping season."
Looking ahead to May, DAT said commodity shortages for manufacturing and the reopening of long-shuttered offices and service businesses have led to increased use of the spot market. In most years, 12-15% of truckload freight moves on the spot market, but that figure is closer to 25% today. Additionally, during the first week of May, the volume of load posts on DAT One was 36% higher than the same period in 2018, when truckload freight activity followed a more typical pattern.
Potential fuel leak prompts Daimler to recall of nearly 10,000 trucks
Daimler Trucks North America is recalling approximately 9,662 vehicles for an issue with the fuel injection system that could cause a leak, increasing the risk of fire, according to National Highway Traffic Safety Administration documents.
Daimler is recalling certain model year 2018-2021 Freightliner Custom Chassis XC Chassis, 108SD, Custom Chassis XB Chassis, Business Class M2, 114SD and Western Star 4700 vehicles.
In the affected trucks, the sealing washer may not seat correctly in the pilot bore holes, allowing the high-pressure fuel rail assembly to leak.
DTNA is still working on a remedy for the issue, and owner notification letters are expected to be mailed by July 5. Owners can contact DTNA customer service at 1-800-547-0712 with recall number FL-886. NTHSA's recall number is 21V-326.
Daimler announces leadership changes
Daimler Trucks North America announced Monday that David Carson, current senior vice president of vocational sales and marketing, has been appointed to the expanded role of senior VP of sales and marketing, thus consolidating responsibility for all sales and marketing of vocational and on-highway segments. The changes will be effective June 1.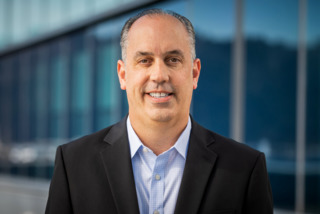 David CarsonCarson adds responsibilities formerly held by Richard Howard, who has been appointed to the management board of Daimler Truck Financial Services responsible for North America and Asia. Drew Backeberg, currently vice president of dealer sales for the on-highway segment, has been promoted to the role of senior vice president of aftermarket, and will join the company's operating committee as a result.
"I'd like to thank Richard Howard for his incredible leadership of our sales and marketing organization these past years, and I am thrilled to have David Carson expand his responsibility to include the entirety of the Freightliner and Western Star portfolios," said John O'Leary, president and CEO, DTNA. "David's experience leading several large pieces of our company, combined with an unwavering focus on delivering for our dealers and customers alike has earned him a high degree of regard among employees and our business partners."
Carson was appointed to his current role leading Western Star trucks in 2017, which expanded in scope to include leadership of the entire vocational segment for DTNA in 2019.
Combining his most recent seven years of Daimler Trucks experience with a nearly 20-year leadership career in Daimler Financial Services, Howard will take on the role of president of the newly established Daimler Truck Financial Services USA LLC, an entity allocated to Daimler Truck Financial Services in Germany. He will also be appointed to the management board of Daimler Truck Financial Services, responsible for both North America and Asia. Howard's move aligns to the planned spin-off of Daimler Truck.
Backeberg, currently vice president of on-highway sales for DTNA has been selected as the company's senior vice president of aftermarket, replacing Stefan Kürschner, whose transition to CFO at DTNA was previously announced. Backeberg has also been appointed to DTNA's Operating Committee as part of his promotion.