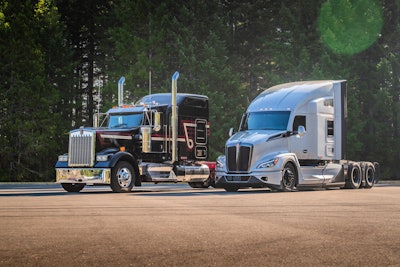 Kenworth this year celebrates its diamond anniversary – a 100 year milestone that the countries of the former Soviet Union will not celebrate for another 70-plus years.
If the Kirkland, Washington-based truck manufacturer was a person, they would be an centenarian. However, they would still be well outside the top 100 oldest known living persons – a list dominated by people at least a decade older than the company founded in 1923 when Harry W. Kent and Edgar K. Worthington re-incorporated the Gersix Motor Company as "Kenworth".
That first year, the company produced 78 six-cylinder, gasoline-powered trucks and has produced more than 1.3 million trucks since. Along the way, Kenworth has ushered in some of trucking's cornerstone industry staples. It was the first truck manufacturer to install diesel engines as standard equipment in 1933; it sold the first sleeper cab (1936); and the Kenworth T600A in 1985 became the first truly aerodynamic Class 8 truck.
New milestone models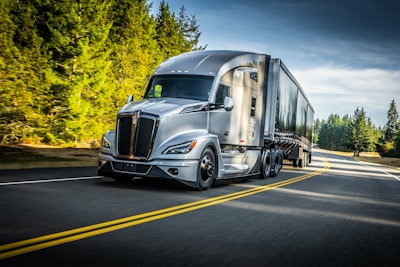 Kenworth will hold 25 events throughout the year to celebrate its centennial and has launched a dedicated website. Yet nothing is likely to draw the kind of attention to its birthday party quite like limited edition and special edition models of the company's two flagship on-highway trucks.
Only available during calendar year 2023, the T680 Signature Edition can be spec'd in 76-inch mid- and high-roof sleeper configurations. The Signature Edition Diamond VIT features a black interior with legacy red stitching accents throughout the cab and sleeper. The package also includes a Kenworth 100 branded GT703 seat with red accents, special brushed platinum dash and door trim, and Kenworth 100 logo stitched into the sleeper back wall.
The exterior features a black onyx grille and side air intake, and prominent Kenworth 100 badges on the sleeper. An optional Kenworth 100 exhaust shield cutout and black anodized grille mesh are also available on mid-roof configurations. Also optional are new Alcoa stylized wheels with unique spoke patterns in Dura-Bright and Dura-Black finishes.
Want to see more pics of the T680 Signature Edition?
The 100th anniversary Kenworth W900 Limited Edition is available in three configurations: 86-inch Studio Sleeper, 72-inch Flat Top and Extended Day Cab, and the all-black Limited Edition Diamond VIT puts 100th anniversary front and center. Other interior features include a special edition steering wheel, brushed platinum dash and door trim, and Kenworth 100 logos throughout on the doors and thresholds. A Kenworth 100 sofa bed is standard with the 86-inch Studio Sleeper. Only 900 commemorative models will be built, and Jim Walenczak, Kenworth assistant general manager for sales and marketing, said almost all of the build slots are already full for the model that just went into production this week.
Each Kenworth W900 Limited Edition will be serialized 001 through 900 in order of build date and sequence, with a special Limited Edition badge on the glovebox.
Exterior elements include Kenworth 100 sleeper badges. A Kenworth 100 exhaust shield cutout and sun visor are optional. A special optional centennial tri-color paint design is available with the 86-inch Studio Sleeper and 72-inch Flat Top.
Want to see more pics of the W900 Limited Edition?
Standard powertrain options in both models are unchanged.
Both models – and all new Kenworth models this year – will be available in a lineup of new celebratory colors: Century Platinum, Century Black Red, Century Red and Century Gold.