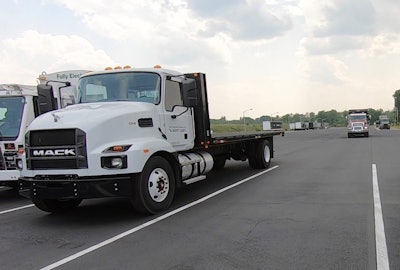 Tom Quimby
Sometimes it's the smaller things in life that can mean so much. For Mack Trucks it's more like the medium-sized things — or more precisely, its medium-duty trucks which continue to enjoy greater market share following their rollout in late 2020.
Mack's MD6 and MD7 was top of mind for Mack Trucks North America President Jonathan Randall during a press conference marking the reopening of the Mack Experience Center this week in Allentown, Pennsylvania.
[Related: Walk around: Mack Trucks' new medium-duty MD Series]
"The acceptance of this truck and the way we went to market has been nothing short of success for Mack. And we're thrilled and our dealers are thrilled to be in this," Randall said inside Mack's new briefing room. "It's been one of those things that's been really nice to have as well as we launched into what has been challenges since 2020 about supply, supply constraints, production issues. It's been nice to have something else for our dealers to lean on as well and sell in the market."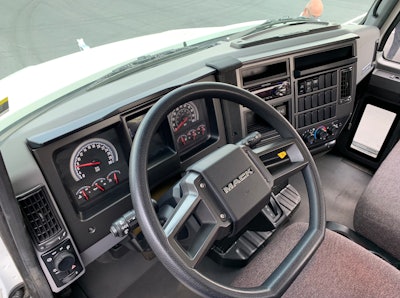 Mack's medium-duty trucks have "gone from zero to over 5% market share in what is a very competitive market today," Randall continued.
To accommodate growing orders, Mack added a shift at their factory in Roanoke Valley Operations plant in Roanoke Valley, Virginia where they announced the production of 10,000 MD trucks in February following the rollout of the first truck in September 2020.
[Related: Mack provides a closer look at their MD Electric]
MD trucks were designed to compete in a challenging medium-duty market which includes a broad range of applications like dry van/refrigerated, stake/flatbed, dump and tank truck vocations.
Available in 4x2 configurations the MD6 and MD7 were designed for driver comfort, ease of upfit, broad visibility, tight turning in restrictive areas like crowded inner cities and equipped with the popular Cummins B6.7 diesel and Allison 6-speed transmission and Meritor axles. The powertrain tops out at 300 horsepower and 660 lb.-ft. torque.
The MD6 has a gross vehicle weight rating (GVWR) of 25,995 pounds while the MD7 comes in at 33,000 pounds GVWR. Both models are exempt from the 12 percent Federal Excise Tax (FET). The MD6 model does not require a Commercial Driver's License (CDL) to operate for non-hazardous payloads. Cab design features an industry-best bumper-to-back-of-cab (BBC) measurement of 103 inches.
[Related: Test driving Mack's MD Series]
"The visibility is fantastic. The ride is great," Randall said, "and then of course we came to market with what was already the accepted components, right? Allison transmissions, Cummins B6.7, Meritor…it's what people know, what they're comfortable with and certainly now for Mack what they're buying."
Quick spin around the track
The reopening of Mack's Experience Center included the reopening of its on- and off-road test tracks for customers and dealers following a three-year hiatus. Reporters had a chance to take the Mack MD6 for test drive along with the Anthem, Granite and LR Electric.
The MD6 features a cab design that recalls the Anthem, Pinnacle and Granite. An angled cockpit approach puts the driver within easy reach of the dash.
The unloaded flatbed got smoothly underway and was remarkably quiet for a diesel. Shifting was hardly unnoticeable thanks to the Allison transmission which can be spec'd as the standard 2500HS model or optional 2500RDS or 3000RDS.
The 3000RDS offers more versatility for 4x2 refuse, tank and dump applications. The PTO can be engaged while the MD is being driven and the truck be used to tow utility trailers with small excavators.
All three Allison transmissions for the Mack MD are double OD rated up to 660 lb. ft. torque and offer Fuel Sense and Neutral-at-Stop.
Considering that it was the first time I had driven the MD, it was easy to get accustomed to and offered a comfortable, confident drive. Mack's ¾-mile track offers curves, straightaways, inclines, declines and stop signs. The MD6 handled it all easily. Acceleration and stopping power were impressive but keep in mind that the truck was unloaded.
The only concern I had was with the shifter. There is no park setting so when coming to a stop, you need to shift to neutral before engaging the parking brake. Right above neutral is reverse so you'll probably only make that mistake once.